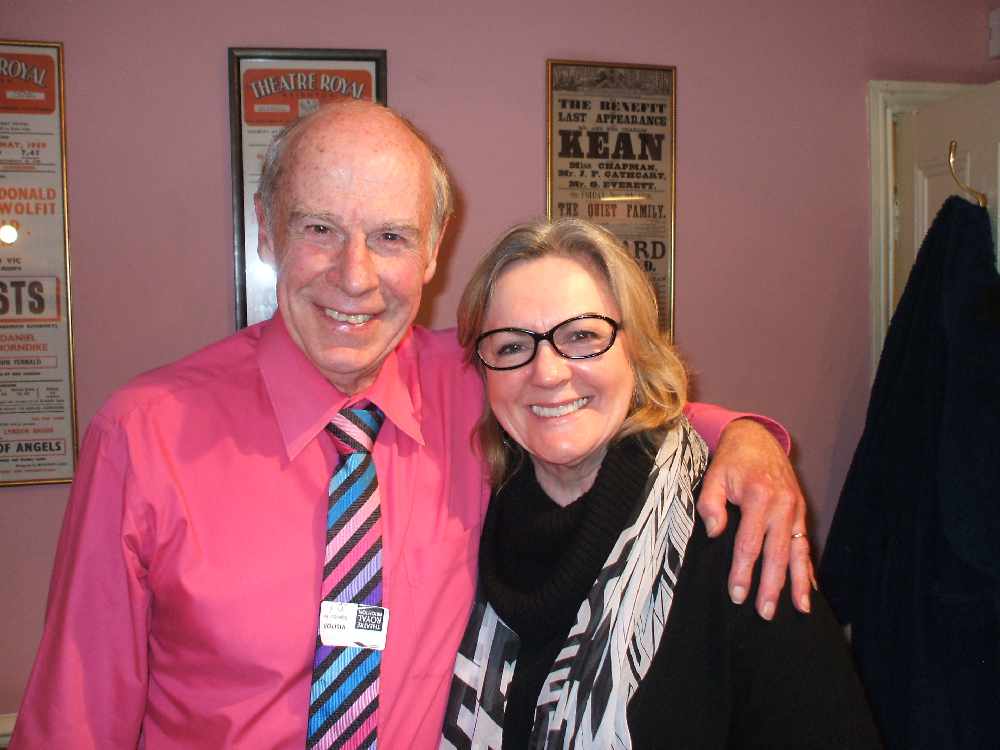 Gwen Taylor is one of those actors known for a wide variety of names — Amy Pearce from Duty Free, Barbara Liversidge in Barbara, Heartbeat's Peggy Armstrong, Rita Simcock from A Bit Of A Do or even murderer, Anne Foster, from Coronation Street.
In reality, Gwen is very modest and just genuinely flattered to have made such a lasting impression on millions of television viewers.
I was backstage at the Theatre Royal, Brighton, interviewing Andrew Lancel, who played Frank Foster, the son she murdered in Corrie. As I left the dressing room, his television mother walked by. She said: "Hello, I know you." I couldn't believe she'd remembered the interview we had done in the same theatre eight years earlier. We quickly arranged to meet again in Croydon a month or two later.
Acting virtually saved Gwen's life. She hated working in a bank and had suffered a very unhappy marriage. Suddenly she discovered amateur dramatics and her life took off from that moment. She impressed so much playing leading roles that she ended up at the East 15 drama school, at the age of 26. Most of the students were younger but she was readily accepted by them. Gwen has always looked younger than she is, which has been a career advantage.
Her early television appearances include The Sweeney, Z Cars and Rutland Weekend Television. The latter led her to The Life of Brian and Ripping Yarns.
Millions remember her as Amy in Duty Free, alongside her husband David, played by Keith Barron, who always had Linda on his mind.
"I still get people talking to me about that show. One person said they just couldn't understand what David saw in that beanpole with the blonde hair," quipped Gwen.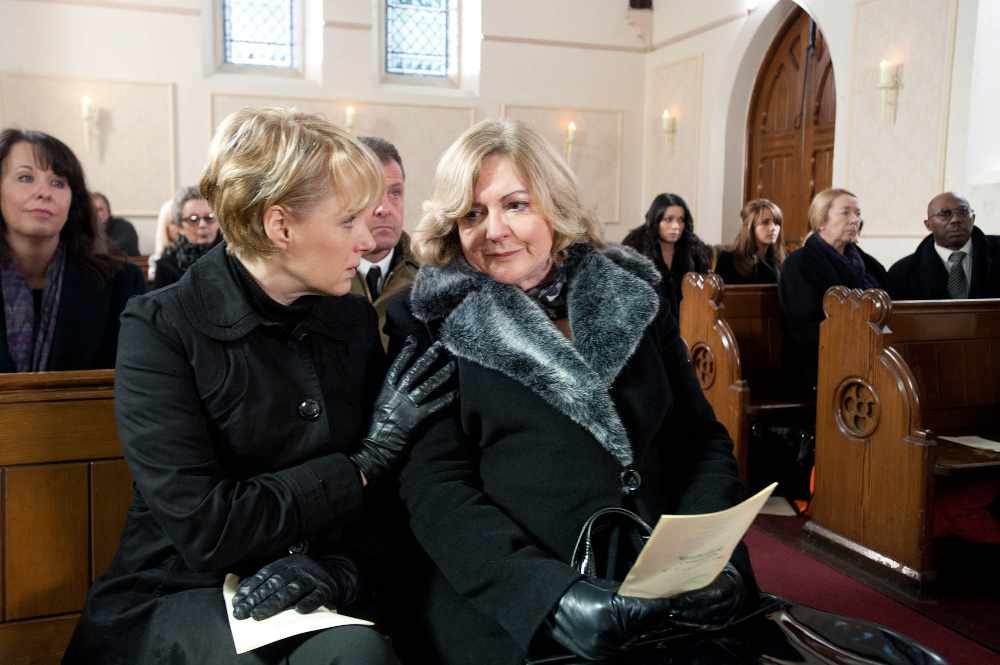 Photo courtesy of ITV
For nearly five years she played the dreaded Peggy Armstrong in Heartbeat, who was always in on some fiddle or other. And what about those teeth?
"Those awful teeth I had to wear over my own were impossible. I couldn't eat with them on. Once I had to suck a chicken leg instead of eating it. I did try once to eat with them on but I cracked a real tooth."
Many of her scenes were with David Lonsdale, who played dippy David Stockwell. Gwen revealed he is really very intelligent and a great family man.
Gwen was not used to being with animals before she joined the show. In the end she talked to them and loved every minute. On one occasion, she had to shoot a gun and it nearly blew her over.
When she was asked to play Anne Foster in Coronation Street, for nearly 50 episodes, she knew it would only be a short term contract. This suited her, as she had other work in the pipeline. Andrew, who was also on a short contract, knew the ending of the story but would never tell her. She had to wait for the script to realise she was going to murder him
"I'm not sure where Anne is supposed to be now. Either in prison or a lunatic asylum," added Gwen. Luckily her murdered son was alive and well and playing in the same show as her, The Lady Vanishes. It seemed appropriate.
In Croydon, Gwen was also keen to promote her next touring production. It was a new play called The Croft and set in the Highlands of Scotland. She had to perfect a Scottish accent and Gaelic curses. Sadly, the lockdown halted its national tour. I managed to stream it online and she was sensational. When we met, she was terrified at the prospect of the demanding role. Amazingly, she revealed it was actually nice at her age to be terrified by a challenge.
I've only met Gwen Taylor on three occasions but she is a person you feel you have known all your life. Being in her company is so relaxing. I told her wonderful husband, playwright Graham Reid, just how lucky he was. They are such a compatible couple.
Gwen has no plans to retire. There is the possible challenge of a one women play. It would be a huge script to learn. She did do Shirley Valentine but that was when she was 54. I'm sure she'll be up for it — if there are enough theatres left to perform in.
I can't say I've ever dreamed of kissing Peggy Armstrong. I was more than happy to steal one from Gwen, as they were her own teeth. Peggy's went on sale at a Heartbeat props auction — but there were no biters!