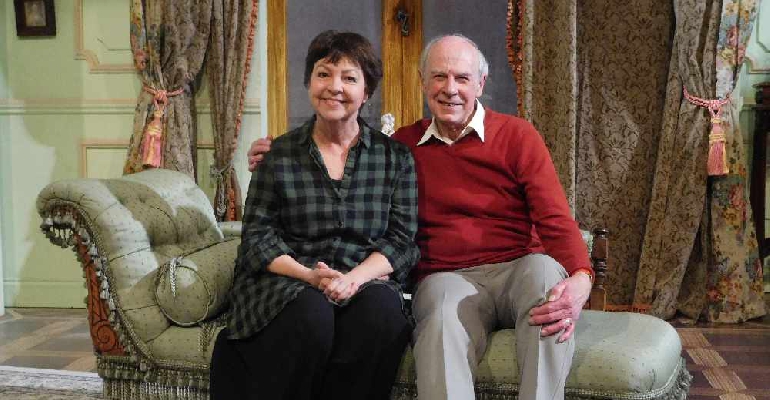 During the final ten days before the lockdown, I'd been lucky enough to have pre-arranged five interviews. It was in Guildford on a very wet and miserable March day. Would she be like Raquel in Only Fools And Horses or Mrs Maguire in Grantchester?
I'd been tipped off that Tessa had been to both Parkhurst and Albany prisons. It couldn't have been to visit the Driscoll brothers from Peckham, surely? Thankfully, it was with the Royal Shakespeare Company.
"I went into both prisons when the RSC visited the Island and felt it was a great privilege. We did workshops with the inmates. It was fascinating to watch them and one or two were in floods of tears when we dealt with Ophelia's father and daughter relationship in Shakespeare's Hamlet. It was such an important thing that the RSC did at that time," said Tessa.
Initially, Tessa had dreams of becoming a dancer but eventually realised her ballet was below par. Luckily, a drama teacher called Rita Christie joined the dance school and encouraged her in another direction.
That stroke of luck led her to the Central School of Speech and Drama. Amazingly, within a month of leaving drama school she was in the TV series Telford's Change. She told me: "Suddenly I was working with all these famous actors and I was terrified and sat in the corner and said very little at the rehearsals.
They even rang up my mother to see if I was okay. She said it was not like me. It was just fear, I didn't have a clue about television work. At drama school it was more about live theatre and a bit of radio. Luckily, I had to play a terrified bank clerk on her first day at the bank, so it was perfect."
Joining the cast of Up The Garden Path was another great early moment in her career. It also set up a long term friendship with Imelda Staunton. Just a week before I met Tessa, Imelda had cooked her a Sunday roast.
"I used to drive her home after we'd finished filming. She always grimly hung on, she told me I drove too fast on the motorway."
When John Sullivan was looking for a more mature women for Del Boy in Only Fools and Horses, Tessa was chosen. In fact, in the show Raquel was cast under age and made to look older. She was only booked for one Christmas special, as a strip-a-gram girl for Uncle Albert's party. It lasted a little while longer than that and she was in some epic episodes.
That legendary series is still loved by people of all ages and is always being shown on the nostalgia channels. There is nothing these days to come anywhere near it.
Of course, I was keen to mention Grantchester, a series created for television by the Island's Daisy Coulam. The last series, the fifth, had the largest viewing figures so far. Plans are in hand for another series. Like me, Tessa has been so impressed by the way Tom Brittney has come in to take over from the charismatic James Norton in the lead role. He plays it so differently but already has a huge fan following.
"I also claim that Al Weaver, who plays the difficult role of Leonard so brilliantly, has learnt all he knows from me. When I used to monitor last year
students at the Guildhall School of Acting, he was one of my last young actors. I'm not sure he agrees," added Tessa.
Her character of Mrs Maguire, now Mrs Chapman, rarely smiles, is rather nosey and never misses a trick.
"I love playing this role. I'm normally a very happy and smiley person. Not having to smile much in Grantchester is great."
Tessa loves the opportunity to work for six months on Grantchester and then another six working in live theatre. Sadly, the tour of Bang Bang, which was due to run until May, was pulled due to the lockdown. I saw it at the Yvonne Arnoud Theatre, Guildford and loved the French farce adapted by John Cleese.
Why do real television stars, like Tessa, still yearn for live theatre? "I love hearing the audience coming in, their buzz of excitement and mine of
waiting to go on and then their response from what's happening on stage."
I actually joined her on stage for a pre-show photograph — and she smiled!