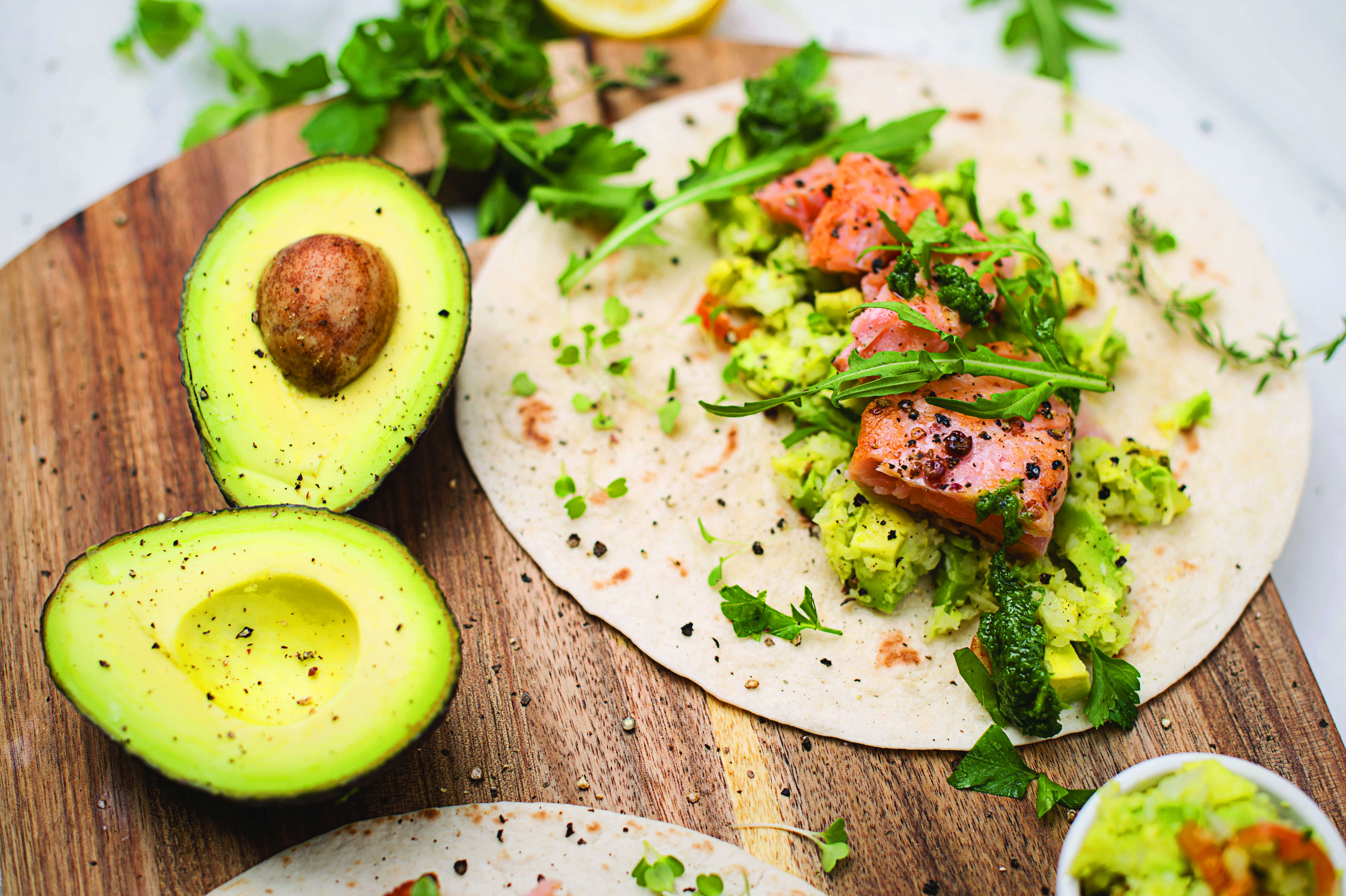 Elevate the humble wrap into a taste-bud sensation experience. Adele Trathan offers this very grown-up version of a fish wrap which will impress any lunchtime guests.
SERVES 4
INGREDIENTS
4 salmon fillets
4 whole wheat tortilla wraps
2 large ripe avocados (stoned and peeled)
1 tsp smoked paprika
1 tbsp olive oil
Pinch of salt and freshly ground black pepper
FOR THE SALSA VERDE
2 cloves garlic
1 bunch of fresh flat-leaf parsley
½ bunch of fresh basil
10-12 sprigs of fresh mint
1 tbsp capers
2 gherkins, roughly chopped
6 anchovy fillets
1 tbsp Dijon mustard
3 tbsp red wine vinegar
8 tbsp extra virgin olive oil
METHOD
Pre-heat a grill to a medium- high heat. Combine the oil, smoked paprika in a small bowl and season with salt and pepper then coat the salmon evenly with the oil mixture.

Mash the avocado flesh with a fork and season with salt and pepper and a dash of extra paprika if you want an added kick of spice.

Place under the hot grill skin side down and grill for 12-15 minutes until the salmon is cooked and flakes easily with a fork. Transfer to a chopping board or plate and remove the skin.

Put all the ingredients for the Salsa Verde into a tall container and using a hand blender whizz it up until you reach a smooth consistency. If you prefer a more course texture then blend for a shorter time. Season with salt and pepper to taste.

Take the wraps and add a layer of mashed avocado on each, then flake a salmon fillet on each wrap followed by a good drizzle of Salsa Verde. Roll up and serve immediately. Store any remaining Salsa Verde in the fridge for a few days and use with grilled chicken, fish and salads.