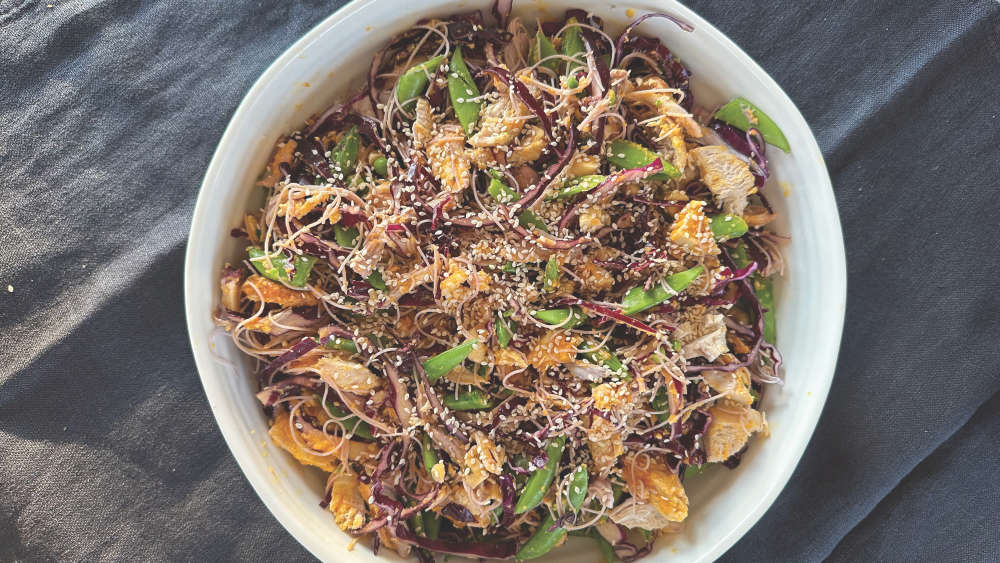 Mary Goodsell's salad makes a scrumptious summery lunchtime meal and is also a great option if catering for lots of people. It's perfect with leftover roasted chicken, making it very quick to assemble.
SERVES 4
INGREDIENTS
225g (8oz) roast chicken, cut into thin strips
6 radishes (optional), sliced wafer thin
135g (5oz) sugar snap peas, sliced in 3 lengthways
¼ red cabbage, shredded
10-20g (½oz) chopped cashew nuts
1 green chilli, halved, deseeded and very finely chopped (optional)
1½ tbsp rice vinegar
4 tbsp groundnut oil
½-1 tsp honey
2 tsp sesame seeds
For the dressing
2 carrots, peeled and diced
1 small garlic clove, chopped
1½ tbsp white miso paste
2cm square piece of ginger, peeled and sliced
60ml (2fl oz) rice vinegar
60ml (2fl oz) groundnut oil
1½ tsp honey
Good pinch of ground cayenne
Good squeeze of lime juice
1 tsp toasted sesame oil
METHOD
Make the carrot dressing 1first, just put everything into a blender with 50ml (1½fl oz) water. Whizz until smooth. It should have the consistency of double cream, so add a bit more water if you need to. Taste for seasoning and set aside.

Put the chicken, radishes, 2 sugar snaps, cabbage, cashew nuts and chilli into a broad shallow serving bowl.

Mix together the rice 3 vinegar, groundnut oil, honey and salt and pepper.

Whisk with a fork and taste for seasoning. Toss this into the salad, then spoon over some carrot dressing for an attractive drizzle. Serve the rest in a jug.

Sprinkle with sesame seeds 4 and serve immediately.