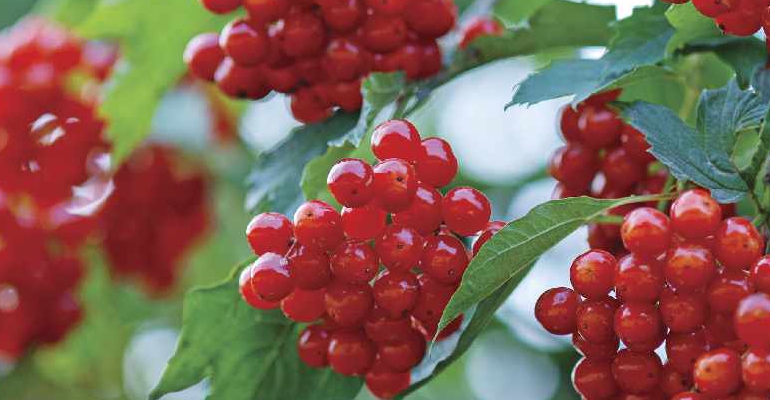 A selection of berried shrubs will bring colour to your garden during the dreariest time of year, writes Flo Whitaker
Winter-berried shrubs quietly blend into the background during summer, but they steal the limelight at this time of year.
The viburnum family is a large one, with both evergreen and deciduous forms. They carry attractive berries from autumn and some varieties also produce nectar-rich flowers during winter, providing wildlife with a source of high energy food when the going gets tough. Easy-going and unfussy; there are viburnums to suit all locations.
Carefully research before you buy and give thought to the space you can offer as different varieties vary greatly in height, spread and vigour. They can be very long-lived and a mature viburnum that hasn't been disfigured with frequent and frantic hacking back is a splendid sight.
Varieties of viburnum opulus, (often called Guelder Rose or Snowball Bush) are, perhaps, the best of all; with showy, hydrangea-like blooms in spring, followed by glossy, magical fruits in autumn that look for all the world as if they've leapt out of the pages of a child's fairy tale book.
Like viburnums, the holly family, (Ilex) is an extensive one, so choose your varieties carefully. Most hollies are dioecious; meaning that the male and female reproductive parts occur on separate plants, so plants of both sexes are required in order to produce berries.
An added complication is that no thought has gone in to the naming of varieties to reflect this important fact; for instance, Golden King is actually female, whereas Silver Queen is a male variety. However, there are a few 'selffertile' forms such as Pyramidalis and J.C. van Tol that will reliably produce a good crop of berries, so if you only have space for one plant, (or your brain cells have just melted), it's probably simpler to choose a self-fertile variety. Phew!
Cotoneaster, berberis and symphoricarpos, (Snow Berry) are rather out of fashion these days, but they are tough, dependable shrubs that have much to offer. In spring, their tiny flowers are adored by pollinating insects - in autumn, their vibrant berries are a feast for many birds and animals.
Symphoricarpos bears unusual pearlescent berries and will grow pretty much anywhere, including dry shade.
You'll either love or hate callicarpa; its mad, high-octane display greatly divides opinion. Refined gardeners with delicate dispositions regard callicarpa's startling purple/mauve berries as "vulgar" and "plasticlooking." Ouch.
The aptly-named variety, Profusion, provides an autumnal bonus (or horror, depending on your point of view) of golden leaves highlighted with pink veining; a colour combination that'll have members of the good taste brigade running for the hills. Birds, not having the benefit of sunglasses, usually give callicarpa a wide berth, so the berries often persist for months. I'll leave you to decide if this is a good thing...