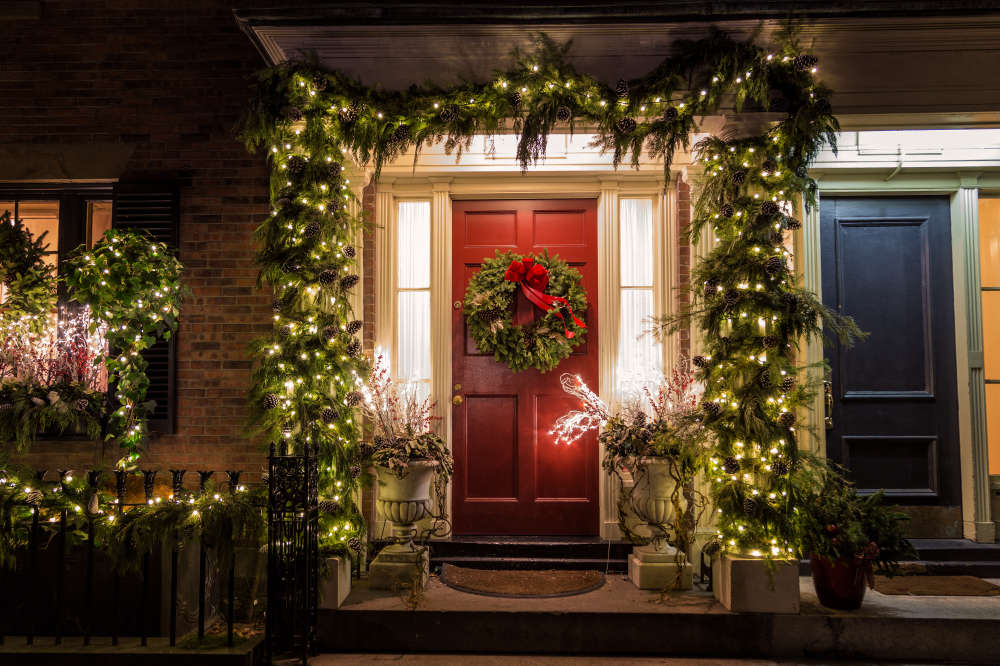 Having a creative Christmas at home is about more than just a tree and a few bits of tinsel.
When surrounded by the aromas of food, or the warmth of family and friends, there is something incredibly satisfying when it comes to looking out onto a festive garden. Here are a few suggestions to make your outside space joyful and merry this Christmas.
LIGHT IT UP
Lights are the number one addition to any Christmas scene, and with darkness descending ever earlier, their effect is longer-lasting. As ever, subtlety is key – placed in jars, through vines or in woven baskets, lights inside will illuminate through the tiny gaps to spray decorative shapes and lines across your outside space. Other clever changes to existing lighting can also be made. Change these to a lower wattage to enable Christmas lights to stand out more, and even experiment with green and red bulbs to create a new ambiance to your outside space. Light projectors are a great way of creating additional lighting and brilliant effects, as well. There are a wide variety of creative designs that echo the festive season, and these can be beamed onto walls or into dark garden recesses in order to bring a unique two dimensional effect to spaces. Alternatively, use of candles can produce natural light that feels warm and traditional, especially when they are grouped together. It's also possible to buy in or even make Christmas orbs, and these can look absolutely enchanting when dotted around the garden or placed on the front steps of your house. They are particularly stunning when laid on freshly fallen snow (if we're lucky enough to see some!). If you do have shrubbery, trees, bushes or hedges, try dressing them up sparingly with lights and shapes. Pulled across in a consistent line guides the eye and looks great, although given the current situation with energy prices, it's a good idea to make sure lights are set on a timer. Not only will you get maximum value out of the hours your garden is lit up, it will also ensure neighbours aren't perplexed at your 3am lightshow! Finally, if you have a wreath on your front door, use lights to increase its appearance, as well as adding to walkways and paths. Remember to do this subtly, however – while the temptation is to 'go large' with outside lighting, less is usually more.
STAR QUALITY
Using Christmas shapes hung around the garden will really move the indoors outdoors. Consider Moravian stars in Christmas trees, plus bows, reindeer silhouettes, candy sticks, snowflakes and gingerbread men. And of course, a selection of bright red Christmas baubles will make any tree, bush or shrub feel festive. Just be sure that nothing you are hanging outside can endanger wildlife or curious critters.
WINDOW TO WONDERLAND
Finally, an easy cheat when looking to create a winter wonderland garden is to use Christmas elements in a window box. Done smartly, when looking out into your garden, your vision will catch these planted additions and shape the festive view. In the same way, using fake snow around the edge of windows works as a brilliant border effect to the world outside