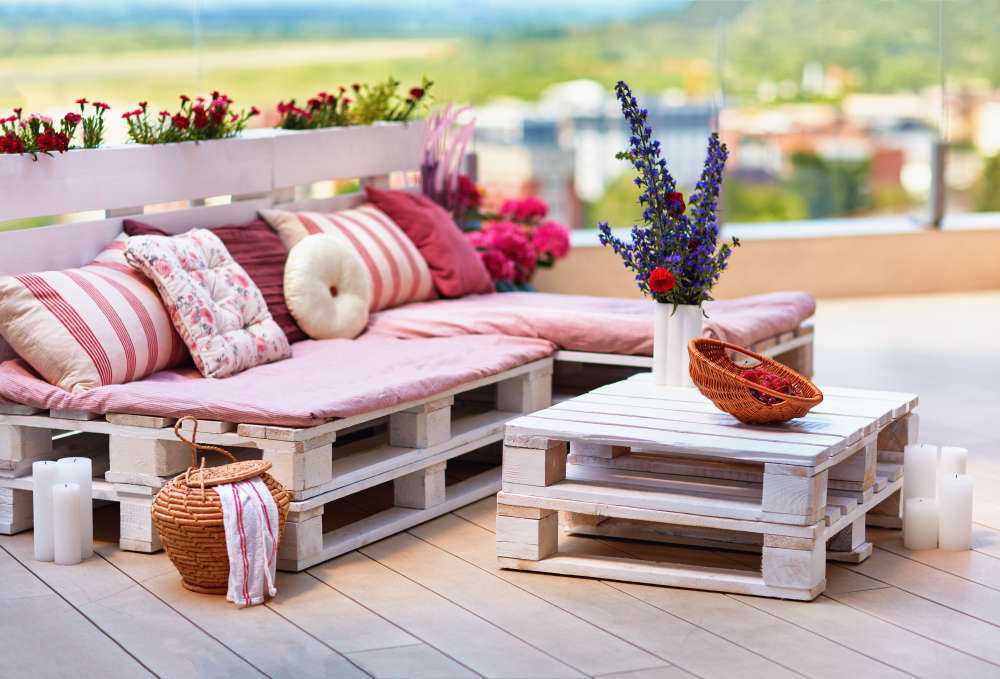 The trend for upcycling raw materials into garden furniture is coming to a back garden near you.
It's the time of year when we all begin to consider ways we might be able to spruce up our gardens in time for the summer.
Of course, while plants, flowers,produce and more is a necessity for giving our outside space that natural, living, thriving edge, there's an entire other aspect that will contribute towards the comfort and convenience of your garden, irrespective of its size. And while upsizing an old pallet into
the ultimate outdoors DIY sofa may not scream opulence, the trend for creating fantastic homemade furniture for outdoors is one that's really gathered pace in recent years.
THE DIY SOFA
What you'll need:
• Three (or more) plain wooden pallets
• An electric drill with screws • A small roller and tray
• A paintbrush
• Scatter cushions
• Garden furniture chalk paint
How to make your pallet sofa:
1. Using your foam roller, layer your pallets in whichever glorious hue you have selected, using a paintbrush for those tricky to reach areas. Paint one side first, let it dry, then do the other.
2. You'll need to stack at least two pallets to get your sofa to a suitable height – you may want to make your sofa higher using more pallets, or even double the length... it's all up to you! – before fixing them together with your electric drill and screws.
3. Add another pallet to the back of the bench to make your sofa back. Affix with screws.
4. That's the hard part done! Now decorate your masterpiece in whichever way you choose with cushions, garlands and throws. Then relax... you've earned it!
Advantages of using pallets for furniture
1. Cost-saving
By using your creativity, you can capitalise on a raw material – wooden pallets – that most people give away for free.
2. Environmentally friendly
With furniture made from pallets, it's as environmentally friendly on its way out as it is in its creation as an arty piece of reclaimed wood.
3. A design for garden life
By creating your own furniture rather than buying it, you are able to put your imprint on the look, so complete customisation is merely a few planks of wood away!
4. Mature with age
After two or three years, outdoor furniture can show the effects of being weather-beaten, yet with pallets the resplendent ruggedness only adds to the effect.