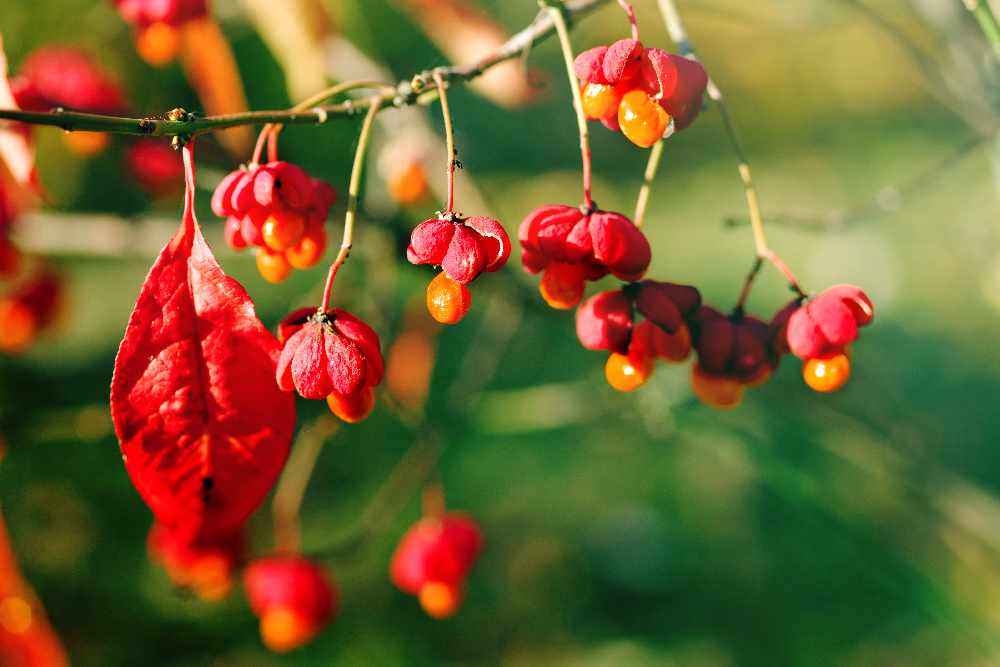 The euonymus genus contains over 150 varieties in the form of shrubs and trees, so there should be one type available to brighten every garden throughout the year.
Readers may know of these plants from two types of small shrub with gold or silver edged leaves commonly sold in garden centres.
Euonymus plants are generally hardy and found across most continents, although they are native to eastern Asia. The euonymus name comes from Greek meaning 'good name', however some translate it as 'good luck'.
The common name is 'spindle.' This arises from the use of the wood from euonymus trees to make spindles for wool spinning. The wood is hard and has also been used to make, for example, skewers and toothpicks.
Several euonymus features makes them popular. The flowers of the common types are inconspicuous, but attractive to bees. The flowers of lesser known varieties can be green, yellow, pink or maroon in colour. The leaves range in size from 2-15cm (¾ inch to 6 inches).
Among the species there are both evergreen and deciduous types although euonymus are mainly grown for their ornamental foliage. They do well in most moist soils and in shade, but their colour is best expressed when grown in full sun.
They do not tolerate waterlogged soils. For many years euonymus hedges survived the salt air along Eastbourne seafront. As euonymus generally grow to a limited height and have compact foliage they are suitable for creating a colourful hedge.
A 'tapestry' effect hedge can be created by using more than one variety or incorporating another species. Should one plant in the line die then introducing a replacement is simpler.
The smaller leaved microphyllus varieties of euonymus can be clipped to provide structure in a garden either as a single shaped plant or to surround a bed with a low hedge, maybe as a substitute for box hedging where box blight is a problem.
Left untrimmed the evergreen varieties provide an informal splash of colour throughout the year.
The leaves of the evergreen euonymus are tough and many have colourful patterns; either around the margins or in patterns across the main leaf surface. The proportion of colouring differs according to the variety and sometimes even on the same bush.
Occasionally a totally yellow or green branch will develop. There are varieties with leaves in a predominant shade such as pale lime E. japonicus Paloma white.
Another fascinating version is E. fortunei Harlequin where the new growth is pure white, before developing dark and light green speckles to be followed by a pink tinge in winter. A fine yellow leaf margin and stem are features of another euonymus variety.
One variety which will climb up supports to 2.5m (5ft) is E. fortunei Wolong Ghost, whose dark green leaves are narrow and with a dramatic white leaf stalk.
Some other types of euonymus plants are deciduous such as E. europaeus, E. alatus and E. planipes. The green leaves of summer develop spectacular autumnal colours ranging from rusty brown to brilliant reds.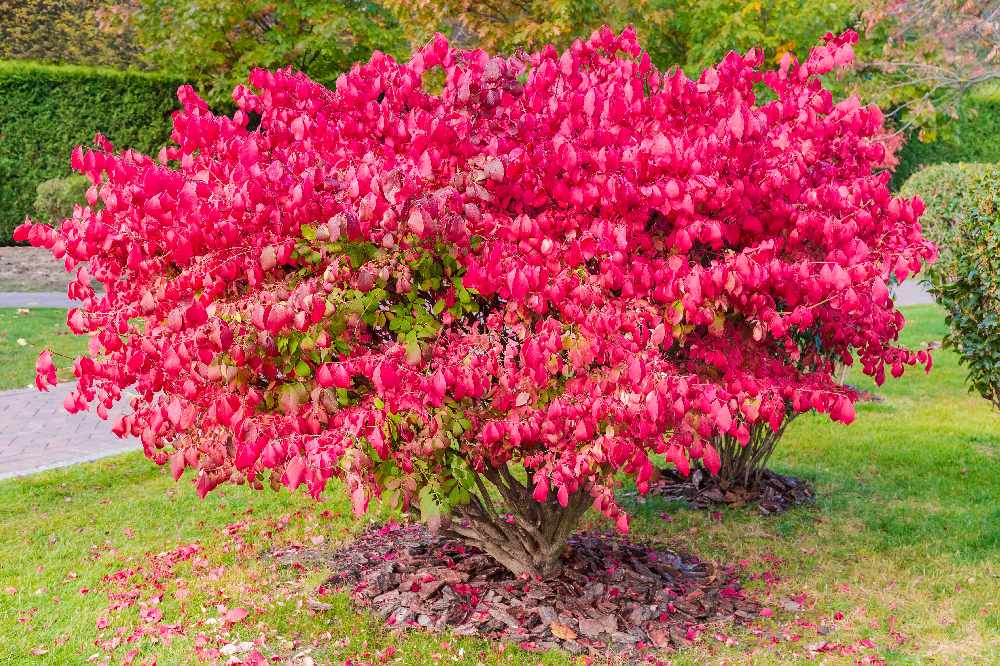 One of the best examples is E. alatus which has the common name 'burning bush.' The deciduous varieties grow to about 2-3 metres in height and spread, but they can be contained by clipping.
When the leaves have dropped the stems show off the wings making the stem appear to be square. Another attractive feature of some varieties is the autumn capsular fruit which are pink or red in colour and four lobed.
When ripe the capsule splits open to reveal four bright orange seeds. Some euonymus varieties can be grown on as a standard or lollipop at a height to suit the gardener.
In the evergreen form this can create an eye-catching feature. There are some other types which are naturally of tree proportions, such as E. hamiltonianus subsp sieboldianus which grows to six metres. These may be deciduous or semi-evergreen.
Whether it's for hedging, bees, flowers, spindle-making or just the interesting leaf colours, there's bound to be a euonymus just for you and your garden.