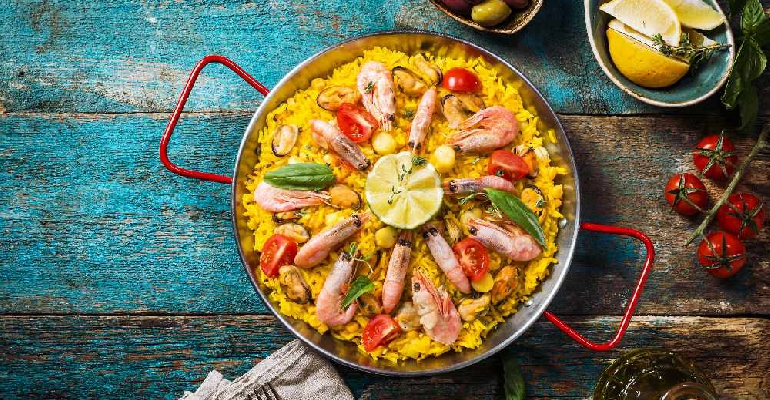 With summer in full swing, why not enjoy a family paella in the sun?
Ingredients
8 mussels
100g (3½ oz) peeled prawns
1 small cooked lobster
600g (1lb 5oz) diced chicken breasts (pork, or a mixture of pork and chicken works well too)
4 tbsp olive oil
2 cloves of garlic, chopped
1 onion, chopped
1 red or green pepper, chopped and seeded
4 tomatoes, peeled and chopped
350g (12 oz) long grain rice
1.3l (2¼ pints) chicken stock
100g (3½ oz) peas (frozen are fine)
A little saffron and seasoning
Method
1 Shell most of the mussels and peel most of the prawns (if using fresh), leaving a few for decoration later.
2 Remove the cooked lobster meat from the shell and dice, keeping the claws for decoration later.
3 Put the olive oil in a large paella dish or frying pan and sauté the garlic, onion and pepper for five minutes until soft but not browned.
4 Add the chopped tomatoes and the diced chicken (and pork). Lightly brown the meat.
5 Stir in the rice and most of the stock, leaving a little to blend the saffron powder before adding to the mixture. Season to taste (if using stock cubes instead of chicken stock, then a little salt will be needed).
6 Bring the mixture to the boil, then reduce and simmer for approximately 20 minutes, until the rice is just cooked and the meat is tender.
7 Stir in the mussels, peeled prawns, lobster meat and peas, and simmer for a further eight to ten minutes.
8 Serve the paella with a few strips of raw red/green pepper and the lobster claw, plus a few whole cooked prawns and cooked mussels in their shells scattered over the top.
9 Serve indoors or alfresco, with a mixed salad and perhaps some garlic bread.