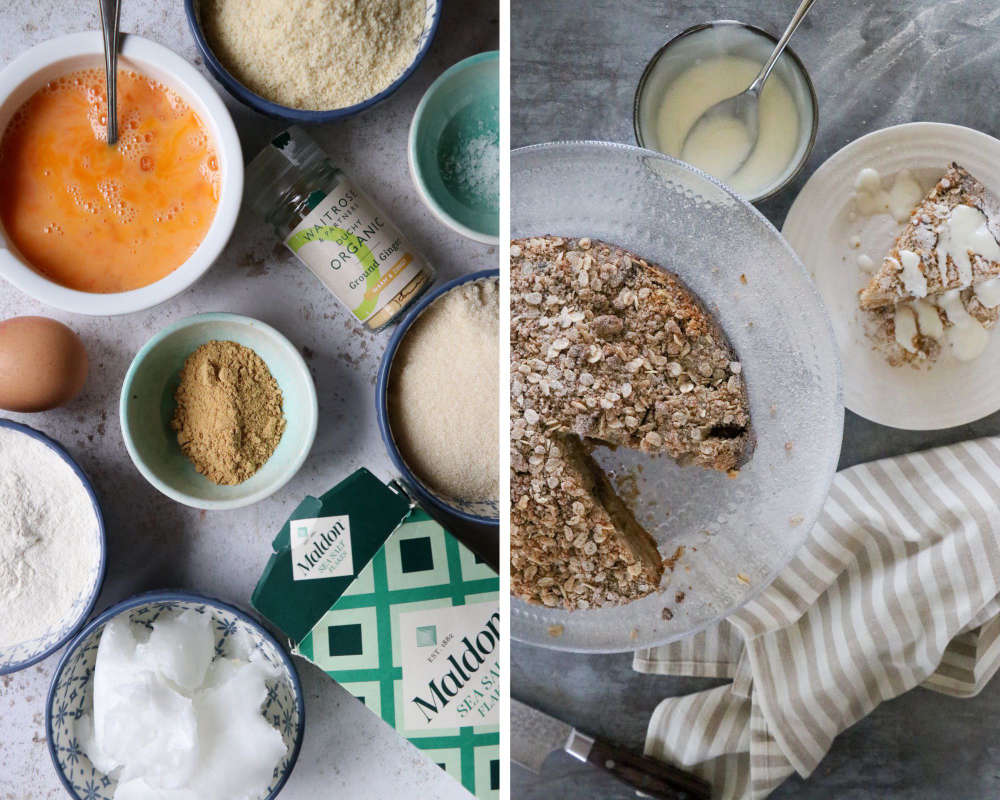 I've been planning some tea-time treats and decadent desserts. This easy seasonal rhubarb and ginger cake hits the spot on all accounts, it's moist, not overly sweet and has a crunchy topping. The perfect crowd pleaser.
SERVES 10
Ingredients

For the rhubarb:
600g rhubarb, cut into 3cm chunks
3 tbspn demerara sugar
1 tspn ground ginger
Juice ½ lemon
For the streusel:
50g unsalted butter
60g any type of flour
100g jumbo oats
60g demerara sugar
For the cake:
100g ground almonds
100g self-raising flour
2 tspn ground ginger
1 pinch of salt
200g unsalted butter, softened
200g caster sugar
4 medium free range eggs, beaten
You'll also need a 20cm loose-bottomed cake tin, greased and lined with non-stick baking paper.

Method

1. Heat the oven to 200 degrees / 180 fan / gas mark 6. Put the rhubarb in a roasting tray and mix well with the sugar, ginger and lemon. Roast for 15 minutes until soft. Set aside. When you remove the rhubarb pieces from the oven turn the heat down to 170 degrees, 150 fan / gas mark 4.
2. While the rhubarb is cooking, make the streusel topping. Rub the butter into the flour in a mixing bowl with clean hands, until it resembles fine crumbs. Stir in the oats and sugar, then set aside.
3. For the cake, cream the butter and sugar together using an electric whisk or wooden spoon until light and fluffy. Add the beaten eggs a little at a time, then fold in the remaining cake ingredients, adding lots of air to the batter as you go.
4. Add half the cake batter to the lined tin, then sprinkle half the streusel on top, also adding a handful of rhubarb scattered around the cake. Add the remaining batter, then repeat the rhubarb and streusel topping.
5. Bake for an hour, checking periodically to make sure it is not cooking too quickly on top. After the cake has been cooking for roughly an hour, cover with foil and place back in the oven for another 35-40 minutes, or until an inserted knife comes out clean from the middle of the cake.
6. Leave to cool on a wire rack, then serve with either fresh cream, good quality Greek yoghurt or even ice cream.