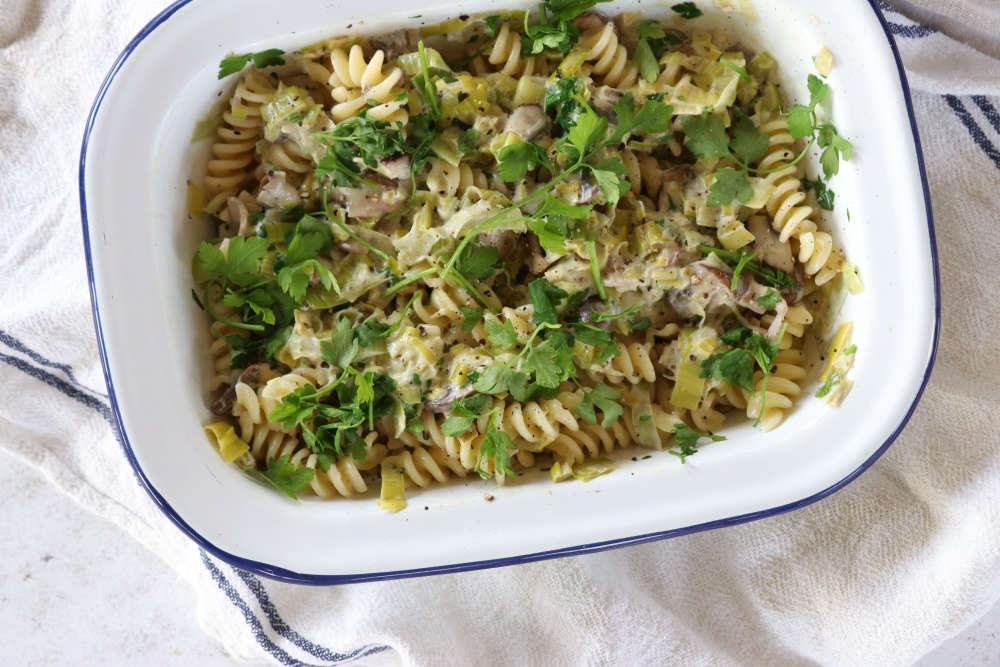 Sometimes, a comforting bowl of pasta on the sofa is perfect for a winter evening. This pasta dish by Mary Goodsell is really easy to throw together, and it's a seasonal sensation as UK grown leeks are readily available at the moment.
Serves 4
INGREDIENTS
3 garlic cloves, crushed 1 tbsp fresh or dried oregano or tarragon
3 tbsp olive oil
2 leeks, finely sliced
200g (7oz) chestnut mushrooms, washed and sliced
400g (14oz) pasta of your choice (fettucine is excellent for this)
Zest of 1 lemon
1 tsp Dijon or wholegrain mustard
70g (21⁄2oz) Parmesan or Pecorino, grated
30g (1oz) fresh flat-leaf parsley, chopped (optional)
Salt and pepper to taste
2 tbsp cream (optional)
METHOD
1 Place a large saucepan of salted water on to boil for the pasta.
2 Heat the olive oil in a large frying pan over a medium heat, then add the crushed garlic, herbs, leeks and mushrooms.
3 Let these fry gently in the pan for a few minutes until softened, and season to taste.
4 Cook the pasta, drain and return it to thewarm pan (o the heat).
5 Combine the pasta with the cooked leeks and mushrooms in one pan and keep on a low heat, being careful that the pasta doesn't start to stick.
6 Add the grated lemon zest, mustard, cheese and parsley if using, stirring them into the pasta.
7 Finish your dish by adding the cream, then serve with a ourish offreshly ground black pepper.
Place your pasta dish into a baking tray with lots of grated cheddar on top and grill for 5-10 minutes to make this into a quick pasta bake.