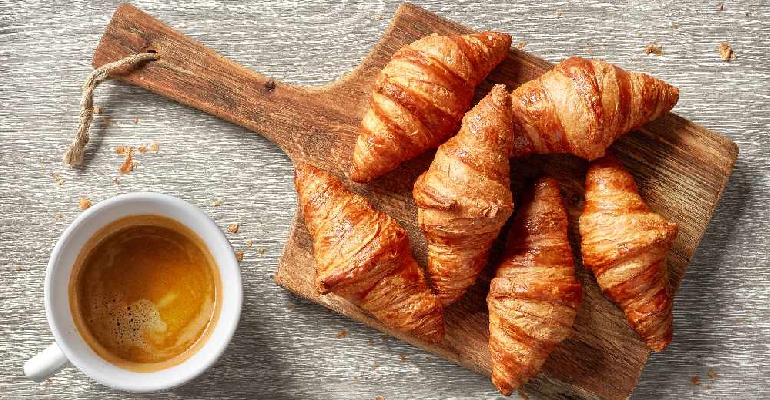 Nothing beats enjoying home-baked croissants, fresh from the oven! And now you can enjoy a plentiful supply from home, with these kitchen cupboard staples.
Serves 16
Takes 7 hours

Ingredients
625g plain flour
One 7g sachet of Dried Active Baking Yeast
225ml warm water
180ml evaporated milk
One and a half teaspoons of salt
60g caster sugar
One egg
60g melted butter
225g diced, chilled butter
One beaten egg

To make:
1. Start by dissolving the dried yeast in a bowl warm water. Leave to stand for 10 minutes.
2. Now stir in 125g of the flour, the evaporated milk, salt, sugar, egg and the melted butter. Beat until smooth.
3. In a separate bowl, rub the chilled butter into the remaining flour until the butter is in small lumps.
4. Combine the yeast mixture with the butter and flour mixture. Now chill in the fridge for at least four hours.
5. Cover the worktop with a sprinkling of flour and turn out the dough out onto the worktop. Knead for ten minutes.
6. Now divide dough into four sections, shaping one section at a time.
7. Roll the first section into a square approximately 17 inches wide. Using a sharp knife, now cut the circle into eight triangles. Roll the triangles, starting at the wider end until they meet the point. Place on a baking tray covered in greaseproof paper, allowing space for them to double in size.
8. Repeat with the second, third and forth sections (making eight croissants each time), or leave in the fridge to chill, ready for when you want to bake more.
9. Leave to prove at room temperate for two hours.
10. Preheat the oven to Gas Mark 3. Brush with beaten egg and then bake in the oven for 30 minutes, or until golden.

NOTE: You can freeze the croissants after rolling them to have ready to bake croissants in the freezer at any time.