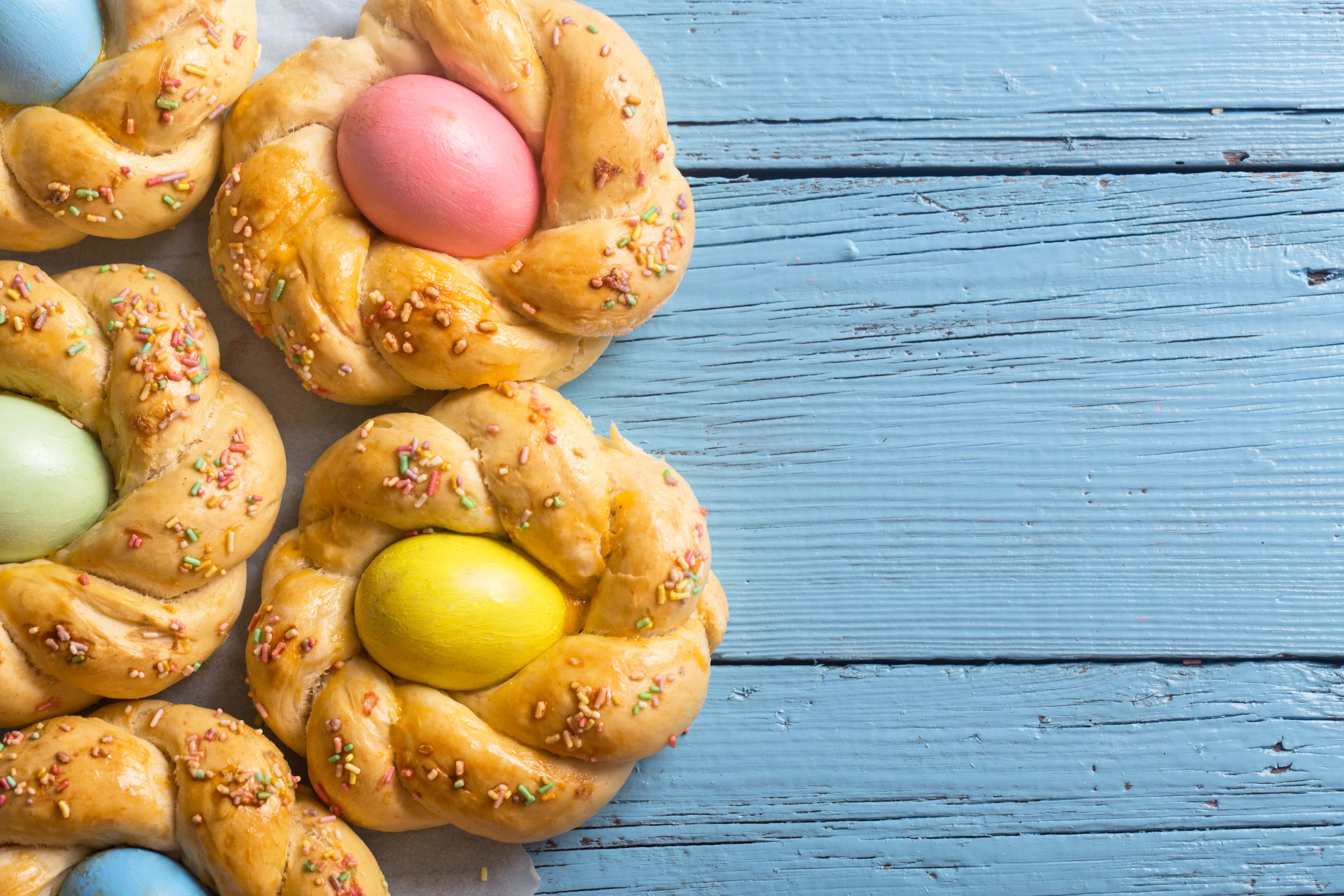 This sweet Easter Bread is a traditional recipe baked in Italy and Greece, which tastes similar to brioche.
The wreath shape of the bread symbolises the crown of thorns said to be worn by Jesus, the three braids illustrate the Holy Trinity and the egg represents rebirth. Easter Bread makes the perfect addition to any Easter lunch table, sliced and served warm or cool.
INGREDIENTS
To make the bread:
565g plain flour
110g butter, cubed
240ml milk
50g of caster sugar
7g of active dry yeast
2 tsp salt
2 eggs plus 1 for brushing
Sprinkles, optional
Fry light or something to grease a large bowl
To make the coloured eggs:
2 eggs
Food colouring 240ml water
2 tsp white vinegar
METHOD
Add milk, yeast and one teaspoon of sugar to a small bowl and leave to froth.

In a large bowl, combine flour, salt and the rest of the sugar, before combining your yeast mixture.

Mix for approximately five minutes in a stand mixure, or by hand, to form a dough.

Now add your butter, a cube at a time, until combined.

Grease a large bowl and add your dough. Leave to prove until doubled in size. This should take around an hour.

While your dough is proving, make your coloured eggs. Do this by firstly hard-boiling the eggs. This should take around 10 minutes. Take out to cool.

Boil 240ml water in a seperate pan and distribute between two bowls.

In each bowl, add a teaspoon of vinegar and some food colouring.

Place an egg in each and allow to colour. This should take around 10 minutes. Remove and leave to dry.

Preheat your oven to Gas Mark 5/190°C and line a baking tray with greaseproof paper.

Tip your dough out on to a floured surface and split into six equal pieces.

Roll each piece into sausage shapes and plait three together, twice. Now form two wreath shape and pinch the ends to secure.

Press your eggs into the centre of each wreath.

Now cover your dough and leave to prove for a second time. This should take around half an hour.

Make an egg wash and brush the surface of both breads, before adding sprinkles.

Bake in the oven, for 30 minutes, or until golden.
Note: While you can eat the eggs, many people simply add them for decoration.