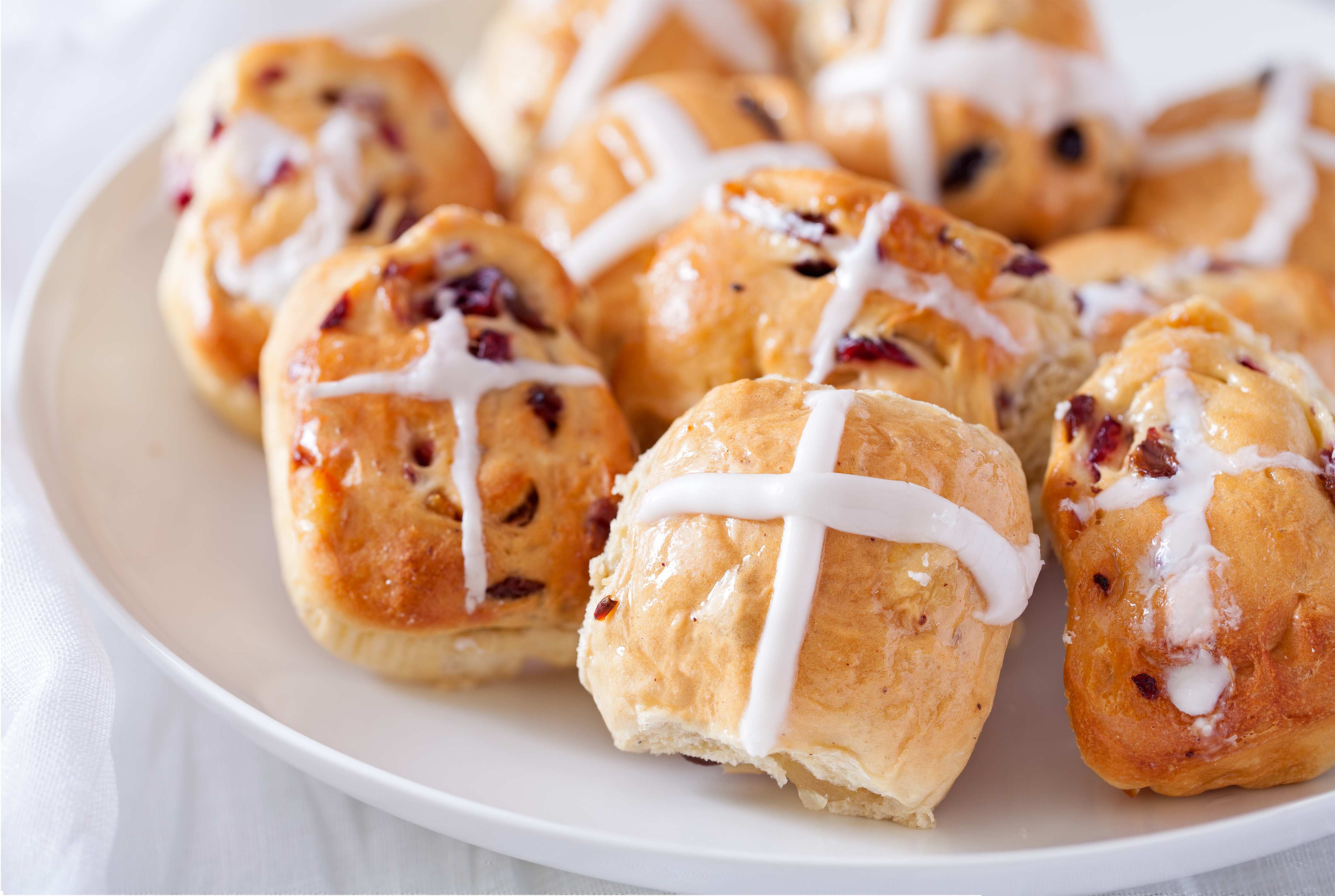 Arguably one of the best things about the Easter season is enjoying warm hot cross buns, slathered in butter. So we've brought you a tasty recipe for cranberry and orange flavoured buns to bake at home. After all, we've all become pretty good at baking from scratch over the past year!
INGREDIENTS
Two eggs
500g strong white bread flour
50g caster sugar
225ml milk
50g butter
One 7g sachet fast-action dried yeast
One tsp cinnamon
Half a tsp of mixed spice
Pinch of salt
100g dried cranberries
One orange
100g plain flour
Two tbsp orange marmalade
Makes 12 buns
METHOD
Start by warming the milk in a pan over a gentle heat, before stirring in the butter.
Take off the heat and leave to cool, while beating the two eggs. Combine.
In a separate bowl, sift the flour, sugar, spices, salt and yeast. Combine and then make a well in the middle, before carefully pouring in the mixture from the saucepan.
Mix together to form a dough, before kneading for ten minutes on a lightly floured surface.
Oil a bowl and place your dough inside to prove for around one hour. Cover with a tea towel.
While it's proving, zest the orange and set aside.
Punch the air out of the dough and fold in the cranberries and orange zest, kneading until evenly mixed.
Now divide your dough into twelve balls, before placing on a tray lined with greaseproof paper, spaced 5cm apart.
Cover again with tea towel and leave to prove for half an hour.
Warm your oven to Gas Mark 6/200°C.
Make the mixture for your crosses by mixing your plain flour with six tablespoons of water and piping onto the dough.
Bake your buns for twenty minutes, before cooling and brushing with marmalade.
Enjoy warm with a knob of butter.