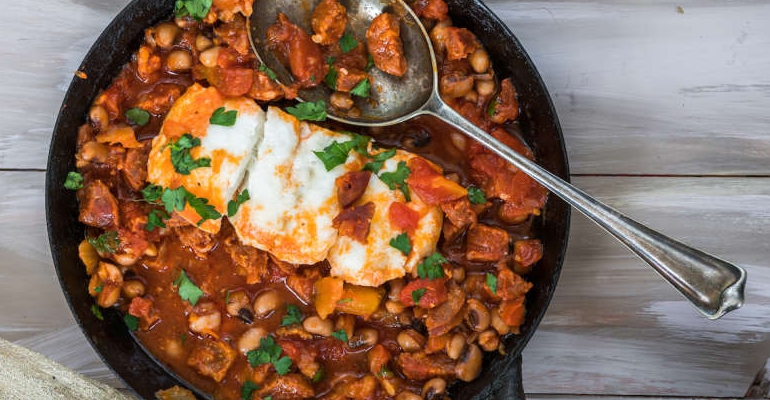 This warming and tasty recipe by Adele Trathan, puts all the ingredients into one pan, making it simple and easy for all the family to enjoy
Serves: 4
INGREDIENTS
2 tbsp olive oil
1 onion, chopped
1 red pepper, sliced
1 yellow pepper, sliced 200g (7oz) chorizo sausage
2 garlic cloves, crushed
1 small red chilli, sliced
4 x 175g (6oz) cod fillets
1 (400g) tin chopped tomatoes
1 (400g) tin chick peas, drained
½ cube of fish stock
1 tsp sweet smoked paprika
1 tsp turmeric
1 tbsp parsley, chopped
METHOD
Heat the olive oil in a large pan and gently cook the onions for 10 minutes without letting them burn. Slice the chorizo sausage into approximately 5mm circles and add to the onions, cook while stirring continuously for a further 5 minutes.
Add the sliced peppers, garlic, red chilli, turmeric and sweet smoked paprika, stir well and cook for 4 minutes combining all the ingredients.
Dissolve the fish stock into 200ml of boiling water and add to the pan with the tinned tomatoes and chick peas, cover and simmer gently for 30 minutes.
Sit the cod fillets on top of the other ingredients, cover for 8-10 minutes until the cod is cooked through. Sprinkle over the chopped parsley and serve straight to the table with crusty bread for a rustic, warming supper.