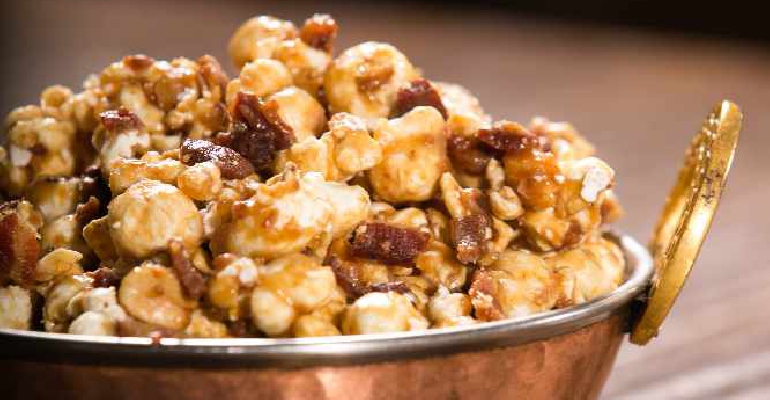 As autumn draws closer, you might find yourself snuggled up at home with a film more often. And no good movie night can ever be complete without a big bowl of popcorn to tuck in to. Try this mouth-watering recipe for Bacon and Pecan Popcorn, for something a little different.
YOU'LL NEED:
115g of popcorn kernels
6 pieces of cooked crispy bacon, chopped as small as you can
60ml double cream
200grams of sugar
60ml water
2 tablespoons of oil
80g chopped pecans
1 teaspoon sea salt
1/4 teaspoon of cayenne pepper
2 tablespoons of maple syrup
TO MAKE:
1. Preheat oven to Gas Mark 2.
2. Coat a large pot with the oil and put it on a medium hit, with a lid on. Add the popcorn kernels and cook until they begin to pop.
3. Lift the pan just above the heat and shake it until it has finished popping.
4. Now carefully pour the popcorn on to a baking tray covered in grease proof paper.
5. Sprinkle the popcorn with cayenne pepper and coat evenly. Now sprinkle the bacon and pecans on top.
6. In a separate pan, bring the cream to boil over medium heat. Remove from heat and let it cool for 15 minutes.
7. Now use another separate pan to stir together the water, syrup and sugar over a low heat, until the sugar has disolved. Now turn the heat up a little higher and boil until the sugar turns a warm orange.
8. Remove the sugar mixture from the heat and carefully add in the cream.
9. Now drizzle the mixture over your popcorn. Try to turn and coat with a spoon if you can.
10. Place in the oven and page for about 20 minutes, keeping a close eye and turning the popcorn regularly.
11. Remove from the oven and cool for five minutes, before mixing and cooling. Repeat this process to stop the popcorn from sticking together. Continue until completely cool.