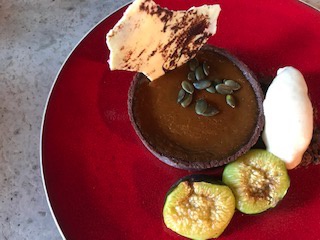 Approximately 13 million pumpkins are used in the UK for Halloween. Unfortunately most of these are only used for carving and then the flesh is discarded. What a waste!
Sadly most of it goes into general waste instead of being used for compost. With a little thought, the flesh can go a long way. It doesn't always have a lot of flavour as they are grown for carving and can be pale and watery. You can turn them into something pretty special though, with a few spices and flavours.
This recipe for Pumpkin Pie with Chocolate Pastry is very tasty and a lovely dessert or coffee time snack. If you are really not interested in cooking and don't have anyone to give your pumpkin flesh to, please at least make sure it finds its way on to a compost heap or into your food bin. This way it could provide food for lots of bugs and worms/slow worms as well as creating a rich soil for next year's crops!
INGREDIENTS
500g plain flour
50g cocoa powder
125g unsalted butter, diced
160g icing sugar
2 eggs
2 yolk
2 tsp ground cinnamon
METHOD
Rub the flour, cocoa, butter, icing sugar and cinnamon between your fingers to a breadcrumb consistency.
Add in the egg and extra yolk and mix to a dough but don't overwork. Rest in the fridge for at least 1 hour.
Roll the pastry on a lightly floured surface to about 3mm thickness and rest for another 5 minutes.
Cut into discs and then press into greased tart cases.
Dock the bases with a fork and then freeze hard.
Line with cling film or paper and fill with baking beans or your pastry trimmings. You can use these after cooking to make a crumble for another pudding or for your ice cream to sit on.
Bake at 160C until set and firm/no longer shiny
Eggwash to seal any holes in the pastry
FOR THE FILLING
1 small pumpkin (1kg ish)
3 eggs
250g dark brown sugar
1 tbsp cornflour
1.5 tsp ground cinnamon
½ tsp ground ginger
½ tsp mixed spice
½ tsp ground mace
240ml double cream
60g coconut yoghurt
METHOD
Peel the pumpkin and de-seed – you can re-use the seeds by following the tip at the bottom of the page.
Cut the pumpkin into quarters and roast at 180C until cooked through. Blend to a puree.
Weigh 450g of the puree and then add o the remaining ingredients and mix well with a whisk.
Pour into the warm tart cases and then return to the oven at 160C and bake until set. It will rise a little but you can get away with filling the cases pretty much to the top.
They should take about 20 minutes but will be set firm when ready.
Leave to cool slightly before removing from the moulds and serving at room temperature.
TIPS:
Most pumpkins in this country are grown for carving and so are pretty hollow inside, watery and have little flavour. That's why a lot of people think they don't like pumpkin! Try using a Crown Prince variety or another type of squash. The colour is much better too.
Boil the seeds in salted water for 10 minutes and then strain and bake until golden. They make a tasty and healthy snack. The ones you buy from the shop are green because it is the inner kernel only. These are really hard to remove but you can eat the whole thing anyway, they are just not so pretty. You could just plant them for next year if you want to.
Don't keep rolling your pastry trimmings out as this will make your pastry too short but you can bake them off and use for a crumble or rough biscuits!
Figs are also in season and add a nice bitter sweetness to this dish. Roast them with a little honey.
If you have any pumpkin puree left you could add it to a soup, use it as a puree to accompany your dinner or sweeten it with a little honey and serve it with your pumpkin pie!