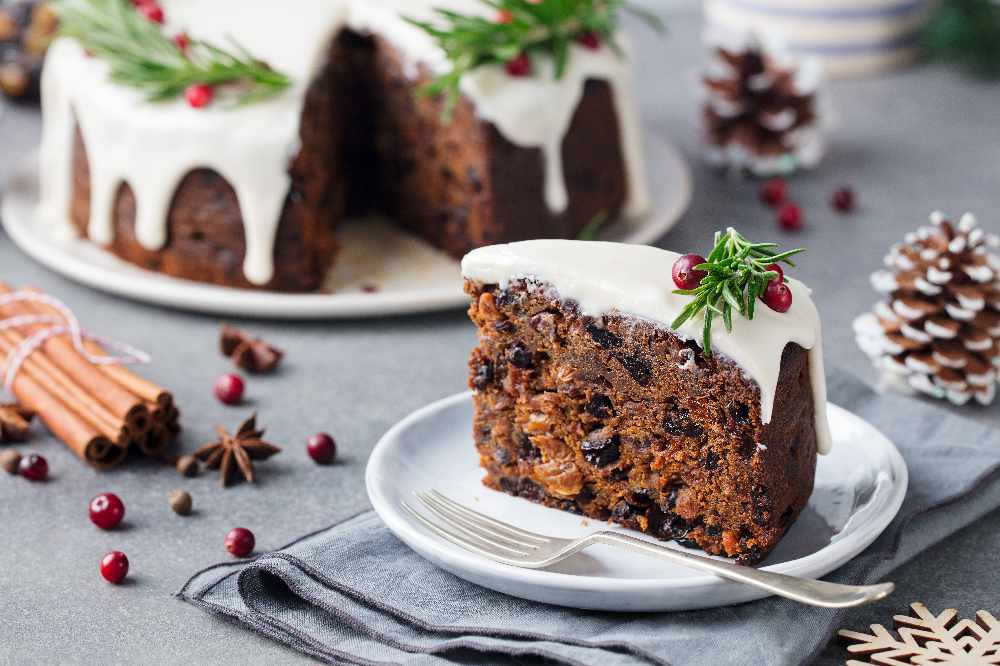 With much more time spent at home in the lead up to Christmas this year, why not revisit an old festive tradition — and bake a Christmas cake to share with the family on the big day. Nothing beats it!
Ingredients
1lb (450g) currants
6oz (175g) sultanas
6oz (175g) raisins
2oz (50g) glace cherries, rinsed and finely chopped
2oz (50g) mixed peel, finely chopped
Three tablespoons of brandy
8oz (225g) plain flour
½ teaspoon salt
¼ teaspoon freshly grated nutmeg
½ teaspoon mixed spice
2oz (50g) chopped almonds
8oz (225g) soft brown sugar
1 dessert spoon of black treacle
8oz (225g) unsalted butter
Four eggs
Grated rind of one lemon and one orange
To cover the cake you will need
500g of marzipan
1kg fondant icing
Apricot jam
Or use royal icing if you prefer
Decorations
Method
The night before you make the cake, place all the dried fruit and peel in a bowl and mix in the brandy. Cover the bowl with a cloth and leave to soak for at least 12 hours.

Sieve the flour, salt and spices into a large mixing bowl and in a separate bowl, cream the butter and sugar together until the mixture is light and fluffy.

Next, beat the eggs and – a tablespoon at a time – add them to the creamed mixture, beating thoroughly after each addition. Prevent curdling by adding a little of the flour.

When all the egg has been added, fold in the flour and spices (fold don't beat). Stir in the soaked fruit and peel, the nuts, treacle and grated lemon and orange rinds.

Spoon the mixture into a greased and lined tin and spread it out evenly (if you're not going to ice the cake, at this stage you can arrange some whole blanched almonds over the surface – but do it lightly, or else they disappear in the cake).

Preheat oven – Gas mark 1, 275 degrees F or 140 degrees C

Bake on the lowest shelf of the oven for four and a half hours (don't open the oven to have a peek for at least four hours).

When the cake is cold, wrap it well in double greaseproof paper and store in an airtight tin. Feed it at odd intervals with brandy by making a few holes in the top with a needle and pouring a few teaspoons of brandy in. Repeat this every few days for a week or two.

In the days leading up to the big day, ice and decorate your cake, using a layer of apricot jam (brushed lightly on the cake), followed by a layer of marzipan and a layer of fondant icing. Alternatively, you can use royal icing with no marzipan or jam.

Enjoy on Christmas Day.