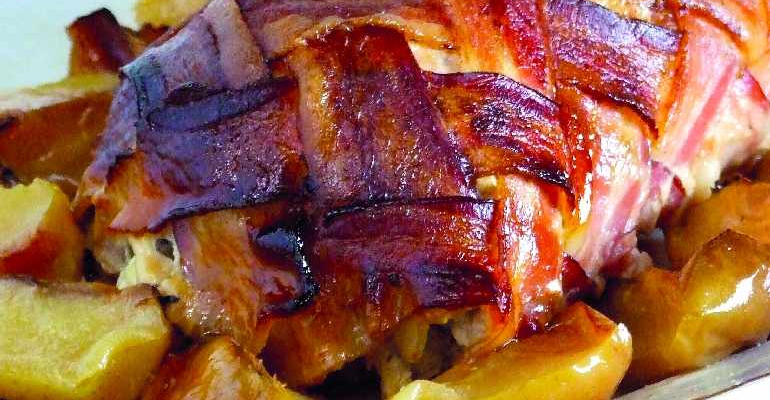 As the autumn season approaches, enjoy this hearty choice for a family meal.
Ingredients
450g (1lb) of tenderloin pork
4 rashers of rind-free, streaky bacon
A little butter and seasoning
For the stuffing
1 small onion
A generous cupful of breadcrumbs
2 tsp dried sage
1 egg, beaten
For the gravy
1 tbsp of flour
250ml (½ pint) white wine or dry cider
Method
Using a sharp knife, cut the tenderloin in half lengthways, leaving some fat on the meat to keep it moist during cooking. With a steak mallet or rolling pin, batter the two halves to flatten and widen them. Season with a little salt and some ground black pepper.
To make the stuffing, sauté the onion in a little butter until soft. Add the breadcrumbs, sage and some hot water until the mixture swells, then mix to a stiff consistency.
Let the mixture cool a little, then add the egg and combine until it spreads easily.
Spoon the stuffing into one half of the tenderloin, patting it down firmly. Spread more stuffing on top of the meat, then smear a little butter over the stuffing and season.
Lay the streaky bacon over the stuffing and tie it firmly with string (not plastic) at two-inch intervals. Place the stuffed tenderloin into a buttered roasting tin with care and roast in the oven for around one hour at 180C/350F.
To make the gravy, mix flour into the cooking juices and add the wine/cider. Season to taste.
Serve hot with broccoli and roast vegetables.
Tip: Unused stuffing can be rolled into small balls and frozen for another meal on another day.