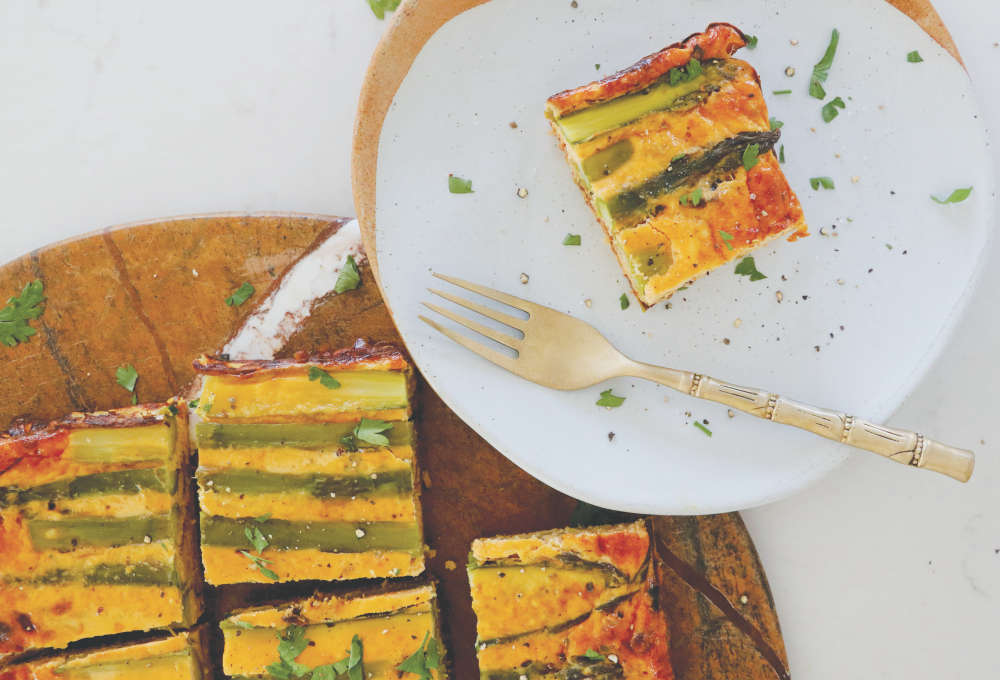 A quiche works for every occasion; quick fridge-raid lunch, easy summer entertaining or a protein-filled breakfast alternative. This crustless asparagus quiche by Mary Goodsell is the perfect naturally gluten-free dish.
TOP TIP: Add fresh cherry tomatoes or spinach to the quiche for colour and extra plant diversity!
Ingredients:
50g (2oz) unsalted butter, plus extra for the tin
250g (9oz) asparagus, trimmed
10 rashers streaky bacon, roughly chopped or bacon lardons
5 spring onions, finely chopped
3 cloves garlic, crushed
5 large eggs
200ml whole milk
100g (3½oz) ricotta
80g (3oz) parmesan, finely grated
80g (3oz) mature cheddar, grated
Method:
1. Heat the oven to 190C/170C Fan/Gas 5 and butter and line a 20cm x 25cm tart tin. Blanch the asparagus for 5 minutes in boiling salted water, drain and put aside.
2. Fry the bacon in a small frying pan over a medium-high heat until crispy. Pat with kitchen paper to remove fat, and cool. Wipe the frying pan. Add the butter and fry the spring onions for 2 minutes. Add the garlic and gently fry for another 5 minutes.
3. Beat the eggs, milk and ricotta with plenty of seasoning in a large bowl until combined. Add in the grated cheese and stir in the bacon. Pour into the tin and gently push in the asparagus spears evenly across the tart. Sprinkle with black pepper.
4. Bake for 25-30 minutes or until the quiche is golden and set, with a slight wobble.