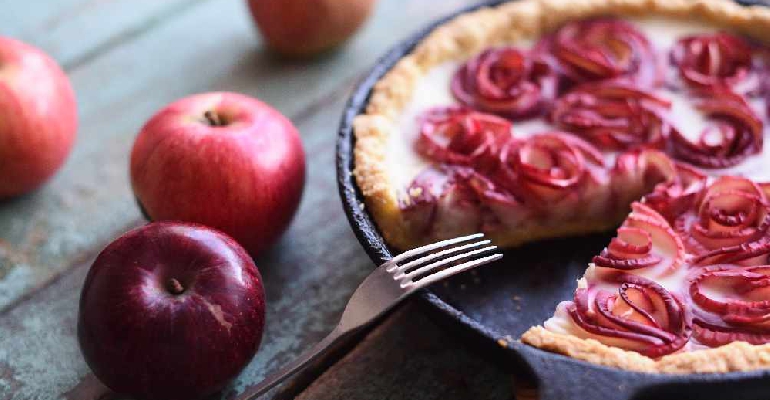 Got some apples? Feeling creative? Impress your nearest and dearest while expressing your artistic side, writes Jo Grey.
200g plain flour
125g unsalted butter, diced
30g icing sugar
1 large egg yolk
For the Crème pâtissière
350ml full-fat milk
4 large egg yolks
100g caster sugar
15g plain flour
15g cornflour
½ tsp vanilla extract
For the Apple topping
4-5 fresh red apples, quartered, cored, and sliced very thin (keep in lemon water until ready to use)
Juice of 1 fresh lemon, added to a large bowl of cold water
2 tbs of warmed honey or golden syrup
Method
Sift the flour into a large bowl, add the diced butter and rub together until the mixture resembles fine breadcrumbs. Mix in the icing sugar and then add the egg yolk and mix to a firm dough adding a little cold water if necessary. Chill for 30 minutes. Roll the pastry onto a lightly floured board, to 5mm thickness, and use to line a 25cm loose-based tart tin.
Heat the oven to gas mark 5, 190°C, or 170°C fan. Line the tart with nonstick baking paper and ceramic baking beans. Bake for 15 minutes. Remove the paper and beans, then bake for 5 more minutes. Leave to cool.
To make the crème pâtissière, heat the milk almost to boiling and then leave to cool for a few minutes. Put the egg yolks and sugar into a bowl and whisk until thick and pale. Add the flour and cornflour then whisk until smooth. Gradually whisk in the milk.
Return the mixture to a clean pan and stir over a medium heat until it begins to thicken. Stir vigorously, reduce the heat to low, stirring continuously for 2-3 minutes, until the mixture is very thick. Remove from the heat and stir in the vanilla extract. Pour the crème pâtissière into the tart case and spread level. Chill for 4 hours, or until set.
Drain the apple slices and microwave for 3 minutes until pliable. Roll a slice of apple into a tight spiral and stand it up vertically in the custard. Continue to arrange apple slices in a concentric pattern around the first one, building a rose pattern. Repeat until the top of the tart is completely covered with apple roses.Brush the warmed honey or syrup over the apples.