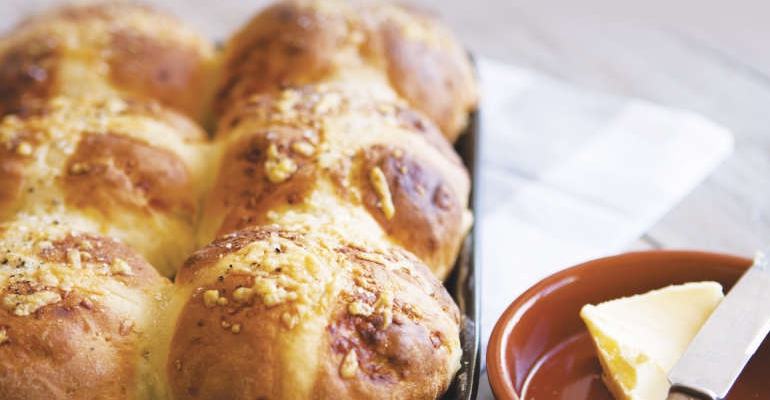 Put a little zing in your hot cross buns with Adele Trathan's twist on an age-old recipe
Makes: 12
INGREDIENTS
700g (1lb 8oz) strong white bread flour, plus 5 tbsp for crosses
400ml (13½fl oz) milk, warm (not hot)
2 x 7g (¼ oz) sachets fast-action dried yeast
1 tsp mustard powder
½ tsp chilli powder
½ tsp smoked paprika
2 tsp salt
150g (5oz) mature cheddar, grated
5 tbsp grated parmesan
5 tbsp water
METHOD
Put the flour, yeast, paprika, mustard and chilli powder and salt in a large bowl. Make a well in the centre and pour in the milk. Mix with a wooden spoon, then use your hands to form a soft dough.
Turn the dough out onto a lightly floured surface and knead for 10 minutes until smooth. Put back into the bowl and lightly cover with oiled cling film and leave in a warm place for about 30 minutes or until doubled in size.
Tip the dough back out onto a floured surface and knead in the cheddar cheese evenly (keep some aside for sprinkling over before cooking). Cut the dough into 12 evenly sized pieces and shape into round buns.
Dust a large flat baking sheet with flour and place the buns on the sheet allowing a 2-3cm gap between each one. Cover with a clean tea towel and leave to prove at room temperature for one hour or until nearly doubled in size.
Heat the oven to 200°C (180°C Fan, 390°F, Gas 6). Mix the parmesan, 5 tbsp of flour with 5 tbsp water to make a thin paste. Spoon the paste into a piping bag or a zip-lock bag and make a small cut in one corner. Pipe a line across each row of buns, then again in a perpendicular direction to make a cross on each bun.
Scatter the tops with the remaining cheddar cheese and bake for 25-30 minutes until golden. Cool on a wire rack, serve warm with butter, delicious with soup for lunch.