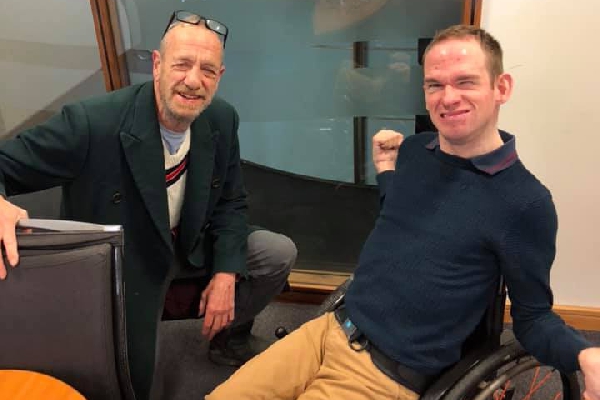 A freelance writer and journalist with Cerebral Palsy is bringing his podcast to the stage.
Islander Josh Barry who writes with his nose on an iPad has been developing the website for around five years. Over that time he has interviewed people such as Jeremy Kyle, Tanni Grey-Thompson, Sir Ian Botham, Jimmy Tarbuck, Leslie Ash and Shirley Ballas, to name a few.
These individuals have given up their time to help him in his quest to build an extensive catalogue of interviews from some of the most prolific faces in Britain.
Not only does he write the whole interview with his nose, but he then writes an article celebrating their career, before his personal assistant takes the article and the interview and adds it to his website.
Josh, who lives in East Cowes, said: "During lockdown last year, I compiled a book celebrating my favourite guests from four years of Beyond The Title and this gave me the inspiration to take Beyond The Title on the road in a series of conversational events throughout the country.
"Adhering to government guidelines, I have so far arranged two shows that I'm really looking forward to: Firstly on Saturday 2nd October with the legendary Arthur Smith at the Museum of Comedy in Bloomsbury." Tickets available at: https://museumofcomedy.ticketsolve.com/shows/873614447
And then on Saturday 16th October, Josh will head to Gurnard Pines alongside the celebrated ventriloquist and Britain's Got Talent finalist Steve Hewlett. Tickets available at: www.eventbrite.co.uk/e/beyond-the-title-presents-an-evening-with-steve-hewlett-tickets-148039099933
"With further shows in the pipeline with the legendary Jimmy Tarbuck, I'm so excited to bring my podcast to the stage."
You can read and listen to Josh's past interviews at www.beyondthetitle.co.uk.