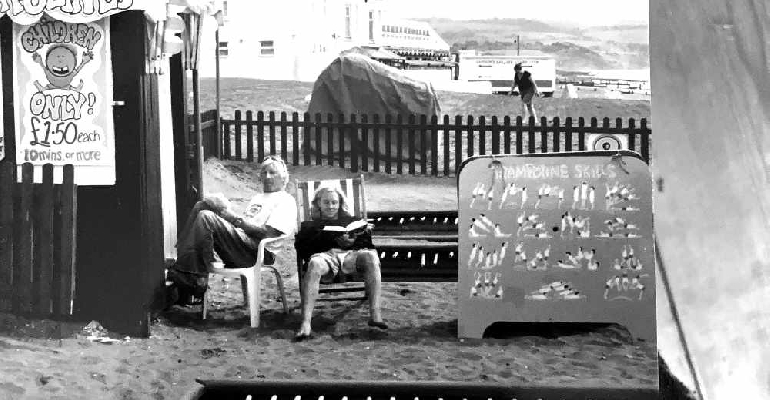 A striking new mural named 'Less Flapping, More Flying' has been painted at The Sundial Cafe, in memory of Norman Abram, who died in 2017.
"He is remembered by most here on the Island as 'The Beach Guy' or 'The Trampoline Man'," said daughter, Jacey Abram-Creutzer, "but he led a far more diverse life than even we knew.
"I like to think of dad flapping around us on the beach surveying what was his territory for so long, making sure we are working hard."
Born and raised in Scarborough, Norman was a keen artist, and a fit and successful sportsperson, especially excelling in swimming. He signed up for the army, and ended up at Sandhurst Military School, excelling physically and becoming a PT Instructor, where he was part of the gymnastic display team, also partaking in trampolining.
It was here a seed of an idea was planted....trampoline beds dug into the ground, to make them accessible and safer for children to use.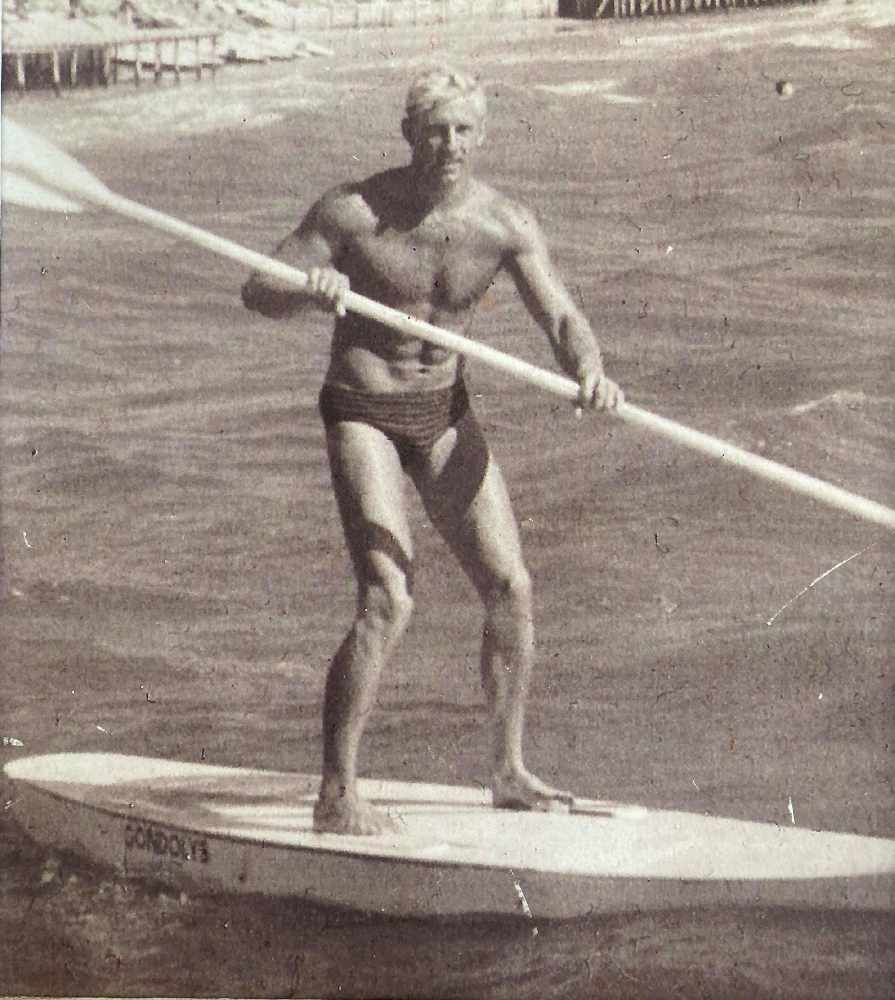 Part of his time in the army was spent stationed at Yarmouth, where he fell in love with the Isle of Wight.
Norman set up his first trampoline site in 1964 in Scarborough, as an experiment, to see if his sunken trampolines would work. With two friends he became part of AGS Enterprises.They sourced all the materials needed and he made the beds, dug out the pits, built the framework and painted all the demonstration moves on signs.
This was obviously some success as sites in Barry Island, Felixstowe, Plymouth Hoe, Southsea, Ryde, Shanklin, Ventnor and Sandown followed. Everything was hand built, dug and painted.
"In 1974 Mess's Boyce and Chambers had noticed how hard Dad worked running from site to site early every morning, putting up trampolines and making equipment — and they sold him a section of Sandown Beach. Mum remembers saying at the time 'you won't catch me walking round the beach collecting money in a leather satchel'. Little did she know!"
Norman immediately re-built all the beach huts on Eastern Beach, which still stand today, and set them back to make more space on the beach. He ran deckchairs all the way up to the Grand Hotel, adding little footrests that he'd made to make the chairs more comfortable before sunbeds were introduced.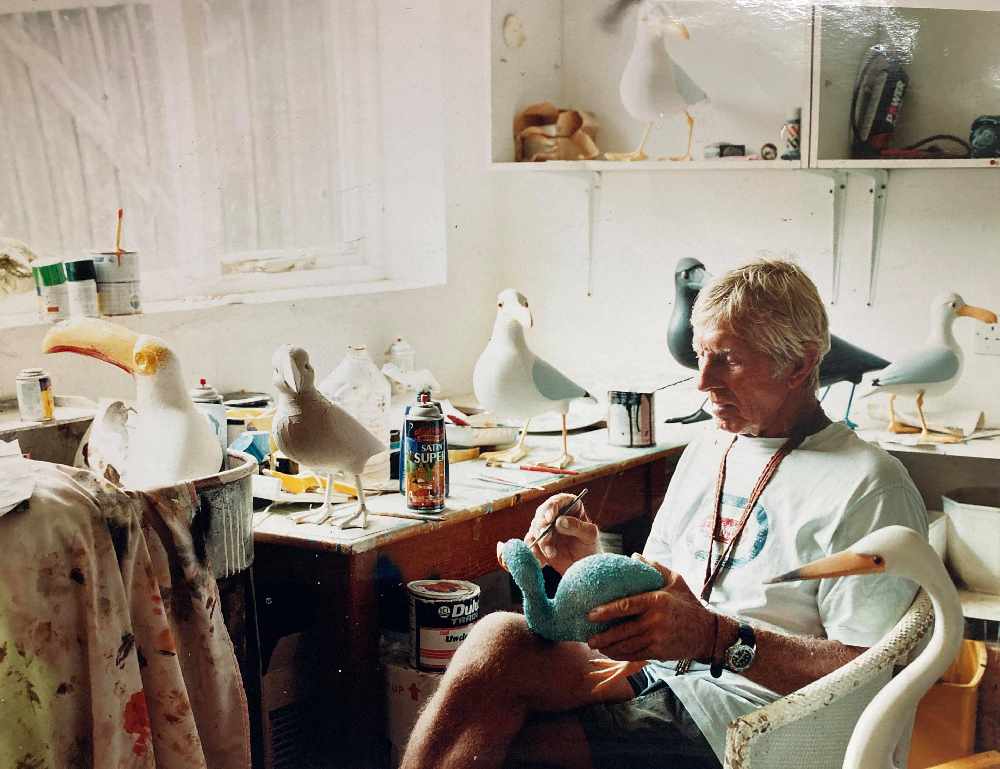 When he designed the first adjustable sunbeds (pre mass-produced plastic era) he patented the design. In 1984, Norman built his wife The Sundial Cafe, a lovely little wooden structure next to the trampolines, which over the years grew, with Norman adding extensions and features as ideas and business flourished.
"The beach, trampolines and cafe were our home from then on," said Jacey. "A childhood of skim-boarding on huge handmade circular boards which we could barely pick up, playing on surf skis with friends and bouncing on trampolines in the rain. But also being forced into swimming club at 6am in the morning!
Breakfasts of toast with lime marmalade and lots of laughs are still remembered fondly by most who worked on the beach.
"Long walks were a norm for us as a family and he continued to enjoy walking every evening long after us kids left home. He liked nothing more than sitting down the beach quietly with a paper or a sketch book, constantly designing and planning his next project, three quarters full coffee in hand and a rock cake.
"Hand-made Seagulls, Toucans, Dodos and Storks were amongst successful work which he sold, often in the Quay arts and other shops on the Island. All made from an experimental toxic compound which ironically was what, we believe to have led to his eventual diagnosis of Parkinsons in 2004.
"For a man whose whole life had been about creation, art and fitness, Parkinsons was a devastating diagnosis for him. He began not being able to walk so far, gradually losing his balance, strength, dexterity and hope.
"We brought him to the beach as much as we could. Although he loved to sit with his coffee and cake he never wanted to be a bystander in life, he was a doer, and loved to be useful.
"When he had to move into a care home it was heartbreaking. In a meeting with some care workers when he first moved he was asked what he missed most. It was one of only two or three times in my life I have seen him cry when he said 'going for walks'.
"I shared an interest in art with Dad from a very young age, watching his steady hands perfectly painting letters on a sign. I wanted to paint 'Less Flapping, More Flying' in memory of him.
"He lost so much of who he was in his final years and I don't know if he knew how well respected he was, and how admired.
"He will be buried down here at the beach with us, where I still think of him sitting with his legs crossed, feet tapping, with his three-quarters-full coffee and rock cake, under a painting that I hope, will remind us of how far he quietly flew in life."