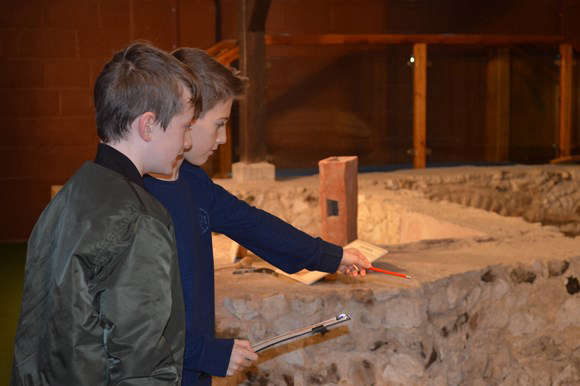 Newport Roman Villa is inviting Isle of Wight children to get passionate about history this half term - with a number of fun activities on.
The villa, at Cypress Road, Newport, will be open for three days each week over a two-week period for photo hunt activities on the site and visitors will be able to see the villa remains, Roman bath suite, garden and museum display.
No booking is required. The entry fee will be at a reduced rate of just £1 per person during the October half term and includes the following activities and free craft kits to take home.
Help the forgetful Roman Soldier
On Monday 18, Wednesday 20 and Friday 22 October, visit from 10am to 2.30pm to help the forgetful Roman Solider find his missing equipment.
Explore the villa with a photo hunt to complete on the day and learn fascinating facts about Roman life as a soldier.
The free activity pack to take and make at home includes facts about the realities of serving in the Roman army and a dress your own solider game.
Nasty Newport Roman Villa
On Monday 25, Wednesday 27 and Friday 29 October – visit the villa from 10am to 2.30pm.
The photo hunt for this week will take you across the site, finding out some foul facts about Roman life. The free craft kit to take and make at home is a wolf mask making kit.
Newport Roman Villa is an excellent example of a Roman third-century farmhouse. It has a well-preserved bath suite, Roman Garden and museum display. The villa is an excellent site to explore for all ages.
No booking is required but numbers may be limited at busy times. The wearing of face coverings is encouraged.
For more information on these events, call (01983) 823433, email: museums@iow.gov.uk or visit: www.iwight.com/museums.