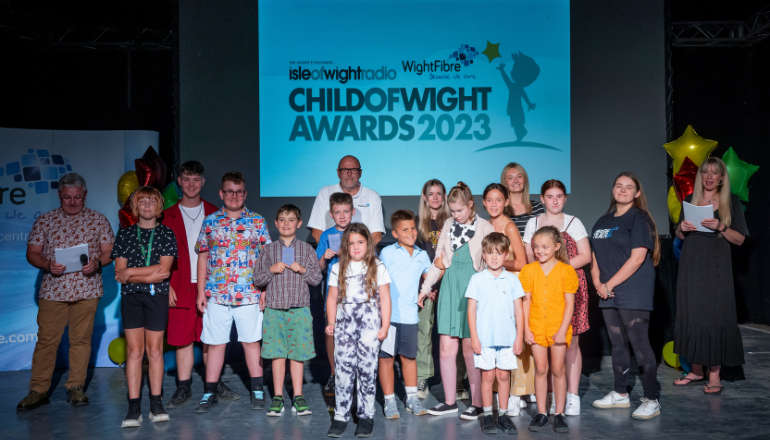 (c) Robin Crossley
The Island's young heroes have been crowned at Isle of Wight Radio's Child of Wight Awards 2023.
Friday (September 8) saw the event, with headline sponsor WightFibre, take place at Tapnell Farm Park for the second consecutive year, with nominees given the chance to partake in a range of fun in-house activities before celebrations got underway.
The evening also featured performances from The Starlight Academy and Theatretrain.
The awards were fronted by Breakfast Show hosts Paul Topping and Heather McCallum.
Find the list of winners below...
Overall winner (sponsored by Wightfibre)
Amelia Sinfield Burns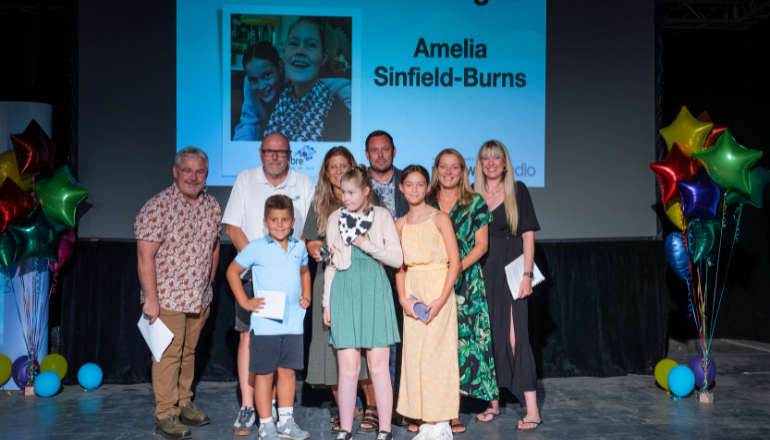 (c) Robin Crossley
At the age of three Amelia was diagnosed with a very rare, life limiting neurological condition called MECP 2 duplication syndrome — at the time of diagnosis the only female in the UK with the condition.
In 2021 she raised £5,000 for children's charity "When You Wish Upon a Star" which entailed taking on the Island's red squirrel trails from Newport to Sandown.
Recently, Amelia spent a month in hospital fighting a severe infection that resulted in sepsis, pneumonia and an emergency life saving operation.
Her Dad said:
"Amelia's bravery, courage and love of life is inspiring, she is always happy and smiling and living her best life.
"It's a privilege and honour to be her Daddy, I am so proud of everything she has achieved and the young lady she has become."
Young Conservationist Award (sponsored by Wildheart Animal Sanctuary)
Sidney Smith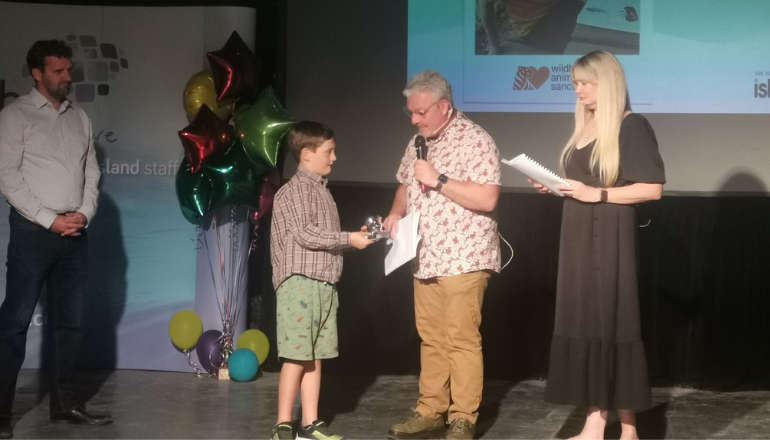 Sidney is a devoted lover of all animals who has spent the past few years focusing on informing people about pesticides and what effect they have on the environment.
He teaches people not to kill insects and spiders, and at school they rescue all of the creepy crawlies that wiggle their way into the classrooms - catching and releasing them.
He also got permission to build a bug hotel on the school playing field at Wootton Primary.
Asa Singleton Most Courageous Child Award

(sponsored by Wightlink)
Bentley Jarvis-Hadgraft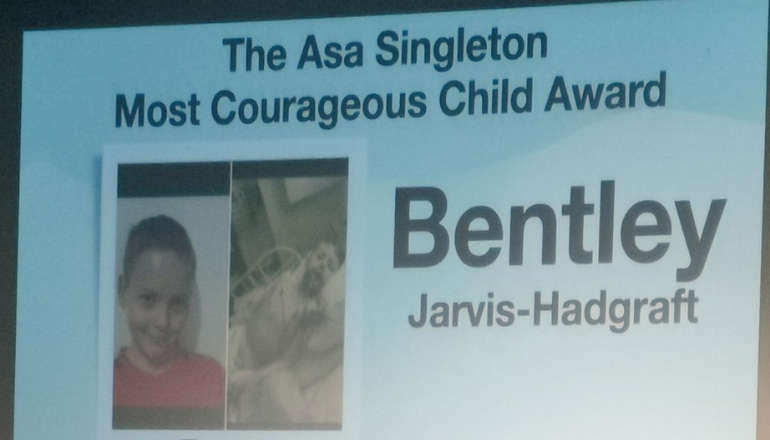 Bentley — who is autistic — tested positive for Covid last December.
On Boxing Day he developed a temperature and complained of feeling unwell. Five days later he was admitted to hospital and diagnosed with Sepsis.
His condition continued to worsen and after having surgery for what they thought was a bacterial infection, he was intubated and flown to ICU in Southampton.
It then came to light that Bentley had been suffering with Paediatric Inflammatory Multisystem Syndrome (PIMS) caused by Covid.
But this little boy is a fighter and against all odds he pulled through, returning to school and playing in his disability football league.
Young Carer Award (sponsored by Deltron Lifts Coastal)
Lily Kingsland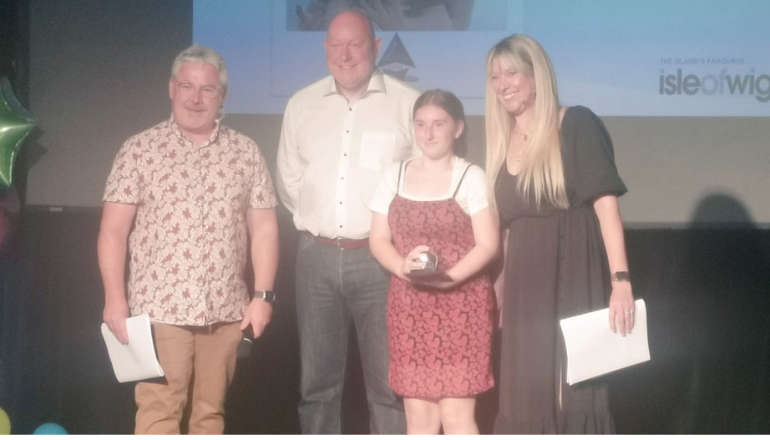 12-year-old Lily Kingsland has spent the past four years helping to care for her brother Nicu.
Nicu needs 2:1, 24-hour support and this brave young girl helps her Mum out without any complaints.
Her Mum said:
"I couldn't be more proud of Lily for taking this on from such a young age.
"There have been tears along the way but my gosh she's MY strong, beautiful daughter."
Fundraiser of the Year Award

(sponsored by Red Funnel)
Charlotte White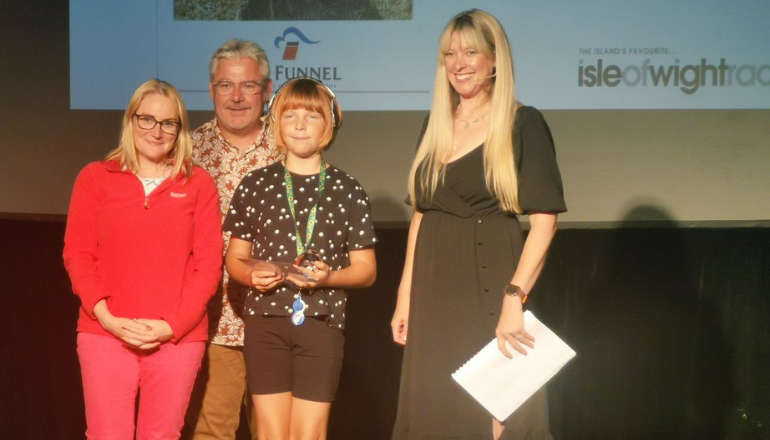 Charlotte is autistic and attends St Catherine's School in Ventnor.
She struggles with anxiety and has battled with an eating disorder.
For the past three years she has raised thousands of pounds and completed an annual charity event in aid of the Island branch of the Cats Protection League.
In 2021 she completed a marathon over five days on foot, subsequently cycling 26 miles over a few hours in 2022, and in June this year she completed a sprint triathlon.
Best Friend Award (Sponsored by Esplanade)
Poppy Catania and Joey Coker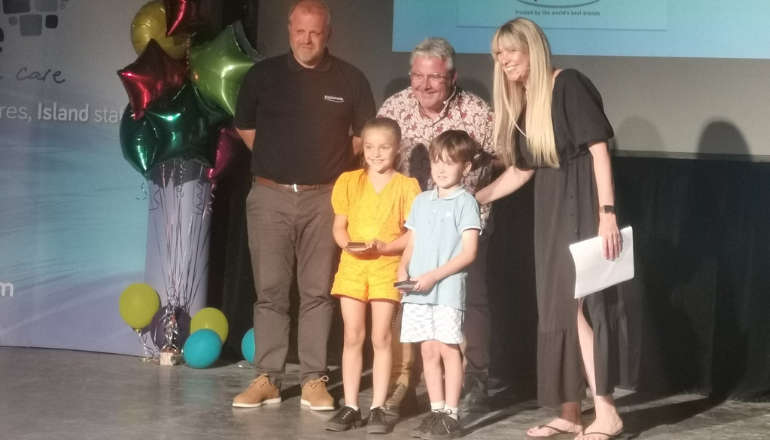 Poppy and Joey are two very special children with an unbreakable bond.
Joey, 7, has had more than 17 surgeries. These include brain, bladder and kidney surgery, with more operations to come in the future.
Poppy is Joey's best friend and cousin, and the two of them are inseparable.
Joey was told he would never walk or talk, yet has smashed down barriers and proved everybody wrong.
In the words of Poppy:
"Joey is my bestest friend in the world, we are the same age and we do so much together.
"I am so proud of everything Joey does with me."
Best Performer Award (Sponsored by Snows)
Lily Valvona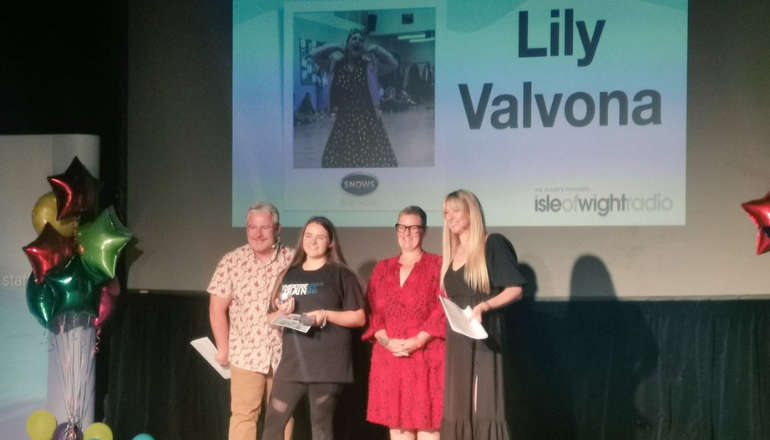 15-year-old Lily has competed in music festivals, performed in shows and taken singing exams over the years.
Her dream is to attend performing arts school full time and perform on stages in the West End
Not only does Lily work on ensuring her own development and progression, she is also a leader at Theatretrain, running the student info group, recording harmonies for her peers to rehearse with and researching new material for her event troop.
Best Sibling Award (Sponsored by Ascensos)
Ollie Edwards, Lexie Turner and Riley Edwards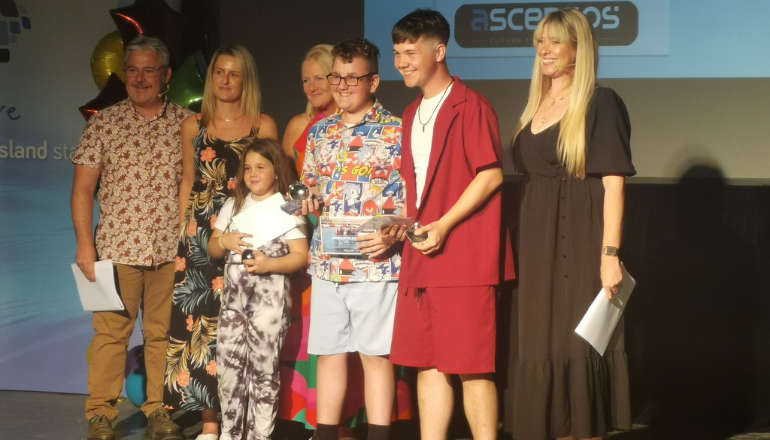 This year's Best Sibling Award has been given to three incredible children called Ollie, Lexie and Riley who went above and beyond to support, love and play with their sister Chelsea - who had four limb cerebral palsy and was registered blind.
Chelsea sadly passed away on July 11, 2023.
Chelsea's sister Lexie, who is 8 years old, went above and beyond to help her with her care needs - including washing syringes and giving her nebulisers.
Riley, who has special needs himself, always made sure that he looked after Chelsea on the school bus and helped out in a myriad of other ways.
Oldest sibling, Ollie, has spent the last 11 years not only being the best big brother to Chelsea but also an incredible wingman to his Mum.
The day before Chelsea passed away, the entire family organised her own prom in her room at Portsmouth hospice Naomi House.

Young Achiever Award

(sponsored by Phoenix Youth Services)
Masie- Rae Haynes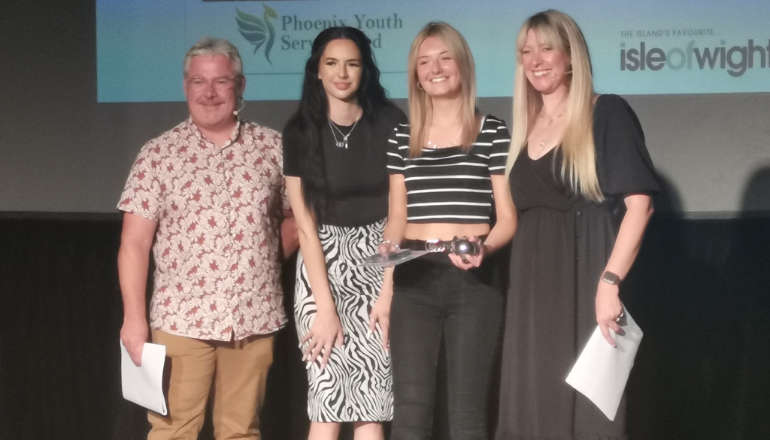 Maisie was diagnosed with autism at the age of three and has struggled with anxieties and sensory issues over the years.
When she was four, she took an interest in anything to do with planes and the following year knew she wanted to become a pilot herself one day.
At age nine, she had her first pleasure flight with the Douglas Barder Foundation - becoming a volunteer at Sandown Airport by the age of 13.
She has been having flying lessons since she was 15 years old and earlier this year her instructor told her it was time for her to go up alone.
Maisie's parents said:
"She amazes us every single day, and we could not be any prouder of what she has achieved over the last few years."
Sporting Star Award (sponsored by UKSA)
Macy Toogood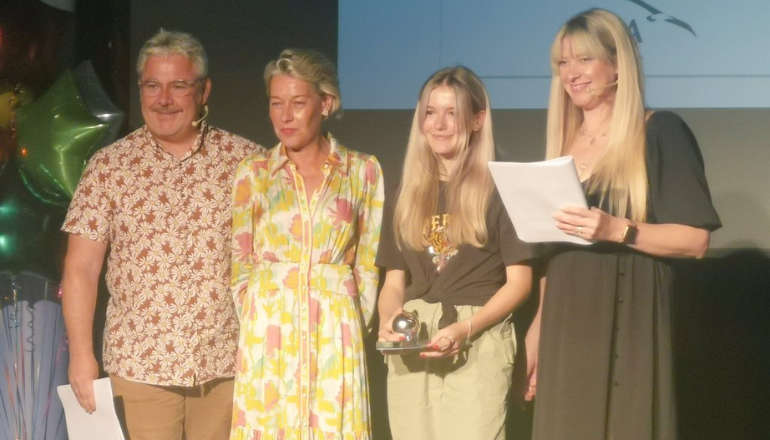 Keen cricketer Macy has helped coach other young people in the sport and plays in the IW County Girls squad.
Macy is autistic and has had to break down barriers, overcome anxiety and learn how to manage her autism to allow her to play the game she so dearly loves.
Alex Barton from the Isle of Wight Cricket Board said:
"She is the epitome of what the Child of Wight Sporting Star stands for and has shown incredible development in both her talent and personal improvement."
Make a Difference Award (sponsored by Utilita)
Matthew Couch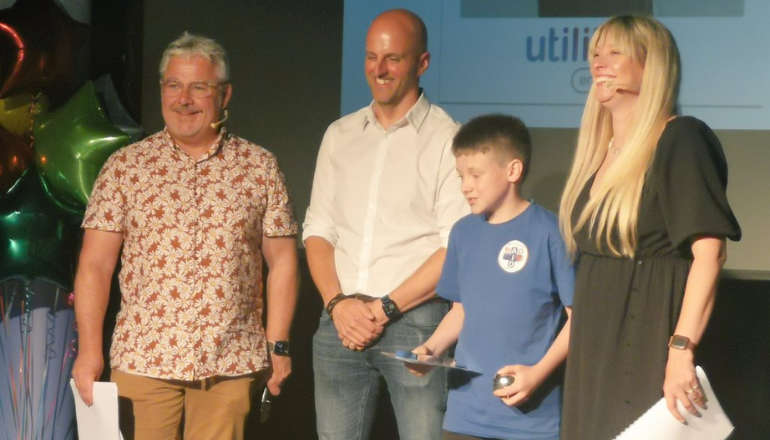 Matthew, 12, has not only helped to raise money with events on the Island but has also travelled into Europe to help with aid work.
He has been assisting East Cowes-based charity MAD-Aid since last year, when his dad became a volunteer to collect aid for Ukraine.
They went on to join other aid workers on a trip to Moldova, handing out medical aid, food and children's clothes to families in need - including some Ukrainian refugees at centres close to the border.
Matthew has recently been accepted as an #iwill ambassador, written a column for the local newspaper and a report for his school newsletter at Carisbrooke College.
Roundup
A wonderful Child of Wight 2023 ceremony left guests, sponsors and award winners feeling uplifted and emotional from the amazing feats of the young people recognised over the course of the evening.
John Irvine, chief executive of head sponsor WightFibre, said:

"The awards speak for themselves.

"You hear wonderful stories about wonderful young people.

"It's something to celebrate, which we should do more often."
Claire John, Isle of Wight Radio Group Managing Director, added:
"The Child of Wight Awards allows us to shine a bright light on an inspirational group of children and young people, recognising their outstanding personal achievements, bravery and courage.
"A huge thank you to all of our sponsors for your generous support.
"Yet again the awards highlighted what incredible children we have here on the Island."