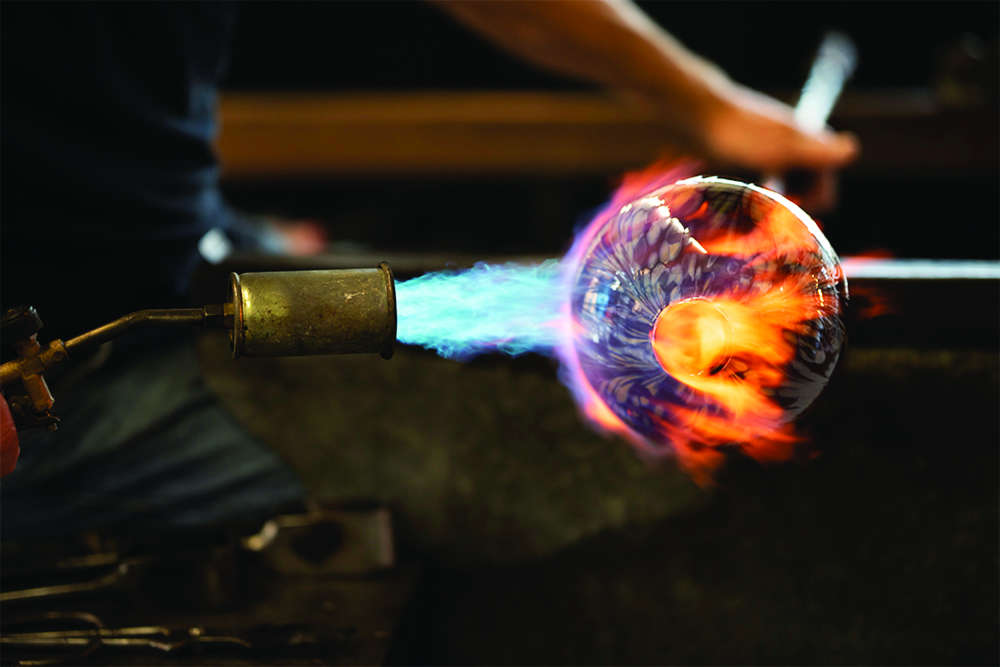 Isle of Wight Studio Glass 'the original' is celebrating its 50th anniversary this year.
Highly regarded for its stunning decorative glass pieces, Isle of Wight Studio Glass' beautiful work can be found across the globe – including in Queen Elizabeth II's royal collection.
The business was founded in 1973, by the prodigiously talented, pioneering British designer and craftsman, the late Michael Harris (1933-1994).
Despite the current energy crisis – which is dramatically affecting the glass making industry – this landmark studio continues to strive in pursuit of excellence.
Isle of Wight Studio Glass has remained internationally pre-eminent in studio glass design and production.
Michael moved to Malta with his wife Elizabeth and young sons in 1967, where – with Eric Dobson – he established Mdina Glass two years later. Along with Vicente and Ettore Boffo, glassblowers from the Whitefriars factory, and with local youngsters as apprentices, they produced striking and richly coloured glass, remaining there until 1972.
Michael then moved back to the UK with family and founded Isle of Wight Studio Glass in 1973 – setting up in St Lawrence.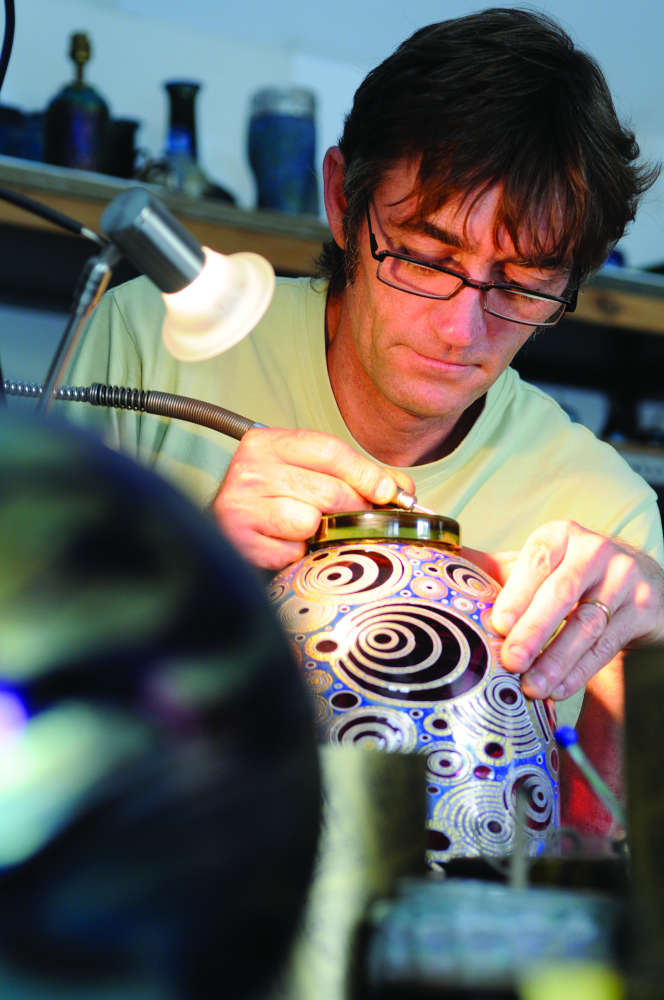 From a very early age in Malta, Timothy, Michael's elder son, was attracted by the heat, fire and smoke of his father's Mdina studio. His natural talent and aptitude for working with hot glass quickly developed. This continued upon the families move to the Isle of Wight and so his glassmaking career began. Timothy completed formal college studies at Brierley Hill College of Glass Techniques & Technologies, West Midlands, in 1979-1980 – the college's very first intake.
In 1980 he returned to the Isle of Wight, enabling him to take his place alongside the most respected designers and makers in Britain. It was at this time that innovative ranges including Undercliff, Nightscape and Seascape became a part of the studio's impressive history.
Isle of Wight Studio Glass has gained many accolades over the years. The recognition of the studio's pioneering addition of 22ct gold leaf and sterling silver leaf to the surface of hot glass was awarded 'Best of British Design' in 1979 by the Design Council. The award was presented to Michael by the late Duke of Edinburgh which was applauded by the global studio glass movement. 'The Original' technique developed into their range, called Azurene in 1978, in collaboration with RCA student William Walker. The technique has often been imitated but never surpassed. It is a technique still widely used by Timothy and his team today.
Isle of Wight Studio Glass' work can be found in many countries worldwide – in private and royal residents, as well as museum, art and gallery collections. It has also been the studio of choice for many awards over the years.
Over the past 45 years, and more, Timothy has also tutored many glassmakers – some still based here on the Island, and aided many others in set up and design around the globe; Kerry of Killarney, Mdina, Phoenicia, Mtarfa, Gozo, Guernsey, Jersey, Royal Brierley and many others as far away as Bangkok.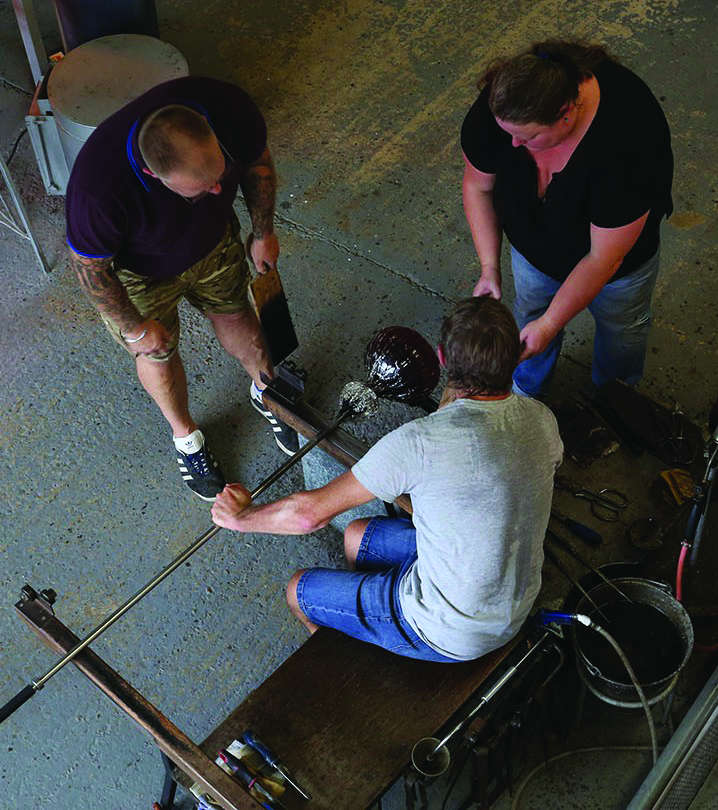 In 1990 Timothy's contribution and talent was recognised in several prestigious awards including the Queen Elizabeth Scholarship Trust (QEST) which supports Excellence in British Craftsmanship. As a Royal Scholar this facilitated an artist in residency at Penland School of Craft U.S.A in 1990 with a return invitation to Penland in 1991 to join the teaching faculty, followed by an artist in residency at Pilchuck Glass School, Washington.
Timothy has since been recognised as one of the finest, most accomplished and innovative, naturally-talented glass-makers this country has ever had – always finding new ways of working with hot glass, constantly experimenting in his quest for perfection of form, colour and texture and keeping his team at the forefront of British craftsmanship.
The royals' love of glass includes Timothy's Graal perfume bottle given to the Queen Mother for her 90th birthday in 1990, a personal presentation of 'The Queen's Bowl' by Timothy to Her Majesty Queen Elizabeth II in her Diamond Jubilee year of 2012. The bowl was a gift from the people of the Isle of Wight and was later exhibited in the Royal Collection.
A further unique piece, created for the Queen's Platinum Jubilee in 2022, a set of whiskey glasses commissioned for King Charles for his 70th Birthday, as well as pieces for HRH Duke of Wessex.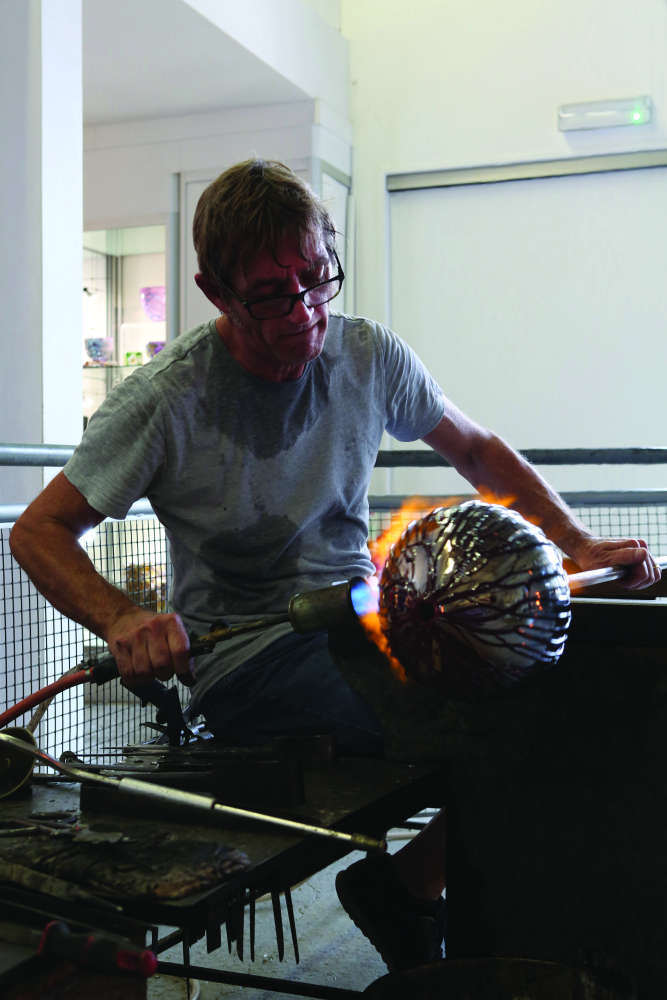 In 2013, the studio relocated to their current location at Arreton Barns, under the ownership of Michael's younger brother, Dr Richard Harris.
All current ranges are available to buy from the studio shop located at the very top of Arreton Barns site, above the pond, or by ordering via www.isleofwightstudioglass.com.
The studio welcomes visitors all year round where you can watch this magical craft, order personal and corporate commissions, or book a 'make-your-own' or tailored glassmaking course available for individuals or groups.
You can contact the team on 01983 522339 for more information.
Isle of Wight Studio Glass Ltd, Arreton Barns Craft Village, Arreton, Isle of Wight, PO30 3AA. www.isleofwightstudioglass.com
Follow Isle of Wight Studio Glass on Facebook, Instagram and Twitter.