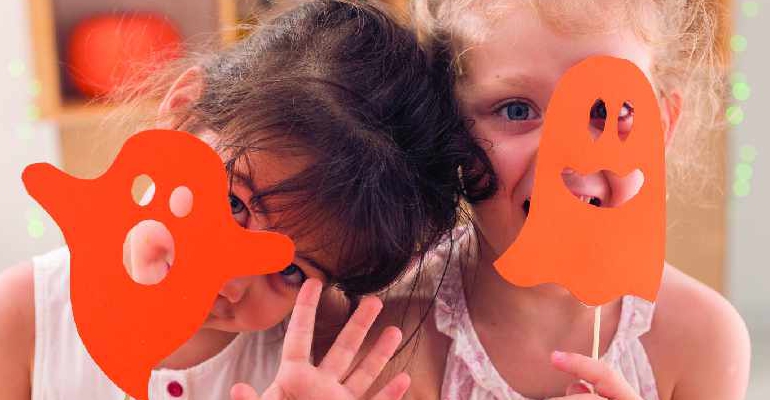 From pom pom pumpkins to homemade outfits, here's how to make this Halloween your most creative one yet
What better way to enter into the spooky spirit of Halloween than by getting stuck into a family craft project?
Low-cost, easy and fun for everyone, these creepily cool creative challenges will offer hours of entertainment for all ages.
DIY dressing up
No outfit sorted for trick-or-treating? Simply make your own.
All you'll need for a DIY witch's hat is black construction paper, scissors and glue – fashion a cone from the paper, cut a fringe at the base and stick on a circular brim for an instant outfit-topper.
Pair with a black top and a tutu made from strips of bin liner looped around a long ribbon.
If monsters are more popular than witches in your house, make a spine-chilling mask using papier-mâché layered onto a giant balloon. Paint on the scariest face you can manage and add pipe cleaner hair for a seriously frightening costume.
Hair-raising decorations
Get your house Halloween-ready with some crafty décor. Paper garlands are straightforward and super fun to make.
Create your own ghostly paper garlands by accordion folding paper into three-inch sections, tracing a ghost shape on the uppermost piece and cutting it out (making sure you leave one arm connected).
You can do something similar with pumpkins, spiders or any other Halloween-themed shape that takes your fancy. For added sparkle, cut eyes out of your paper figures and attach them to a line of fairy lights so that the bulbs show from behind the holes.
Perfect pumpkins
Pumpkins are a Halloween staple, but there's far more you can do with this seasonal vegetable than simply carving a face into its flesh. Give your pumpkin a quirky touch by painting it with a monster, a bat or a spine-tingling Halloween scene.
Melt wax crayons down from the top to create colourful 'hair', stick on sparkly craft pom poms for a bit of bling or dip the stem in glue and then cover it with glitter. If you like the idea of a traditional candle-holding pumpkin, try carving and painting a haunted house, bats or a ghostly figure.
There are plenty of online tutorials available that will help get you started.
Monster making
Use household materials to create your very own Halloween characters. Paint a toilet roll in your favourite colour, then add goggly eyes, woollen hair, pipe cleaner arms and a toothy black marker grin for a perfect monster.
Leftover ice lolly sticks can be used to craft a haunted house – or build a bigger version with old boxes. Go scavenging for rocks in the garden, paint rock monsters and place them around the house as spooky surprises.
Or use an old tissue box to model a monstrous Halloween-themed face. It's amazing what fun you can have with the contents of the recycling box!