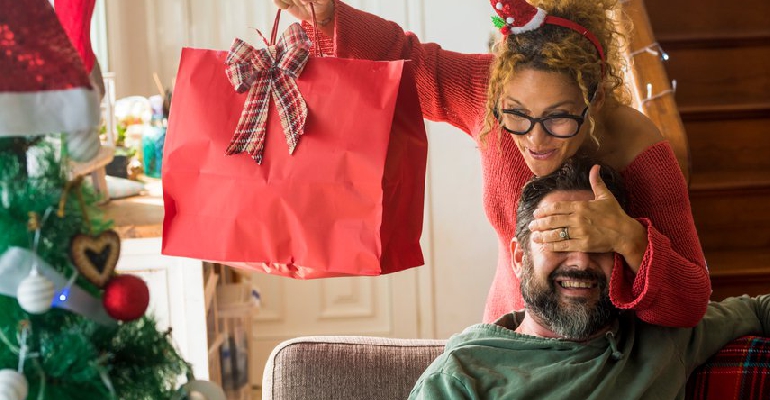 Looking for something special for your other half this Christmas? Check out our picks for the festive season, as well as a few for yourself...
For him:
1. Beard Kit for Men Grooming & Care (£17.91)
This beautiful care gift for any male partner with facial hair should allow them to groom their beard in a luxurious manner. The free e-book also gives great tips for styling your beard the way you want.
2. Bulleit Bourbon Frontier Whiskey 70cl (£22.00)
This gorgeous liquor is the perfect stocking filler for any whisky lover. A perfect treat over the festive period!
3. Best Retro Sweets Cartoon Box Selection (£13.49)
It's not all about alcohol and gift boxes over the festive period - sometimes your hubby just likes to be taken back to a simpler time. And what better way to go back to your childhood than with these vintage treats?
4. Coffee Assortment Gifts for Men (£8.95)
Does your partner enjoy a coffee in the morning? He'll certainly love this organic selection, with a range of flavours to satisfy those morning taste buds!
5. Anpress Bluetooth Beanie Headphones + Touchscreen Gloves (£10.99)
As winter approaches, it's always hard to motivate yourself and get out running after the festive season ends. But this comfy kit with built-in headphones should certainly help - listen to your favourite tunes while out exercising!
For her:
1. Teatime Delights Hamper (£30.00)
Struggled to get out for afternoon tea this year? Treat yourself (or get your partner to) with this luxury set to enjoy at home!
2. Shiatsu Neck Back Massager Pillow (£31.99)
Let's be honest, who doesn't need one of these? The perfect way to end your Christmas Day, lie back on one of these with a drink - you'll have never felt more relaxed!
3. Sandy Leaf Farm Ultimate Gin Maker's Kit (£24.99)
As you're very likely to receive a nice bottle of gin or two for Christmas, this customised set is the perfect solution to make your drink unique.
4. Ferrero Collection Chocolate Gift Set (£8.00)
Who doesn't love these luxury chocolates? Entice your partner to splash out on a couple of these varied boxes, perfect for the family to enjoy - or just yourself!
5. Bomb Cosmetics Santa Says Relax (£14.14)
You've got the chocolates, the gin and the personalised massager. Now run yourself a bath and enjoy them together, along with these festive bath bombs, all for a reasonable price!