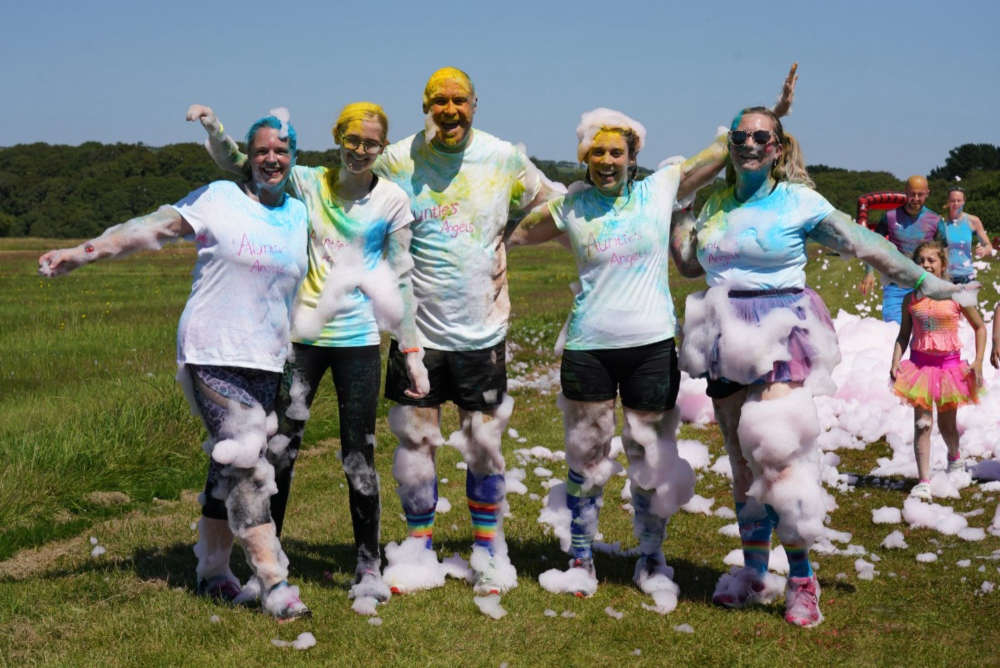 Wessex Cancer Trust's Rainbow Run
Eighty intrepid fundraisers are taking the plunge for Wessex Cancer Trust - in celebration of the charity's 40th birthday.
On August 3, a team of 40 will be skydiving from 10,000ft at Sandown Airport, while on September 4, another 40 will be swimming The Solent, between Hurst Point and Colwell Bay.
So far, the birthday skydive and swim teams have raised more than £21,000 for the charity, which supports hundreds of Island families living with cancer.
To celebrate 40 years of cancer care, Wessex Cancer Trust's IW staff will also be joining the celebrations with Regional Fundraising Manager Lorraine White taking on the skydive and the Newport support centre's Manager, Mike Sizer-Green, doing the swim.
Island businesses have also pledged their support, with teams from Hovertravel, WRS Systems, Glanvilles Damant Legal Services and Will Squibb Boatbuilders among those signed up to skydive on August 3.
Hovertravel's Managing Director, Neil Chapman, said:
"In my job, I am reminded daily of the work of Wessex Cancer Trust; seeing patients using the hovercraft to connect with the Trust's Daisy Bus which transfers them to hospital for treatment. When we decided to make the Trust our charity of the year, I was motivated to discover a way in which I could make a personal contribution to this very worthy cause
"Surprisingly, for those who know me as a passionate traveller who usually enjoys sitting inside a plane, I decided to jump out of one! And what better place to come back down to earth than the Isle of Wight. I am looking forward to seeing this exceptional Island from
10,000 ft.
"Wessex Cancer Trust is an amazing charity, which provides invaluable support to those Island residents who need assistance and whatever you can afford to give will be gratefully received and put to good use."
The Solent swim has been a labour of love for the Trust's Centre Manager, Mike, and long-time supporter Michelle Salsbury and many of those taking part have had their own personal journeys with cancer.
Mike said:
"What I ask of you, please, is if you can look on Swim for Hope as a bit more than a swim across The Solent. That stretch of water, to me and so many others who have traversed it day after day for cancer treatment, represents a major hurdle. It's a daily challenge – a nightmare sometimes. For some, it's the reason they elect not to undergo treatment."
The team is currently looking for kayakers and RIBs to assist with the 1.3-mile swim, which is sponsored by The Collection, by Hose Rhodes Dickson.
If you can help, please register at https://www.wessexcancer.org.uk/safety-kayak-registration-form/ or email
fundraising@wessexcancer.org.uk
To sponsor the 40th birthday team please go to https://www.justgiving.com/campaign/takingtheplunge