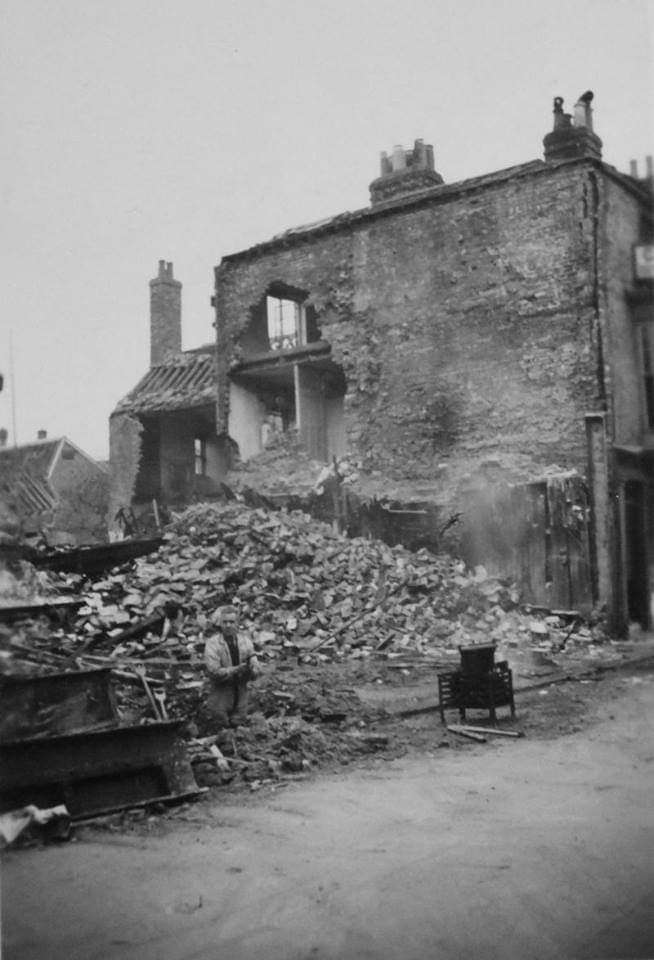 A service held at St John's Church last month marked the 80th anniversary of the bombing of Newport during World War II.
21 lives were lost after German Luftwaffe scattered bombs across Newport on the morning of 7th April 1943.
The service, which was organised by Newport and Carisbrooke Community Council, included the lighting of memorial candles, in some cases lit by relatives or people known to the victim. It also included a beautiful performance from Barton School choir, a reading by the Lord Lieutenant and a poem read by a member of Hampshire and Isle of Wight Fire and Rescue Service – as five of those killed were voluntary fire watchers.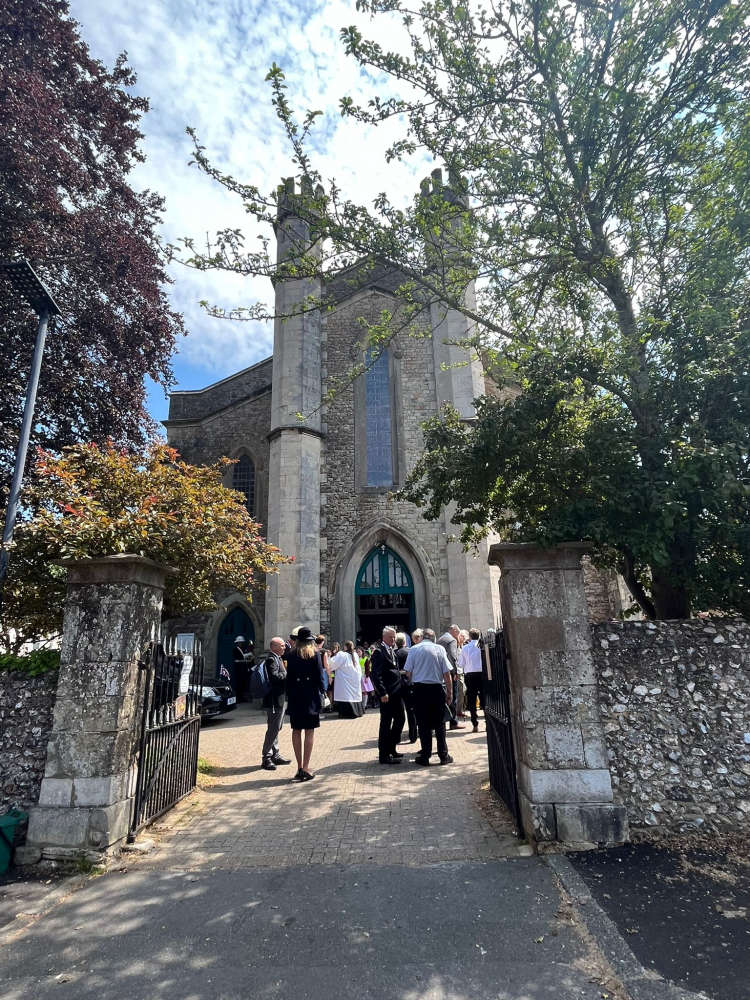 The High Sheriff, Vice Chair of IWC, Chair and Vice Chair of Newport & Carisbrooke Community Council, police, ambulance and Royal British Legion also attended. Afterwards the flowers from the service were distributed amongst the graves of victims who are buried on the Island.
That fateful morning back in 1943 started like any other in Newport, as people woke and headed off to work. At 7.30am, Royal Observer Corps Officer Henry James Tarleton 'Jock' Leal witnessed the aircraft arrive at Shide, from a watch tower. They were described as at rooftop height. As he attempted to warn the people of Newport, eight bombs rained down on homes and businesses, including Morey's Timber Yard, Bradley Lodge in Medina Avenue, Chapel Street, Clarence Road, Jordan and Stanley Upper St James St, Phillips Shop in High Street and Mill Street.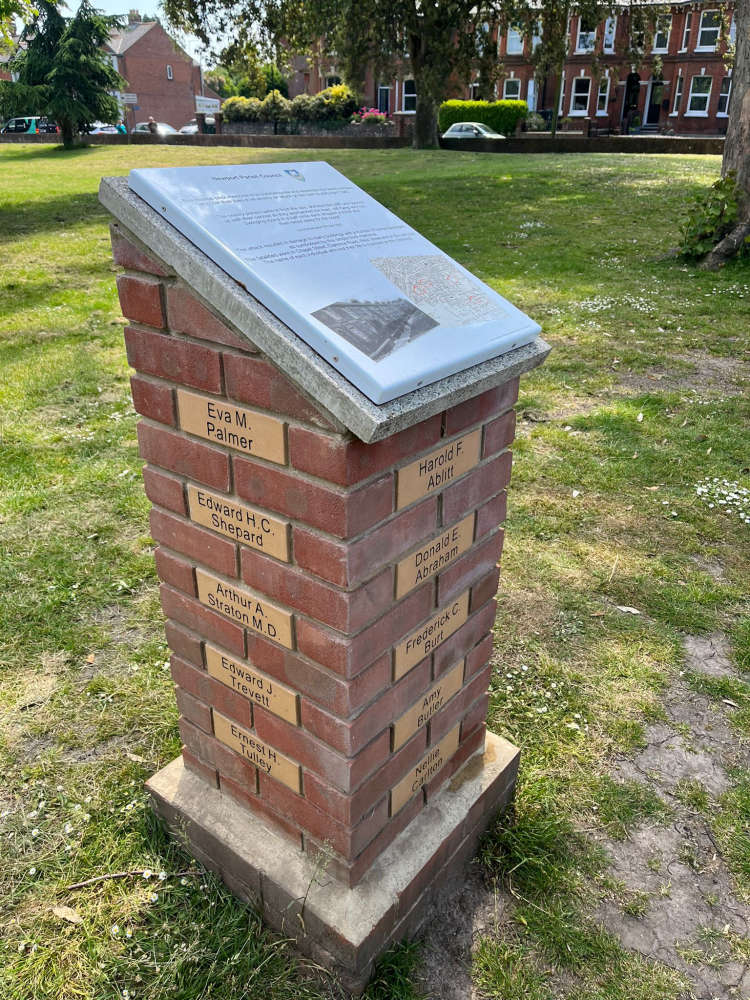 Four people were killed and 14 injured at Morey's Timber Yard, with a further two dying later. While families including children died in homes in Chapel Street, Clarence Road and Church Litten.
In 2016, a brick-built memorial was installed in Church Litten on the site of a doctor's house which was bombed. Each person that died is named on the bricks that form the memorial. Survivor Christine Pascoe worked with Cllr Julie Jones-Evans, the IW College and AJ Wells to create it. Christine was just a child when bombs dropped over her home. A mattress protected her from serious harm.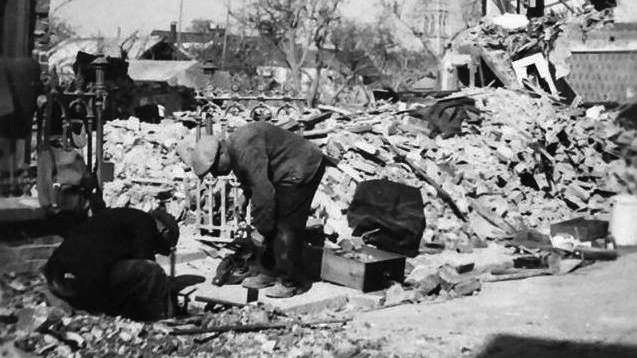 The attack lasted less than a minute, but more than 21 lives were lost and there were over 200 injuries recorded. Numerous buildings were also destroyed.
Records showed how the Newport community pulled together in the aftermath.
Remembering the Victims of the Bombing
Harold Mitchell Harold, 60, was killed alongside his daughter Nellie and son-in-law. Harold worked as a foreman at Moreys and was also a voluntary fire watcher.
Cpl Norman Douglas and Nellie Carlton Cpl Carlton, 28, and Nellie Carlton, 30, were killed alongside Nellie's father-in-law, Harold Mitchell at 25 Chapel Street. The young couple had travelled from Cambridge to visit him at the time of the attack. Nellie took part in Newport Carnival as a girl. A memorial candle was lit at the service by Margaret Phipps, Nellie's niece.
Frank Ablitt 12 year old Frank had been evacuated to live with his grandparents Celia & William Mundell who all died at 15 Clarence Road. Frank was attending the Boys of Newport CE School during his time on the Island.
William Robert and Celia Ann Mundell William, 67, and Celia, 66, died alongside their 12 year old grandson Frank Ablitt. Celia worked at the Central Hospital Supply Depot at Halberry.
William was registered as labourer but also worked for soft drink manufacturer Gould, Hibberd and Randall.
Donald Edwin Abraham Was at his home 13 Clarence Road where his wife and daughter were rescued with minor injuries when the attack happened. Donald, 43, was the manager of butcher A W Abraham & Co in Nodehill and a volunteer fire watcher. He also served in the First World War. Donald died later of his injuries on 20th April 1943.
Frederick Cecil Burt Frederick, 51, was killed at Moreys where he was working on the saw. Frederick was a volunteer fire watcher. Had previously signed up for service with the 8th Battalion of the Hampshire Regiment in the First World War.
Amy Butler and Julia Mary Flux Amy, 74, was killed whilst visiting her sister Julia Flux, 90, at 24 Chapel Street. Amy and Julia, who were both widowed, are buried together at Newport Cemetery.
William Thomas O'Donnell William, 54, was killed adjacent to Moreys. William is not recognised as a Moreys employee so it may be the case that he was a customer or just happened to be going past Moreys at the time of the bombing as he lived in Trafalgar Lane nearby. William served with the Royal Marines during both World Wars.
Eleanor Adelaide Murphy Eleanor, 76, was staying with her brother when she was killed at his home, 23 Chapel Street. Her 85 year-old brother Mr Henry Porter was only slightly injured having been protected by a piano which took the weight of the falling debris.
Edward Harold Cecil Shepard Edward, 42, was at Moreys where he was employed as a sawyer. Edward was a voluntary fire watcher. When told that one of the planes in the attack had been shot down, his response was simply "another mother's son." Edward died two days later.
Edward James Trevett Edward, 62, was just arriving at the gates at Moreys at the time of the bombing and he died later the same day.
Ernest Harry Tulley Ernest, aged 18, worked at Moreys and according to a colleague was just clocking on when the bomb hit. Ernest is buried in St Olave's Churchyard in Gatcombe and his name will be on a roll of honour which is currently undergoing restoration.
Elizabeth 'Cissy' Grace Draper Cissy worked as a maid at Bradley Lodge which was destroyed in the attack. She was a member of the Women's Voluntary Service.
Dr Arthur Arbuthnot Straton Dr Straton, aged 59, was a popular doctor in Newport for 25 years, with his surgery based where Red Squirrel is in St Thomas's Square. He served in WW1 with the Royal Army Medical Corps.
Dr Straton was killed at his home Bradley Lodge on Church Litten, alongside his maid Elizabeth 'Cissy' Grace Draper. It has been discovered that Dr Straton was a wireless operator in a top secret unit called Section VIl which would operate as resistance if Germany had invaded. Operating at a level of secrecy even higher than underground Auxiliary Units, when the doctor was killed, Section VII had to retrieve his equipment. Candle lit by Henry Webb, a former patient of the doctor as a child.
Eva Mary Palmer Eva, 36, was killed at her home, 22 Chapel Street. Eva's daughter Christine Pascoe survived after being protected by a mattress but was left with damaged eyesight. Christine campaigned to have a monument installed at Church Litten to remember the victims. A candle was lit by Eva's grand-daughter Karen Smith.
Alfred Robert Rackett An employee of Moreys, Alfred, 66, suffered a broken back in the bombing. He died five months later so is often not included in the bombing deaths. Steps are underway to add Alfred to the official list of Commonwealth War Graves and officially recognised as a victim of the bombing.
Violet 'Girly' Lily Dudley and Valerie Lilian Dudley 31 year old Violet, whose friends and family called 'Girly,' was killed alongside her five year old daughter Valerie Dudley at 14 Clarence Road. Violet was a member of the Women's Voluntary Service. As there was no grave marker, Island Memorials have kindly donated and installed a memorial vase displaying both Valerie and Violet's names so they can be remembered. Memorial candles were lit at the service by Margaret Craig, Violet's niece and Rosemary Stewart, a friend who was due to play at Valerie's house on the day of the bombing.