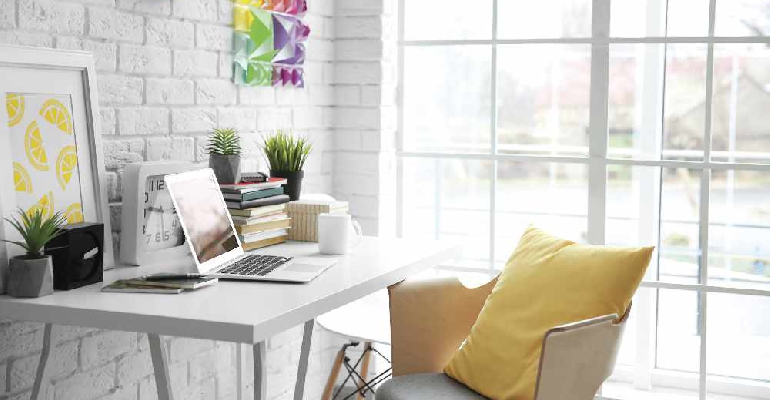 In today's climate, home offices have never been more desirable. We've got this advice for designing your own stylish workspace
With an increasing number of us working from home, having a dedicated working space at home has never been more important.
According to recent studies, more than a quarter of Brits would be looking for a home office in a future property and are willing to pay extra for the privilege.
That makes adding an office to your home a good investment, as well as being a fun project in its own right. Whether you have endless garden space, or simply a nook under the stairs to start with, it's possible to design a working area that will look great, enhance your productivity and boost the value of your house at the same time.
Step into the garden
If you plan on working from home regularly, a garden office may be a worthwhile investment. Even if you have room in your house for a work space, the peace, solitude and separation offered by an annexe can dramatically improve efficiency.
There are plenty of options when it comes to garden offices, from insulated sheds to glass-walled garden rooms and ready-made pods. Garden offices can also double up as gyms, guest rooms, art studios or games rooms.
Use wasted space
Short on square footage? A home office needn't be a garden annexe, or even a dedicated room. Any wasted space can become a study area, whether it's an alcove, an unused nook between a wardrobe and a window or even the poky cupboard under the stairs.
Use paint, flooring or rugs to separate the work zone from the rest of the room. Home cubicles are increasingly popular as well – many have built-in desks and double-sided partitions to create a sense of privacy.
Banish clutter
If your home office space is dual purpose, it's particularly important to keep work books, wires and other home working essentials tucked away. Using a trolley that can be wheeled back into a cupboard after use is one way to keep things under control.
Alternatively, consider making a feature of storage by using creative solutions such as vintage wooden crates, old trunks, trinket boxes or even repurposed tin cans. Peg boards and wall-hanging units are both space-saving storage solutions – or take wall storage one stylish step further and use cork tiles to turn an entire wall into a pin board.
If the light is right…
Well-designed lighting can quickly turn a home office from dingy to cool and cosy. Make the most of natural light by positioning your desk close to a window, but add a blind to block glare.
Team mellow overhead lighting with a statement lamp -– desk lamps come in all shapes and sizes, and some will even wirelessly charge your phone while you work. Wall-fixed task lights are also a great option if you're short on desk space.
Go bespoke
Can't find the right desk to fit an awkward home office space? Think about having one made instead. Bespoke furniture isn't as expensive as you might think, and you can commission something with the storage, style and dimensions that fits your personal needs.
A good designer will also help you to get the most out of your office space, ultimately increasing your productivity.
Healthy home-working
Aesthetics are important in a home office – but comfort and function are even more crucial. An ergonomic chair is a worthwhile investment.
There are other options designed to protect your back and posture as well, including balance balls, kneeling stools and standing desks. It's crucial to make sure your desk and chair are both adjustable to avoid back pain, and you may also want to consider a movable monitor arm or a stand for your laptop.
Other ergonomic accessories include flexible footrests, adjustable keyboard platforms with padded wrist rests and roll bar mice. With the right attention to design and comfort, going to work might just become the best part of your day.