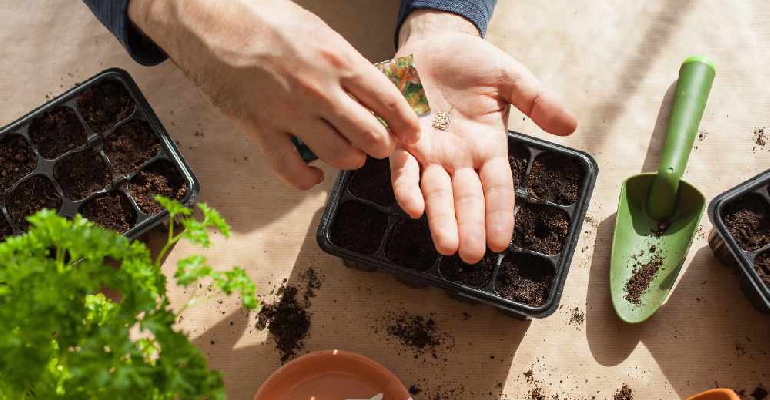 Garden centres are gearing up for the great seed-sowing season, but there are so many different types of seeds to choose from. What to buy? Flo Whitaker explains...
Who can resist buying seeds? Not me. Confronted by 100s of seed packets, each one bearing a more beguiling picture than the last, I always come home with far more than I intended. To the novice gardener, unfamiliar phrases and odd symbols on seed packets can seem like an unfathomable Tolkien-esque language, but persevere – the small print gives you all the information you need. Pay particular attention to the conditions the plant requires, (sun or shade?). Its height/width potential is also important. Seeds are not an indication of eventual size – big plants can start out as tiny seeds! And what about that mysterious coding; HA,
HHA and so on? Here's a brief guide: An 'annual' is a plant that quickly grows to maturity, produces seed, then dies, all within one growing season/year. Annuals are spilt into two groups.
Hardy Annuals, (labelled 'HA' on seed packets) are tough characters and are an excellent choice for inexperienced gardeners. In the natural environment, seed from (say) a poppy, falls into the soil and remains dormant throughout winter as it waits for spring to arrive. However, in a mild autumn, the seed may start to grow. Plants are clever; hardy annual seedlings will gamble a few degrees of frost for the greater reward of having a head start in spring.
You can sow hardy annuals directly into the border without having to faff about with seed trays and compost. Reliable old favourites that can be sown this way include calendula, poppies, gypsophila, nigella and Salvia viridis. Half-hardy annuals, ('HHA') have the same annual lifespan but demand a little more care. Best sown in seed trays, they require some indoor warmth and can be planted outdoors in May when all danger of frosty weather has passed. The half-hardy brigade includes beauties such as cosmos, nasturtium, ipomoea and nicotiana.
Biennials, ('B') take two seasons to develop. Sown outdoors in trays during July-August, wallflowers, sweet William, ammi, lunaria and foxgloves will make strong-rooted plants that
can be planted into the borders in October. Come spring, they'll grow away at a tremendous rate; quickly becoming mature, flowering plants that will set seed from mid-late summer and start the biennial life cycle all over again. Don't assume that perennial ('P') means 'lives forever'.
Technically-speaking,a perennial plant is only required to live longer than a biennial. Lupins and delphiniums are notoriously short-lived perennials and have a tendency to wear themselves out after just a few years. At the other extreme, a tree peony seedling may go on to live for 100 years.
Seed sowing is a highly addictive business. You'll start by growing a humble saucer of cress and before you know it, you'll be germinating orchids in the airing cupboard. You
have been warned!