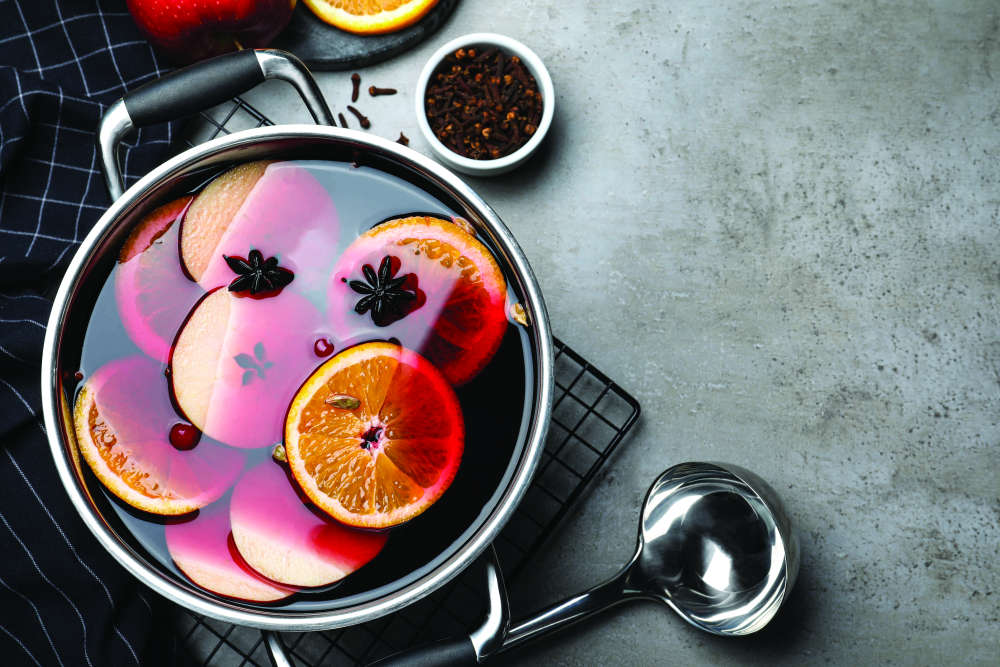 One of the many festive traditions writer, Mary Goodsell, looks forward is having a pot of mulled wine on the stove. Here's are her three tried and tested versions that should keep you warm and merry throughout the festive season.
CHIANTI CLASSICO
Serves: 10
INGREDIENTS
2 large oranges
1 lemon
150g (5oz) caster sugar
5 whole cloves
1 cinnamon stick
2 whole star anise
2 fresh bay leaves
½ a whole nutmeg, grated or 2 tsp ground nutmeg
1 vanilla pod
2 bottles Chianti or other Italian red wine
METHOD
Peel off a few large sections of orange and lemon peel. Put the peel and sugar into a large saucepan and place over a medium heat, then squeeze in the juice of both oranges.
Add the cloves, cinnamon stick, bay leaves and the nutmeg. Halve the vanilla pod lengthways and add to the pan, then stir in just enough red wine to cover the sugar.
Let this simmer gently on a low heat until the sugar has completely dissolved, then bring to the boil. Keep on a rolling boil for about 3 or 4 minutes, or until you've got a glossy thick syrup. This method adds a little time but it's totally worth it.
Once the syrup is ready, turn the heat right down and add the star anise and the rest of the wine. Slowly heat the wine and after around 5 minutes, when it's warm and delicious, ladle it into heatproof glasses and serve with a garnish of freshly sliced orange or a cinnamon stick.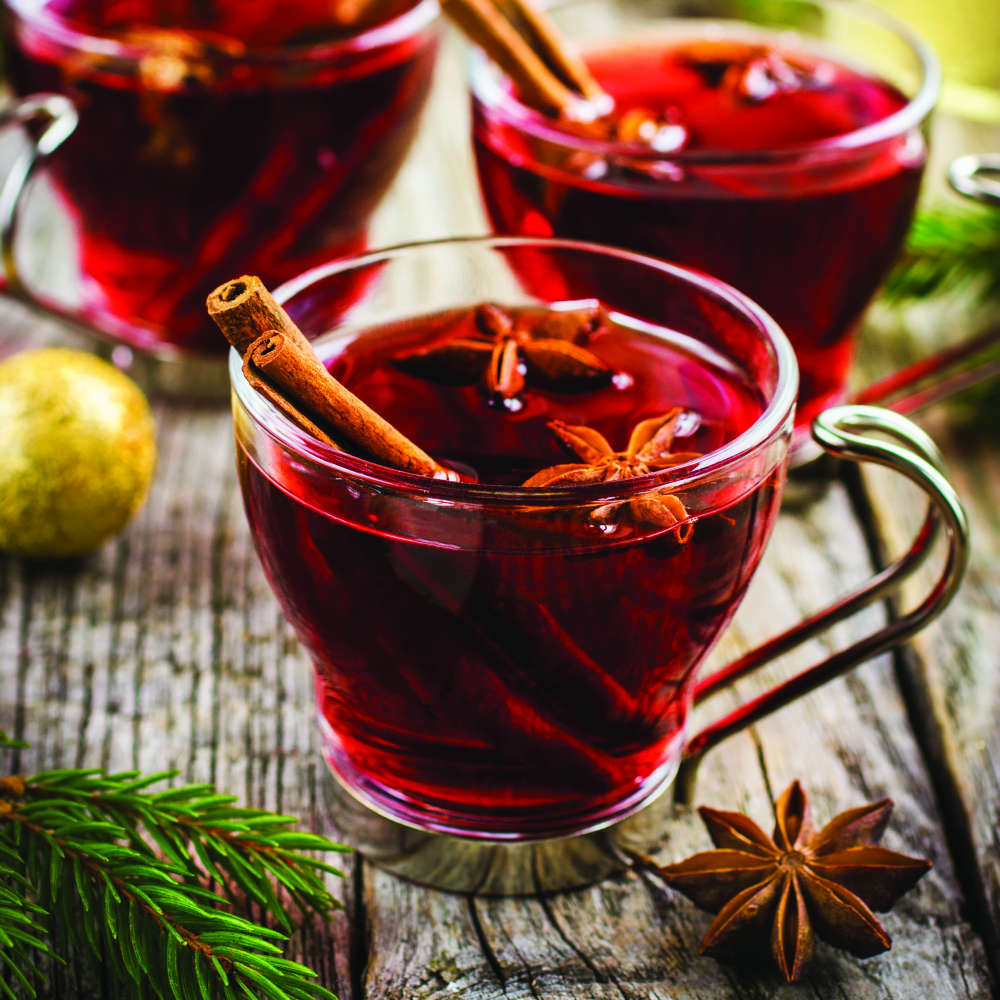 FESTIVE FRUITS (NON-ALCOHOLIC)
Serves: 6
INGREDIENTS
450ml (15fl oz) pomegranate juice
300ml (10fl oz) apple juice
25g (1oz) golden caster sugar
Handful of frozen blackberries (any frozen berry mix will work)
2 cinnamon sticks plus extra to garnish
1 star anise
4 cloves
3 black peppercorns
1 orange, quartered plus the peel of 1 orange
Honey to taste
METHOD
Put both juices, sugar and frozen berries into a heavy based saucepan. Add the cinnamon sticks, star anise, cloves, peppercorns and orange. Heat gently until simmering. Taste test for sweetness, add honey if desired, then strain into heatproof glasses and garnish with a cinnamon stick or some orange peel.
BRANDY'S BEST
Serves: 4-6
INGREDIENTS
1 bottle of dry red wine
125ml (4fl oz) brandy
1 orange, sliced into rounds
8 whole cloves
2 cinnamon sticks
2 whole star anise
2 to 4 tablespoons of caster sugar or honey to taste
Garnishes; orange or apple slices, fresh cranberries or cinnamon sticks
METHOD
Add all the ingredients and half of the sugar or honey into a large heavy-based saucepan. Stir to combine and bring to a simmer over a low heat (do not allow to boil).
Cover, and simmer gently for at least 15 minutes, taste before serving and if desired add the remaining sugar or honey.
Serve in heatproof mugs or glasses, topped with your chosen garnish.