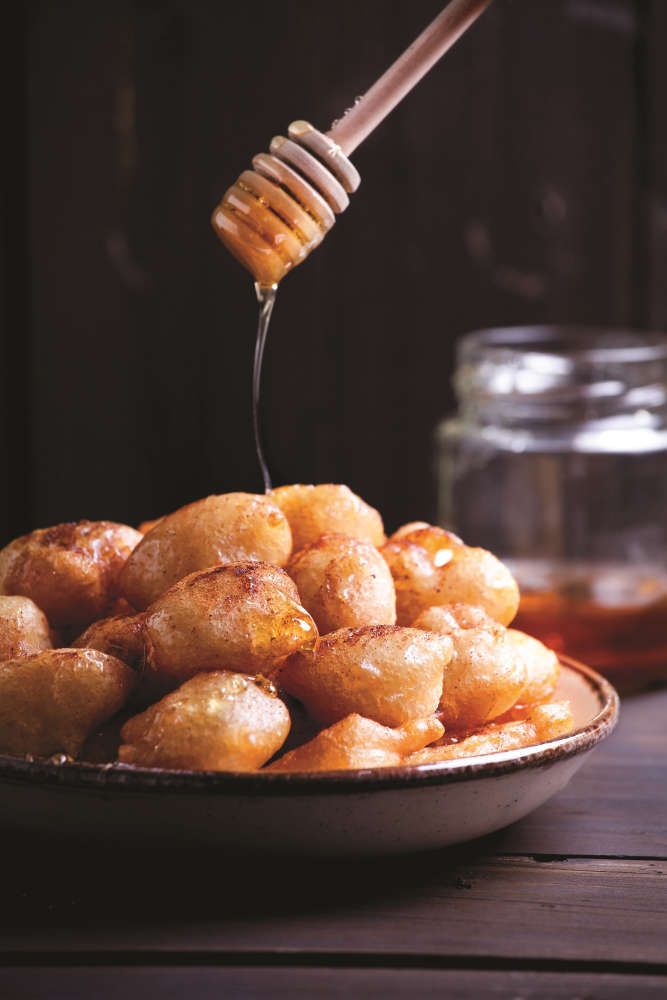 Adele Trathan loves these delicious Greek treats. They are similar to doughnuts or churros, but a healthier option as they are baked rather than deep fried, then soaked in a warm spiced honey
Makes 20 pieces
INGREDIENTS:
250g (9oz) strong white flour
7g sachet fast-action yeast
175ml (6fl oz) water
5g (1tsp) salt

FOR THE SYRUP:
250ml (8.5fl oz) water
250g (9oz) honey
3 cardamom pods, bruised
1 cinnamon stick
1 star anise
A handful of pistachio kernels, optional to garnish
METHOD:
Mix the flour, salt, yeast together and add the water, combine to make a dough. Knead the dough for at least 10 minutes, until smooth and stretchy. Put in a warm place for 1 hour or until it has doubled in size.

When the dough has risen, divide into 20 small balls. Line two baking sheets with baking paper and place the dough balls on them allowing plenty of space between them. Preheat the oven to 200C/400F/gas mark 6.

Cover the dough balls with some oiled clingfim, allow the balls to rise for a further 40 minutes. Bake them in the oven for 10-12 minutes, or until they turn golden brown.

In the meantime, place the water, honey, cinnamon stick, cardamom pods and star anise into a medium saucepan. Heat on the hob over a medium to high heat, bring to the boil and simmer gently for at least 5 minutes Remove from the heat and allow the spice to infuse until needed.
Remove the spices and drop the dough balls into the syrup, gently stir to cover. Serve with a dollop of Greek yoghurt and an optional sprinkling of pistachio kernels.