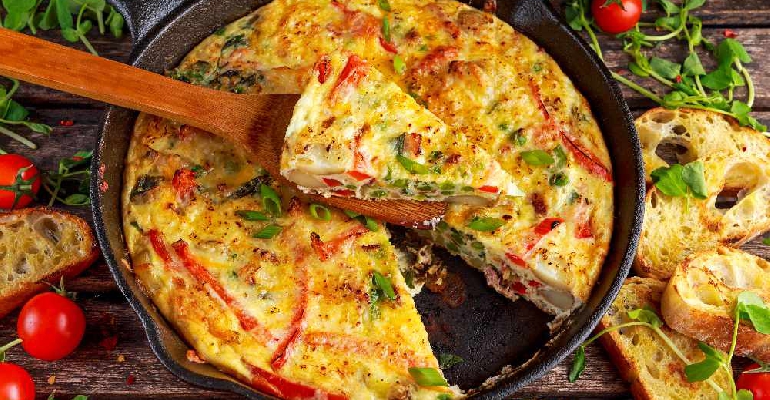 With lockdown affecting many family holidays this summer, you can still bring a taste of the Mediterranean sun to the Island. Gillian Reay-Young recommends having a go at this Spanish classic.
INGREDIENTS
6 eggs
3 medium potatoes,
peeled and diced
1 medium onion, peeled
and finely chopped
1 small red pepper,
deseeded and finely
chopped
50g (2oz) chorizo sausage,
finely chopped (use bacon
pieces, if preferred)
2 small mushrooms,
thinly sliced
2 tbsp freshly
chopped parsley
3 tbsp olive oil
METHOD
1. Heat two tablespoons of oil in a non-stick frying pan.
2. Add the potatoes and cook for eight to ten minutes until evenly golden brown.
3. Add the rest of the vegetables and the chorizo, and cook for a further six to eight minutes, stirring from time to time.
4. In a separate bowl, beat the eggs and season to taste. Sprinkle the fresh parsley into the mixture and stir.
5. Pour the egg mixture over the vegetables and chorizo. Then with a palette knife, help the mixture ooze into the gaps. Draw the palette knife around the edges of the pan to bring the egg mixture equally into the
cooked vegetables; this takes about three minutes on a medium heat.
6. Turn and slide the tortilla on to a large plate. Put the remaining oil into the pan, then flip and replace the tortilla in the pan to cook the other side, for a further three minutes approximately.
7 Let the tortilla cool and then cover and put in the fridge until needed.