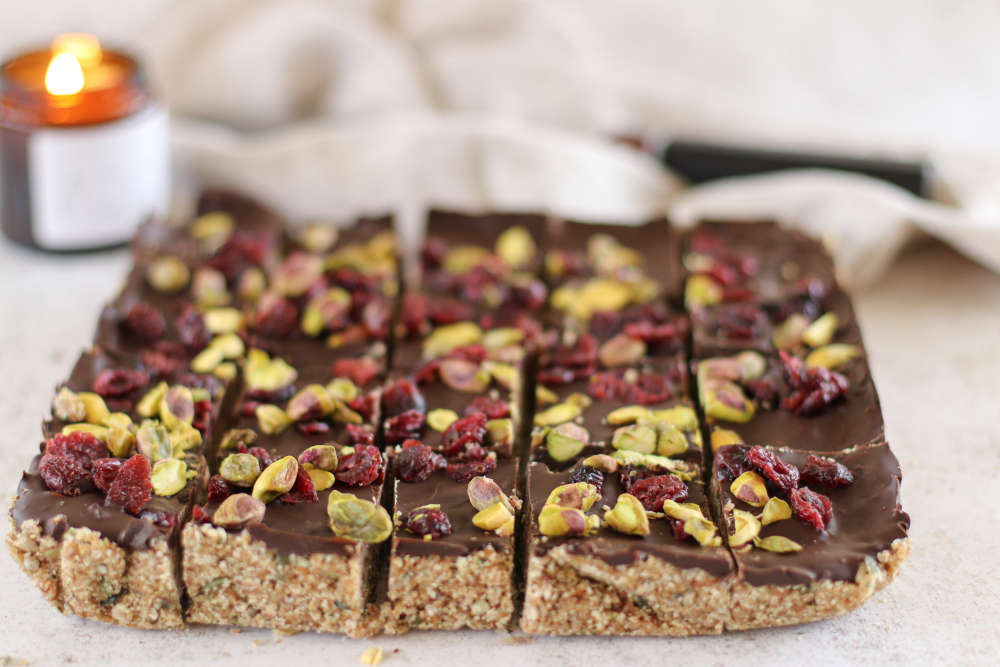 These no-bake chewy date bars are the perfect breakfast or afternoon pick-me-up to ensure you stay full throughout the day.
INGREDIENTS:
225g (8oz) pitted dates
300g (10½oz) oats
180g (6oz) coconut oil (at room temperature)
1 ½ tsp vanilla extract
A pinch of sea salt
1 tbsp sunflower seeds
1 tbsp pumpkin seeds
250g (9oz) dark chocolate
2 tbsp cranberries
1 tbsp shelled pistachios
METHOD:
In a food processor, blitz the oats until the resemble a flour like consistency. Then, add the dates, coconut oil, vanilla extract, sea salt and blitz again.
Add the seeds to the mix and blitz again.
Press the mixture into a greaseproof-lined tin and place into the fridge while you prepare the topping.
Place a glass bowl over a shallow pan of gently simmering water, ensure that the bottom of the bowl is not touching the water.
Add chunks of the chocolate to the bowl and stir continuously until you have a liquid consistency.
Remove the tin from the fridge, and top with the melted chocolate, add your desired toppings and place into the freezer for 30 minutes, or leave in the fridge for 45 minutes for the bars to set.
Remove from the fridge or freezer and cut into 16 squares with a sharp knife, and enjoy!