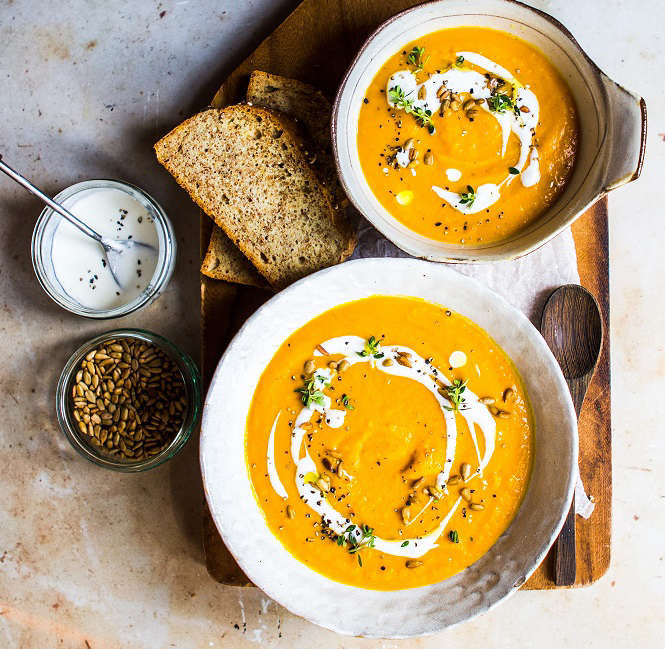 Try this warm, hearty and really quite easy sweet potato soup – perfect for a weekday lunch.
Sweet potato soup from Be More Vegan by Niki Webster
Ingredients:
(Serves 4)
2tbsp olive oil
1 onion
2 cloves of garlic
1tsp ground cumin
1tsp turmeric
1tsp ground coriander
3 small sweet potatoes, peeled and chopped into small cubes
500ml veg stock
1 can coconut milk
1tbsp tomato purée
Twist of black pepper
½tsp salt
Toppings:
Toasted seeds or nuts
A swirl of plant-based yoghurt
Pinch of chilli flakes (if you like some spice!)
Method:
1. Chop the onion into small dice, and chop the garlic up finely.
2. Add the onion to a large pan with the olive oil and sauté for seven to eight minutes on a low heat. Add in the spices, garlic and fry for a further few minutes.
3. Next add the sweet potato, veg stock, coconut milk, tomato purée to the pan and simmer for 15 minutes covered – until the sweet potato is soft. Season with salt and pepper.
4. Turn off the heat and then blitz using a hand blender, until smooth and creamy.
5. Add more water if you'd like it thinner. Top with the toasted seeds, plant-based yoghurt, and chilli flakes if using.
Be More Vegan by Niki Webster, photography by Nassimer Rothacker, is published by Welbeck Publishing priced £14.99. Available now.