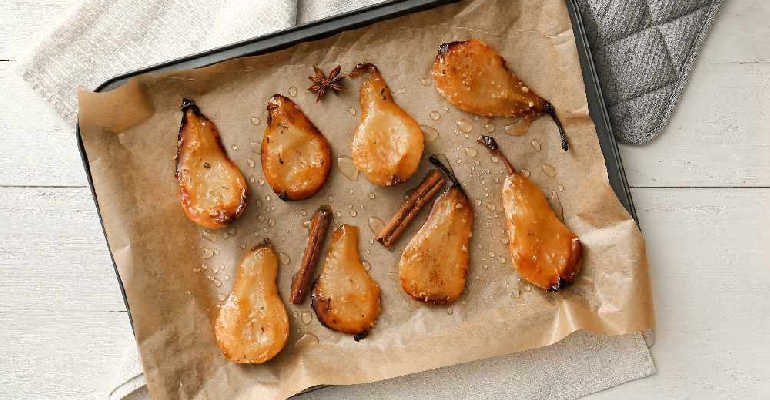 Here's a dessert recipe to enjoy; sticky, scrumptious and ever so slightly healthy... perfect for a sunny Autumn day.
Serves: 8
Ingredients
8 large Conference or Comice pears
8 cloves
9 cardamom seeds, cracked
3 cinnamon sticks
3 tbsp caster sugar
6 tbsp clear honey
Method
Core the pears, leaving the stalks on, and then peel. Put a clove in each pear and lie them down on their sides in an ovenproof dish. Scatter with cardamom seeds and cinnamon sticks.
Make the honey syrup by dissolving the caster sugar and honey in 220ml (1/3 pint) of boiling water. Pour this over the pears – they should be half covered with the syrup.
Bake the pears in a moderate oven (200C / 400F / Gas Mark 6) for about one hour, turning once or twice during the hour.
Serve with crème fraiche, cream, vanilla ice cream or just on their own – a delicious result is guaranteed!
This dessert can also be made the day before it's needed. Serve it cold, covered in the honey syrup, or warm it up and serve it hot. It can also be served in individual glasses – but do make sure the stalks stand up and the lovely syrup is evenly divided!