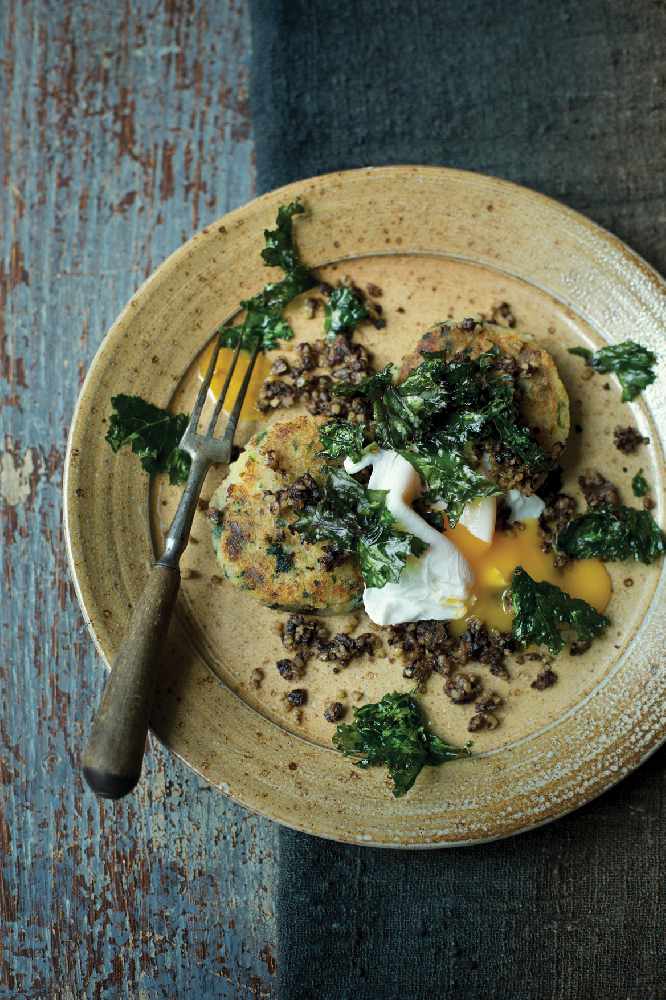 What better way to celebrate Burns Night on Monday 25th January than serving this tasty twist on the traditional Scottish supper.
INGREDIENTS
450g (1lb) haggis with the packaging (not casing) removed
600g (1lb 5oz) swede, peeled and cut into rough 1.5cm chunks
600g (1lb 5oz) floury potatoes such as King Edwards, peeled and cut into 2cm chunks
30g (1oz) butter
5 tbsp sunflower oil
50g (2oz) plain flour
200g (7oz) bag prepared kale or 225g (8oz) of whole leaves
4-6 duck eggs, poached
METHOD
Steam the haggis in advance, prick the casing in about 6 places with a thin skewer and put into a steamer. When the water boils lower the heat and simmer gently for 40 minutes. Take out of the steamer and put to one side.
Meanwhile, put the peeled and chopped swede and potato into separate pans of fast boiling salted water, then reduce the heat and simmer until soft. Drain once soft and leave in the colander with a kitchen paper cover, until the swede and potato are cooked. Tip into a bowl, add the butter and mash until smooth.
Preheat the oven to 180C/360F/Gas 4. Meanwhile, remove the casing from the haggis and crumble into a bowl. Add 150g (5oz) of the haggis into the potato and mix through.
Roughly strip the kale off any tough stems. Measure out 20g (1oz) of the leaves and put to one side. Spread the remaining leaves in a single layer on a large baking sheet toss with half a teaspoon of the oil and bake for 5 minutes until crispy but not brown. Put on a tray to cool.
Wilt the 20g (1oz) of kale leaves you put to one side in boiling salted water for 5 minutes. Refresh under cold running water, drain well and squeeze out all the moisture and pat dry with kitchen paper. Chop finely and add to the potato/ swede/haggis mixture, mix well and form into 8-12 cakes.
Put the flour on a plate then coat each cake and fry in a little hot oil until golden and crisp on both sides (do this in batches). Keep them warm in a low oven until they are all cooked.
Heat the rest of the oil and fry the rest of the haggis until it's hot and just starting to crisp up. Serve scattered over the cakes along with the crispy kale.
POACHING THE EGGS
When poaching eggs for a crowd cook them one at a time in water that starts off simmering. Add a splash of vinegar and salt and swirl the water to create a whirlpool effect and then crack the egg into the centre. Turn down the heat and poach for 2-2 1⁄2 minutes. Lift into cold water with a slotted spoon. When ready to eat pop them all into a large pot of fresh hot water for about 45 seconds to heat through.
Top Tip: Make the cakes in advance, wrap in tin foil and heat up in a moderate oven.