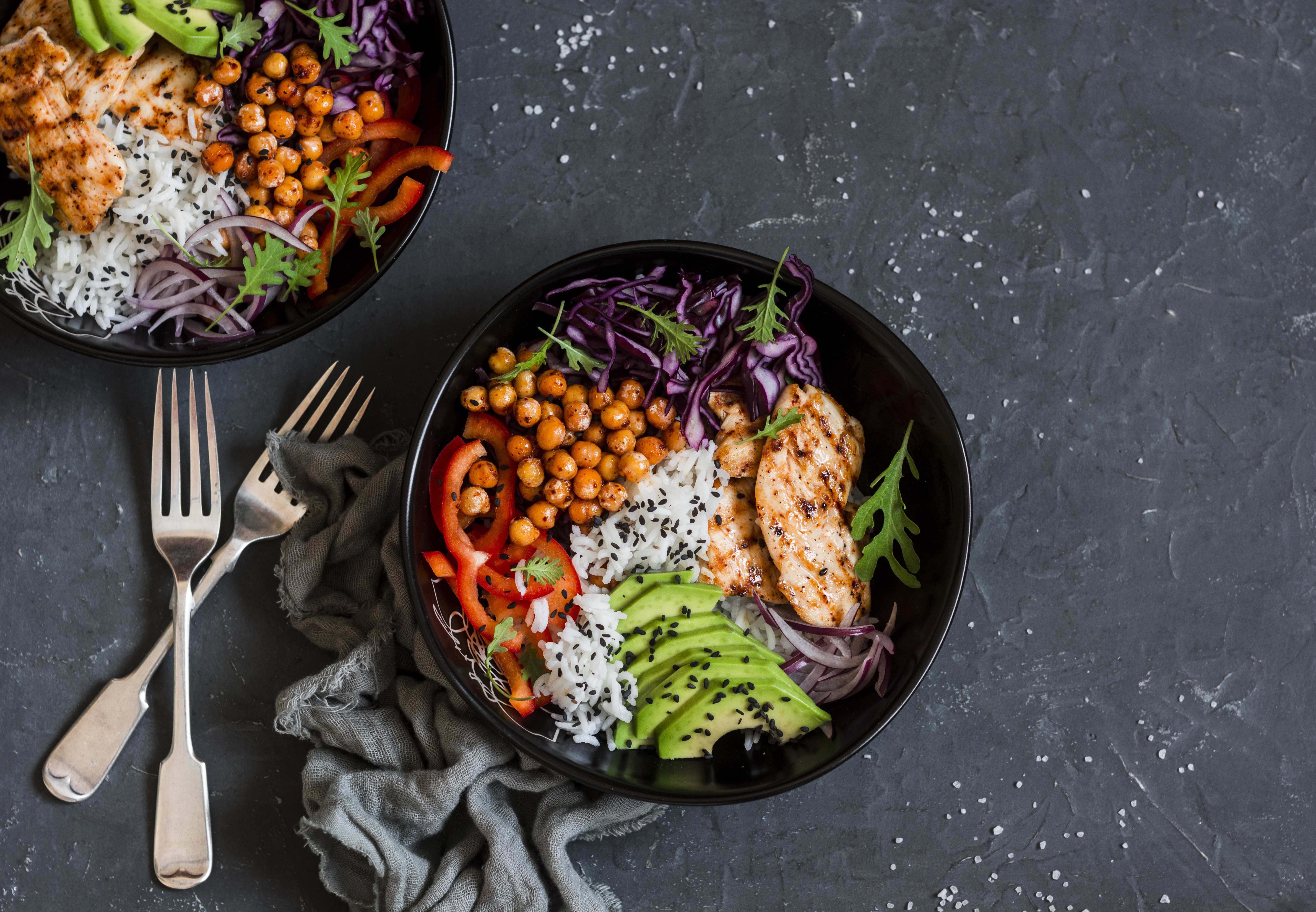 One mouthwatering meal which is guaranteed to give you your five a day is a Buddha Bowl. You can make these with anything you like really — the more colourful the better! But here we're making a healthy and flavoursome grilled chicken and rice Buddha Bowl, packed with fruits and vegetables.
Serves two
INGREDIENTS
Two chicken breasts
400g can of chickpeas
Sprinkle of salt
Tbsp chilli powder
One avocado
One red pepper
One red cabbage
One red onion
One cup of cooked rice
Black sesame seeds to sprinkle over the top (optional)
For the marinade:
One lemon for zesting
Six tbsps olive oil
Four garlic cloves
Pinch of salt and pepper
Half tsp Oregano
One tsp dried Thyme
METHOD
Wrap your chicken in cling film and pound with a meat mallet or rolling pin to tenderise it. Set aside and make your marinade.
Zest your lemon. Mince your garlic cloves and combine with all the other marinade ingredients.
Place your marinate in a freezer bag, add the chicken and rub to coat. Place in the fridge for at least four hours.
In a separate bowl, mix a drained and rinsed can of chickpeas with a teaspoon of vegetable oil and a tablespoon of chilli powder. Spread on a covered baking tray and bake for 25 minutes, before taking out to cool and sprinkling with salt.
On a high heat, grill each side of the chicken until cooked. This should take a couple of minutes each side.
Slice your chicken and share between two large bowls alongside a portion of rice and a portion of spiced chickpeas in each.
Now add sliced avocado, red pepper, red onion and red cabbage.
Sprinkle with black sesame seeds and enjoy.