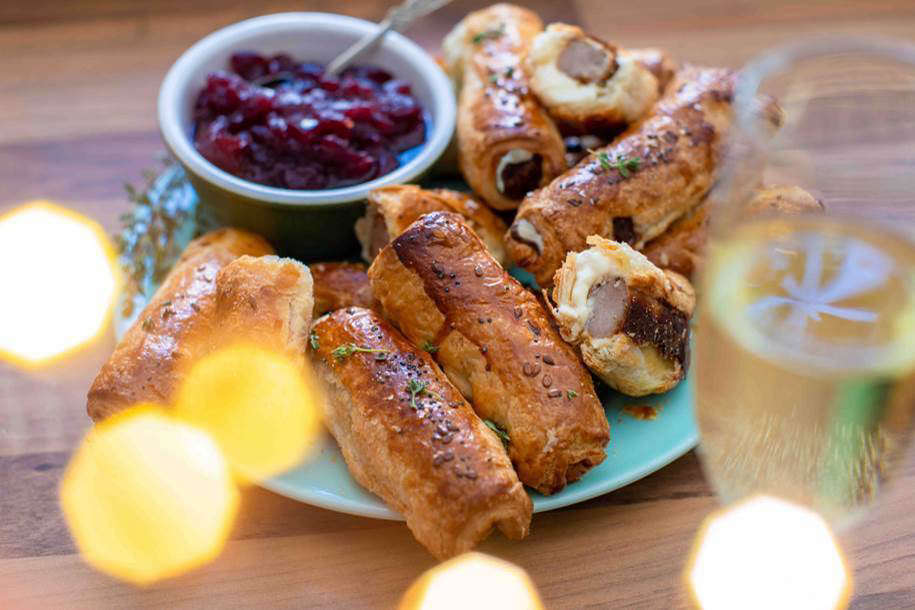 Now, pigs in blankets are good. But pigs in CHEESY blankets reach another level!
Primula Cheese 'n' Ham is the key ingredient in these bite-sized beauties. Perfect served as an accompaniment to your Christmas lunch or as a traditional treat on your buffet table. Your guests are in for a real feast!
Makes: 12
Ingredients:
320g ready shortcrust pastry
140g tube Primula Cheese 'n' Ham
12 chipolatas, cooked per packet instructions.
1 egg, beaten
40g poppy seeds (optional)
40g linseed (optional)
Method:
Unroll the puff pastry and cut three lines lengthways to make 4 even strips of pastry. Divide each strip into 3 even pieces.
Squeeze Primula Cheese 'n' Ham along the pastry, leavening a little space at each end for delicious oozing cheese. Place the chipolata on top of the cheese and roll the pastry so that each side meets. Trim off any excess pastry (keep these aside for optional decorations).
Place the seam of each pig in blanket on a lined baking tray. Add pastry decorations and brush with egg. Sprinkle over the seeds.
Bake at 200°C for 30-35 minutes until golden and the pastry is cooked through.
Delicious served with cranberry sauce or chutney.