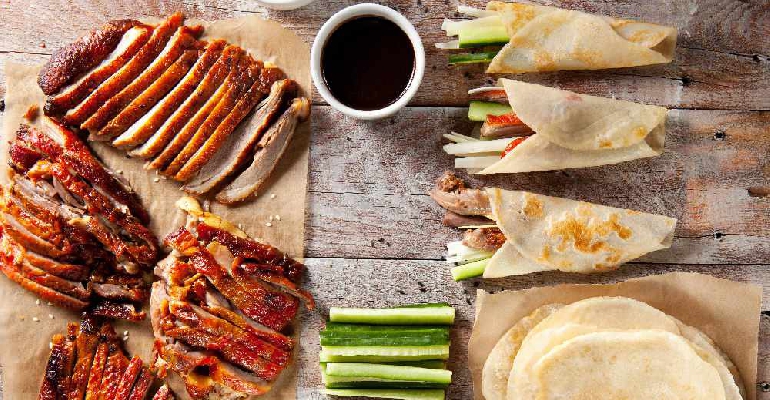 This warming dish is perfect for autumn nights at home. And it's much easier to make than you might think. Serve with rice and salad, or enjoy on their own.
Ingredients
Two duck breasts
One tbsp of Chinese five-spice powder
One tbsp of honey
Pack of Chinese pancakes
Half a cucumber, sliced into thin strips
Bunch of spring onions, sliced into thin strips
Method
⦁ Preheat the oven to Gas Mark 7.
⦁ Mix the honey and spice together and evenly coat the duck breasts on both sides.
⦁ Fry the duck breasts, skin side down in the hot frying pan for five minutes, until the skin goes crispy. Now flip them over and cook for another three minutes.
⦁ Take the duck breasts out the pan and put them into the oven, in an ovenproof dish for 15 minutes.
⦁ While it's in the oven, make your hoisin sauce.
⦁ Once the duck is cooked, shred the meat using two forks.
⦁ Warm the pancakes.
⦁ Serve the duck wrapped up in a pancake with hoisin sauce, cucumber and spring onion.
For the hoisin sauce:
Ingredients
Four tbsp of soy sauce
One tbsp of dark brown sugar
Two tbsp of peanut butter
Two tsp of rice wine vinegar
One clove of garlic, crushed
Two tsp of sesame seed oil
Sprinkle of pepper
Method
Blend together in a food processor and serve.