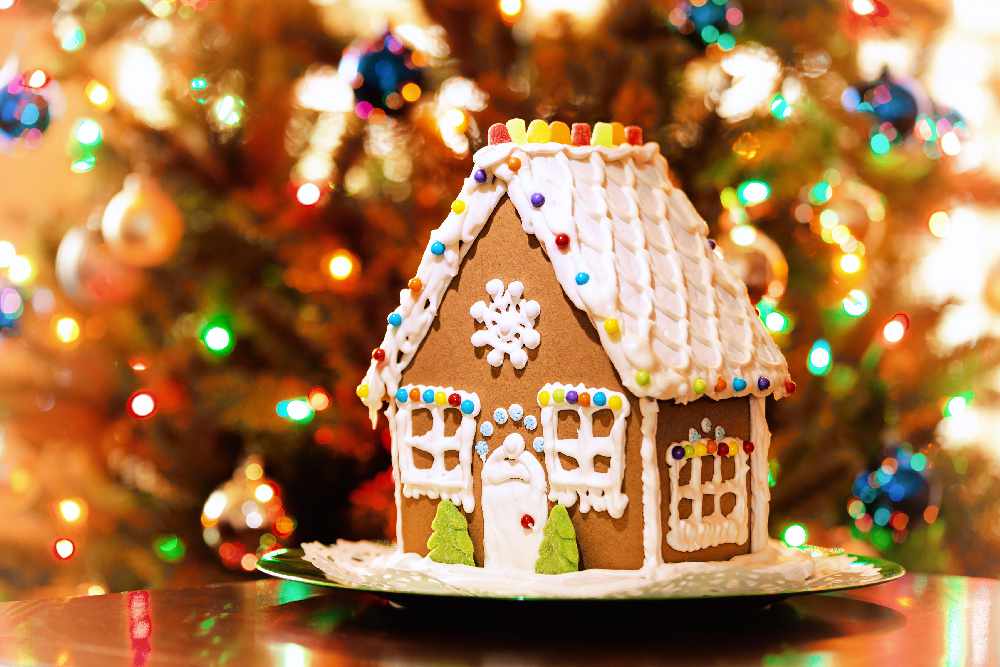 Create your own winter wonderland with this gingerbread house recipe. It makes plenty of dough for a medium sized house and lots of trees. You can keep the decorations elegant and simple or go rather over the top if you wish, like I did! Whatever you do, it's lots of fun for the whole family to get involved with over Christmas.
Ingredients
375g (13oz) unsalted butter
300g (11oz) dark muscovado sugar
150g (5oz) golden syrup
900g (2lbs) plain white flour
1tbsp bicarbonate of soda
2 tbsp ground ginger
½ tsp nutmeg
½ tsp cinnamon
For the icing
2 egg whites
450g (16oz) icing sugar, sifted
2 tsp lemon or orange juice
Sweets to decorate (including hard boiled sweets for the stained glass windows)
A cut out house template (roof 17x12.5cm; sides14.5x11.5cm with cut out windows; front and back 16x11.5cm with a triangular 9.5cm high elevation with windows, a door and star or heart shape cut out; chimney front and back 5x4cm; chimney sides 5x4cm with a 2cm triangle cut out the bottom to sit over apex of roof).
Preheat the oven to 200C/ gas 6. Over a gentle heat, melt the butter, sugar and golden syrup together.
Sift the dry ingredients together in a large mixing bowl and make a well in the middle. Pour in the wet mixture and mix, then kneed into a stiff dough.
Taking a section of dough, roll it out on greaseproof paper to about the depth of two pound coins.
Cut around all the templates and bake for about 7-8 mins, until firm. For the stained glass windows, crush boiled sweets, sprinkle into the window holes and cook for a further 1-2 mins, until melted. Leave all to cool completely.
For the icing, whisk the egg whites in a large bowl until firm, then add sifted icing sugar a little at a time. Add lemon or orange juice and beat until very thick and peaked.
Now decorate the house sections, and when ready assemble the house on a board using the icing to stick all the pieces together. This is fiddly and easier with two people and some props! Decorate the trees and stick in blobs of icing on the board. Create snow using desiccated coconut or icing sugar.
Don't forget to place either a tea light or an LED candle inside the house!