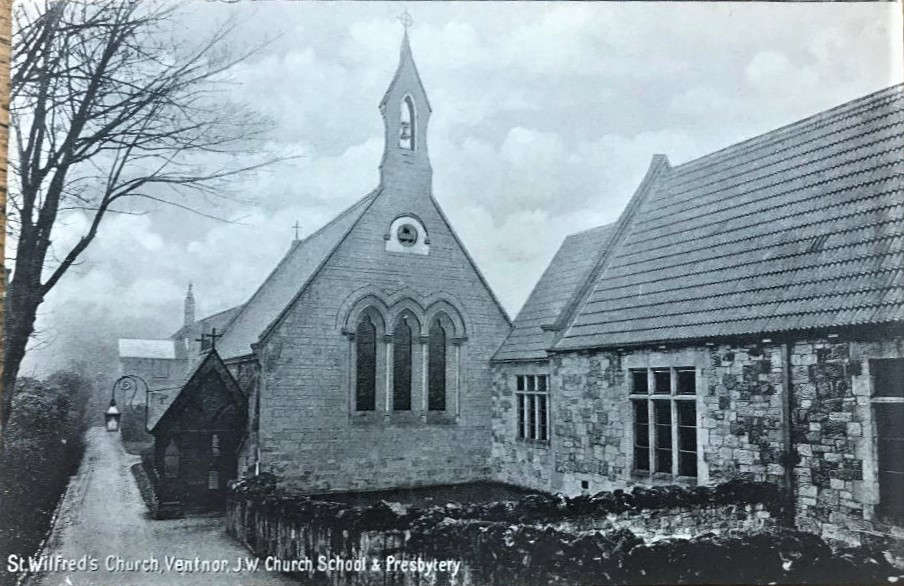 It was a dual celebration for Ventnor's Catholic community in early September as St. Wilfrid's Church celebrated its 150th anniversary and the adjacent St. Wilfrid's School celebrated its 125th anniversary.
A new book, just published by the Island Catholic History Society, gives a detailed account of the struggle to find a site for a church and also the antiCatholic sentiment, which existed in Victorian times, and the determination of some to keep both Catholic and Non Conformist churches out of the seaside town.
Ventnor's "bracing sea air" from the English Channel was considered to be therapeutic for the various illnesses that prevailed at the time. Hence, in addition to sick laypeople, it was also, mainly sick priests who were sent to Ventnor. Consequently, they did not have the energy or enthusiasm to build a church and develop a Catholic community. Initially, they were met with anti Catholic sentiments, but this gradually gave way to a more pragmatic attitude among Ventnor's business community. They realised that Catholics would not come to Ventnor if their spiritual needs were not catered for. Hence, it was the shopkeepers and hoteliers themselves who would lose The present St. Wilfrid's Church out financially. Could they afford to turn away business, especially when an increasing number of wealthy European aristocracy (Empress Elisabeth of Austria for one) were coming to Ventnor.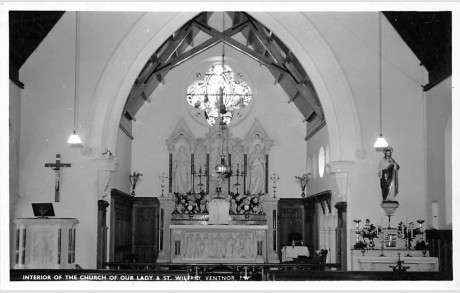 After ten years of false starts and disappointments, opposition to a Catholic church in Ventnor began to decline and a site was purchased in Trinity Road on the periphery of the town and the Church of Our Lady and St. Wilfrid was opened in 1871. Surprisingly, it was (and still is) the only Isle of Wight church, dedicated to St. Wilfrid, Patron of the Island, who came to evangelise the inhabitants in A.D. 686. Twenty five years after the opening of the church, St. Wilfrid's Catholic Primary school was built on the same site.
The church doubled its capacity with the extension of a side aisle in 1958, when there were three Masses on Sundays. These were packed in Summer months with holidaymakers.
Sadly, the church burnt down in December, 2006, due to an electrical fault. Virtually everything was destroyed, including the beautiful Victorian stained glass windows. Holy Trinity C.E. Church, just across the road from St. Wilfrid's, very kindly provided a venue for Mass for the first year. After which, the old school hall was used, until the present replacement church was erected eight years later on the adjacent site. This church is smaller than the original, but it is appropriate today for the smaller congregation.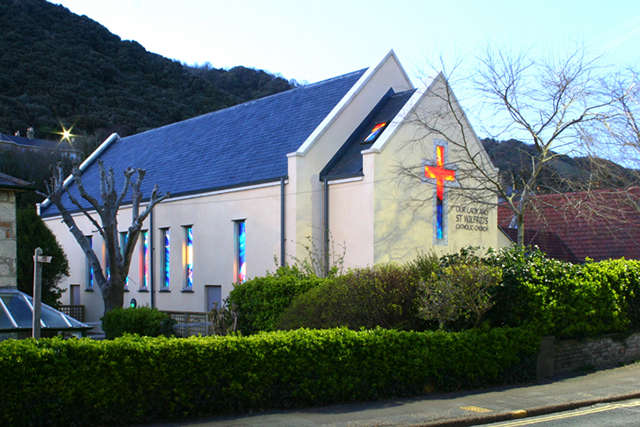 St. Wilfrid's is now a part of the South Wight parish, together with Sacred Heart, Shanklin and St. Patrick's, Sandown.
The history book, with a foreword by Bishop Philip Egan of Portsmouth, records not only the history of St. Wilfrid's, but also, the valuable contribution made by three religious Orders that were once in Ventnor parish; namely, the Benedictine nuns (before they moved to St. Cecilia's Abbey in Ryde in 1922); the Sisters of the Sacred Heart at Bonchurch and the Benedictine monks at Appuldurcombe (before they moved to Quarr Abbey in 1908).
The book is available from the Island Catholic History Society at £2-50 (£5-00 with post & packaging). 01983 566740 or email iow-chs@outlook.com.