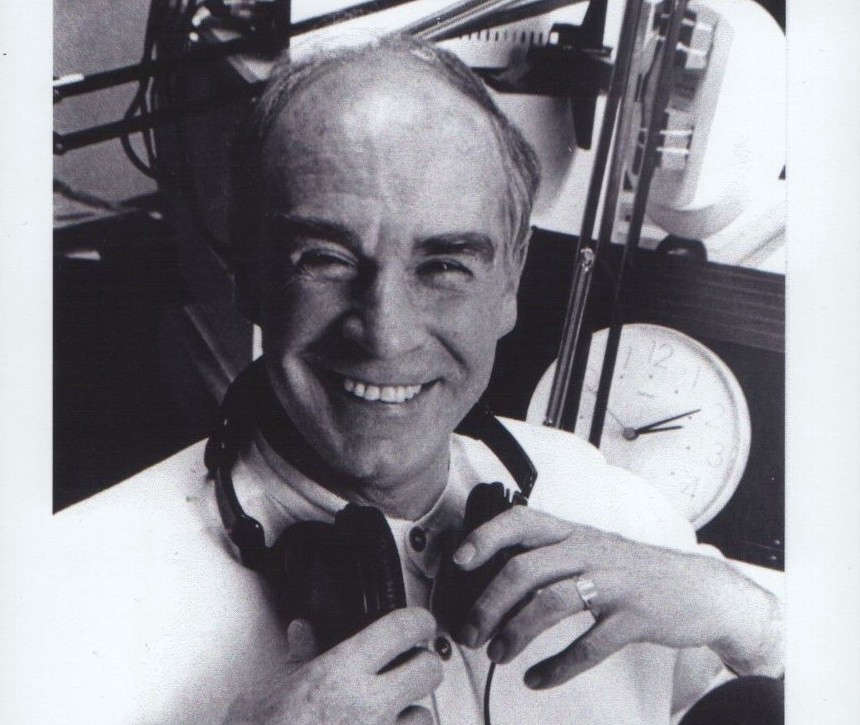 For nearly 50 years, writer and broadcaster John Hannam interviewed the stars.
His extensive catalogue of more than 5,000 showbiz interviews includes impressive names such as Charlton Heston, Ken Dodd, Cliff Richard, Judi Dench, Bruce Forsyth and Alan Rickman – many of which became John's personal friends.
Known for his many years on Isle of Wight Radio and his monthly showbiz feature in Beacon Magazine, John has written hundreds of articles for publications across the Isle of Wight and beyond. He loved to write – and continued to do so right up until his death.
Many remember John for his popular Isle of Wight Radio show, John Hannam Meets, which ran for an impressive two decades. It was in fact, the longest running, non-stop chat show on radio.
It's no wonder John managed to secure so many great interviews throughout his career – his wonderfully sunny personality and equally bright wardrobe were almost impossible to say no to.
In an interview with Isle of Wight Radio and Beacon Magazine earlier this year, John spoke of many memorable years, getting up close and personal with the stars:
"I've always found the bigger the star, the nicer the person. Once you actually get them on a one-to-one at home or in a theatre dressing room, they're just like you or I. They're lovely people really.
"I've met lots of my idols. Roger Bannister, Stirling Moss, George Best. It was a great thrill interviewing them.
"One of my last interviews before lockdown was Sir Ian McKellen. He made me feel so welcome, it was a dream come true. He arrived on a motorbike and was very humble. It was a delight to be in his company."
John talked of the importance of doing your research before stepping in to an interview.
"I was half-way through interviewing John Mills and he said 'John I must say, you know more about John Mills than I do.' I took that as a real compliment."
"Looking back, I've been more successful than I could ever have imagined."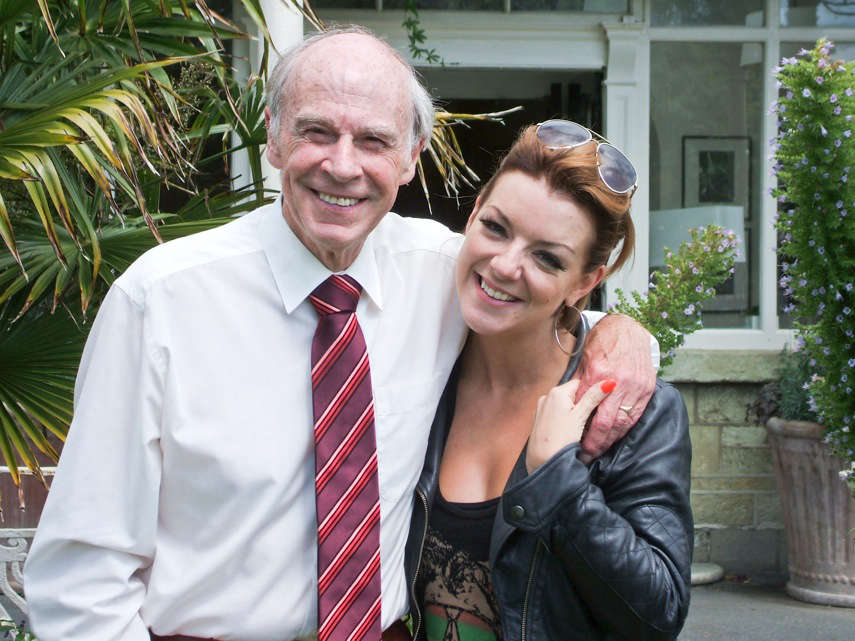 John with Sheridan Smith
"You obviously get refusals. Very early on in my career I decided that I wanted to meet the person, it would be an in-person interview. So over the years I've lost quite a few interviews because people wanted to do them over the phone. But I've always stuck to meeting them face-to-face. I wanted to meet them, shake their hand and have a laugh with them, so that's what I've done."
And it worked a treat, because many people that John said he'd once sit and watch on the TV, became personal friends of his.
John had a unique interview technique, when invited back to a celebrity's home.
"What I learnt very quickly was when you go to someone's house, make sure you go to the toilet.
"They've usually got lots of memorabilia in their bathrooms. I've been to so many houses, Des O'Connor's, June Whitfield's and Bruce Forsyth's.
"I went in June Whitfield's kitchen in Wimbledon. She got an old banger out the garage and drove me back to the station."
John became a popular figure in the showbiz world, often being sought out to interview top celebs. One such interview took him by surprise, but became one of his fondest interviews yet.
An avid John Hannam Meets listener called and invited John to interview Dame Judi Dench live on stage. The Dame asked to meet John for a cup of tea and biscuits before the event and was thrilled to see John turn up in his colourful best.
"I was wearing my posh purple shirt and purple shoes. She got really close and got down on her knees and looked at my shoes."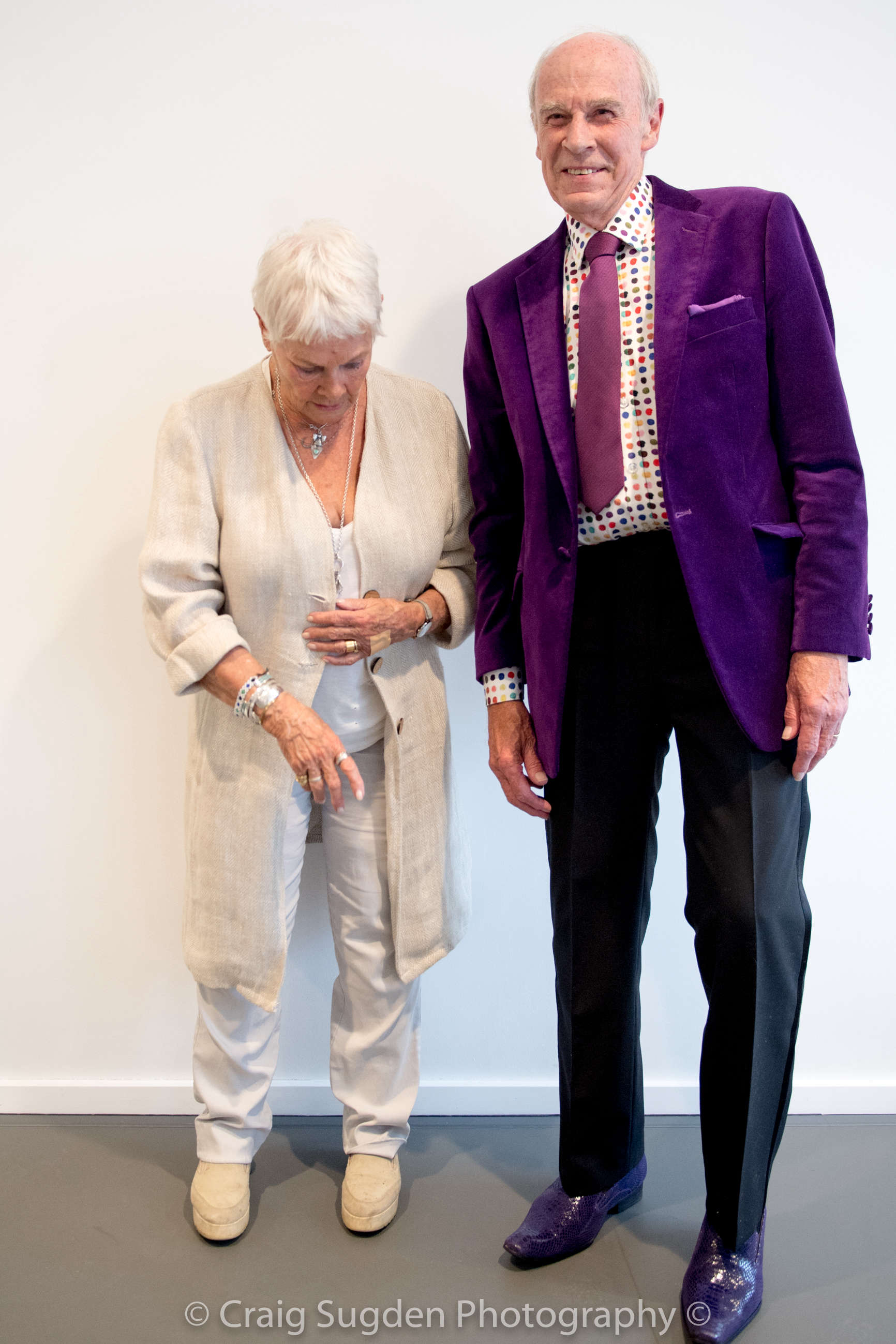 John and Judi got on famously, sharing a joke or two on stage together. She said:
"You are naughty John, you're asking me all these cheeky questions."
But John's morals were incredibly important to him, and while he regularly asked the odd 'cheeky' question, he believed private lives should stay private.
"I don't pry. I always remember meeting Denise Welch. I shook her hand and said 'Denise I don't really want to talk about your latest boyfriend or whatever you're up to off stage' and she said "My gosh you're different. You better come in.'"
John said he had felt very privileged to have been asked to do the interview with Dame Judi Dench. And about six weeks later, it led to an interview with Sir Ian McKellen.
Other memorable interviews include Charlton Heston:
"He gave me over an hour of his time in a hotel in Piccadilly. It was the longest interview he'd done in his life. He asked if I'd had lunch, which I hadn't. He ordered me a smoked salmon sandwich."
But interviewing the stars of showbiz wasn't always a smoked salmon picnic:
"One or two haven't been very nice to me. I went to London to interview Lonnie Donegan. Everything I said he disagreed with. I have a card where I have a few bullet points and he picked up the card and threw it across the room and told me to do it without it. He really gave me a rough time.
"If I hadn't travelled several hours to get there, I would have walked out. That wasn't a very pleasant experience. His road manager had told me he was the worst person he'd ever worked with in 30 years.
"I interviewed his son two years after he sadly died. I told him his dad had given me a rough time. And his son said, you were lucky, I had to live with him."
Even Barbara Windsor said she'd kept a letter from John hung in her kitchen.
"She was a lovely lady," said John. "She came to Cowes many years ago to take part in a tin bath race. I turned up and she was charming. She gave me a lovely interview."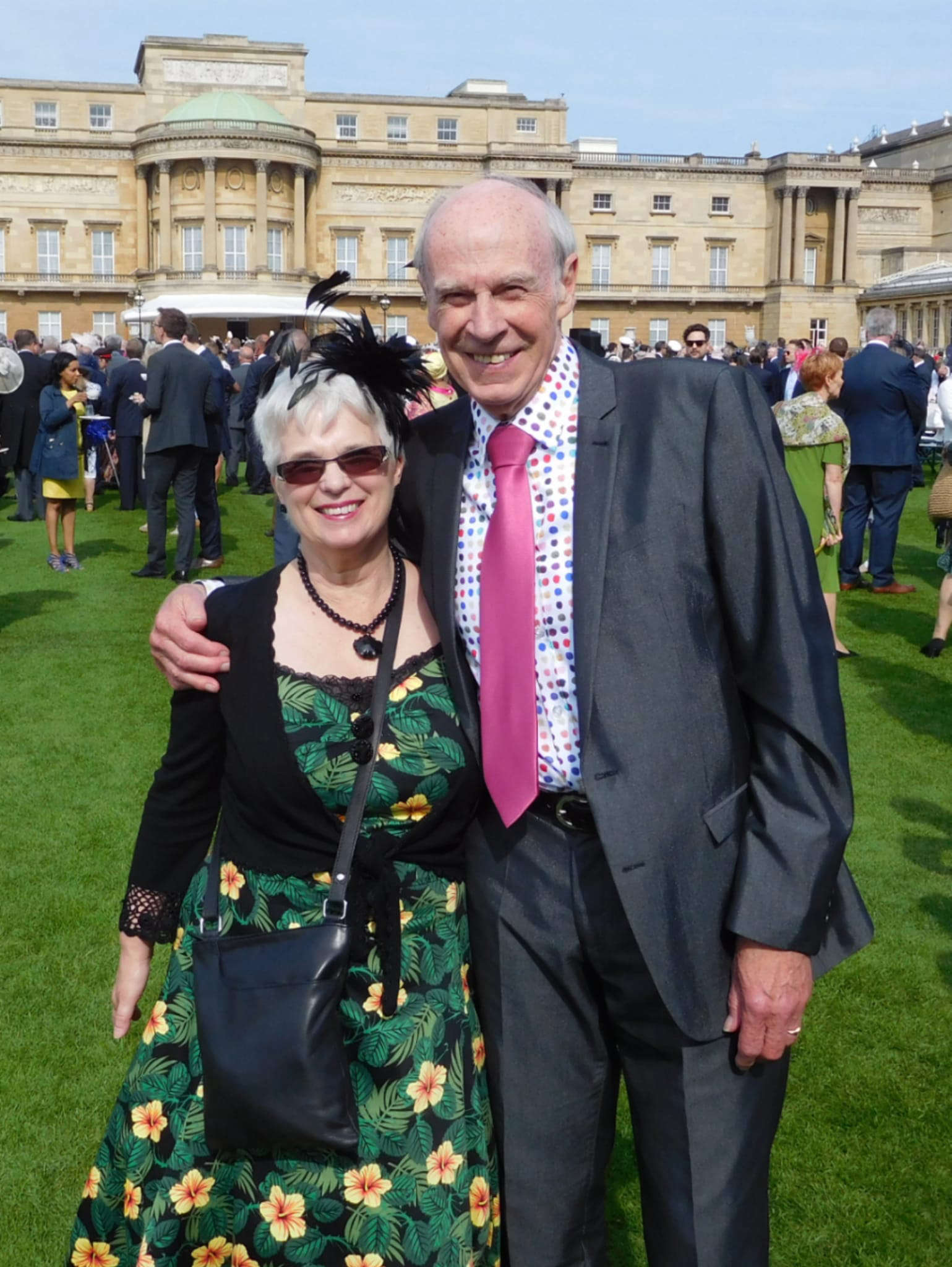 John with his partner, Bertie, at a Buckingham Palace Garden Party
John was a huge fan of live theatre, often attending an impressive 100 shows a year!
He told Isle of Wight Radio:
"I love musicals, I can watch a film musical, but there's nothing like being in a theatre and watching it live in front of you.
"Blood Brothers has always been one of my favourites – it's a very sad musical. I first saw it at The Mayflower. As I came out, I was embarrassed to be crying. As I came out I looked round and all the other guys were crying as well, which made me feel a lot better.
"I'm quite an emotional person, which I think is good. I even cry at Call the Midwife when it's on.
"There's nothing better than coming to the interval of a professional production and there's a buzz. And then when you finish, you come out the theatre and everyone's talking about it. I love it. You walk back to the bus, or the taxi or the train and people are all talking about it. It's fantastic."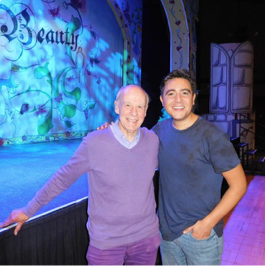 John loved the theatre. Above: At Sleeping Beauty starring Hearsay's Noel Sullivan
John even penned four best-selling showbiz books. An idea which was initially brought to John by his friend, Marty Wilde.
"Marty asked what I do with all my interviews. And then said I was to write them in a book. Warts and all.
"I kept getting emails asking how the book was going. So in the end I wrote the first one. It was about pop stars in the 50s, 60s and 70s. That proved so popular that I did one on showbiz stars. My friend Jimmy Tarbuck did the foreword for that one.
"Then recently I have written a third and fourth about people who have lived here on the Isle of Wight. I've enjoyed it."
John's books are still available to purchase at www.johnhannam.com, as well as a few shops across the Island.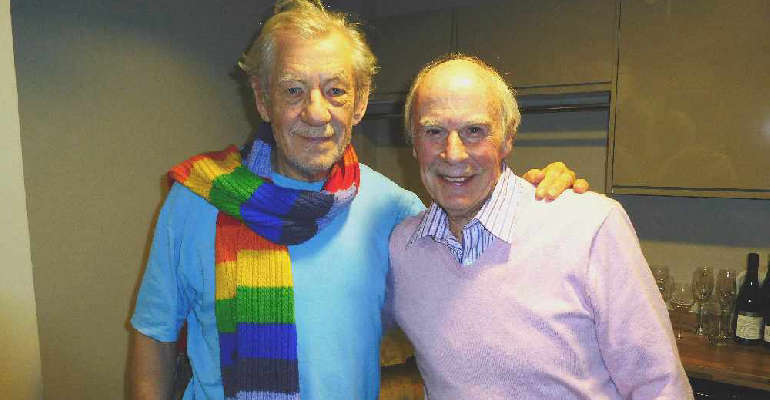 John was asked to interview Sir Ian McKellen
The news of John's passing has sparked a flood of tributes from Islanders, celebrities and John's many colleagues in the media.
Singer and television presenter, Jane McDonald said:
"I had the pleasure of being interviewed by John on many occasions over the years. He was always a joy to be around – his smile and passion for the industry were infectious. John Hannam was a true gentleman and will be sorely missed by everyone who knew him.''
Broadcaster, Fred Dinenage said:
"John was such a very special man – and such a talent. He managed to get THE most amazing interviews. He was a good friend of mine, and he will be greatly missed.''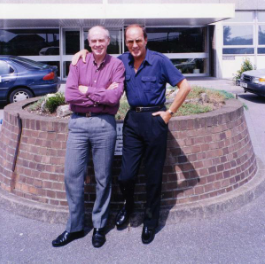 John and Fred Dinenage
Actress Celia Imrie said:
"He was unstoppable, and brimming with the joy of life – a wonderful example to us all.
"Whenever we met, his enthusiasm during our interviews made our conversations such fun, so it never felt like work.
"His celebrated knowledge of the theatre, films, television, radio, actors and actresses was remarkable and a measure of how loved and respected he was by all of us lucky enough to have known him. I am honoured to have been one of those who admired and adored him."
Shaun Williamson, best known for playing Barry in Eastenders, said:
"He was a wonderful man who was such a great supporter of any act which appeared on the Isle of Wight. He'll be greatly missed."
Level 42 frontman, Mark King said:
"I was so sorry to hear of John's passing. A lovely, kind man who loved his music as much as he loved the Island.
"I remember our first interview at LaBabalu Club in 1980, when he got behind Level42 and championed us before any other journalist, and our subsequent meetings were always something to look forward to as it was like talking to a dear friend."
Comedian, entertainer and game show host, Jimmy Tarbuck, said:
"John was one of the first gentlemen of journalism. If you gave him an interview, he told it how it was. God bless.''
Legendary Island musician, Brian Sharpe, who's best known for bands like The Cherokees, Blue Moon and Hoggie and The Sharpetones, was a lifelong friend of John's. He said:
"Following his recent sad death I felt humbled when I was asked to submit a short tribute to my old friend John Hannam, because of the elite and huge company of famous stars he has rubbed shoulders with during his remarkable career as a journalist.
"But John always remained humble and modest himself, and was as keen to interview local characters as he was to mix with international celebrities. He had the almost unique ability to treat everyone he came into contact with as an equal.
"I've been in many bands on the Isle of Wight over the years, and when he interviewed us it felt to me as if John was in all of those bands with us. He was without a doubt one of the most genuine people I have ever met, and I feel privileged to have been a small part of his astonishing life."
Businesswoman, Dame Dianne Thompson said:
"I first met John Hannam a few years ago when he interviewed me shortly after I purchased The George Hotel in Yarmouth.
"His questions were well prepared and very thought provoking; his manner was kind and considerate. The interview was just like chatting to an old friend.
"We talked a lot about the island which we both loved, and also about music. He thought it was very funny that I chose Hotel California by The Eagles as my first record for the 'Desert Island Disc' section.
"I met him on several other occasions when he came for lunch at the hotel. What a charming, gentle man in the truest sense of the word – he will be sadly missed by all who knew him, but his legacy is the joy he brought to thousands.
"God bless John."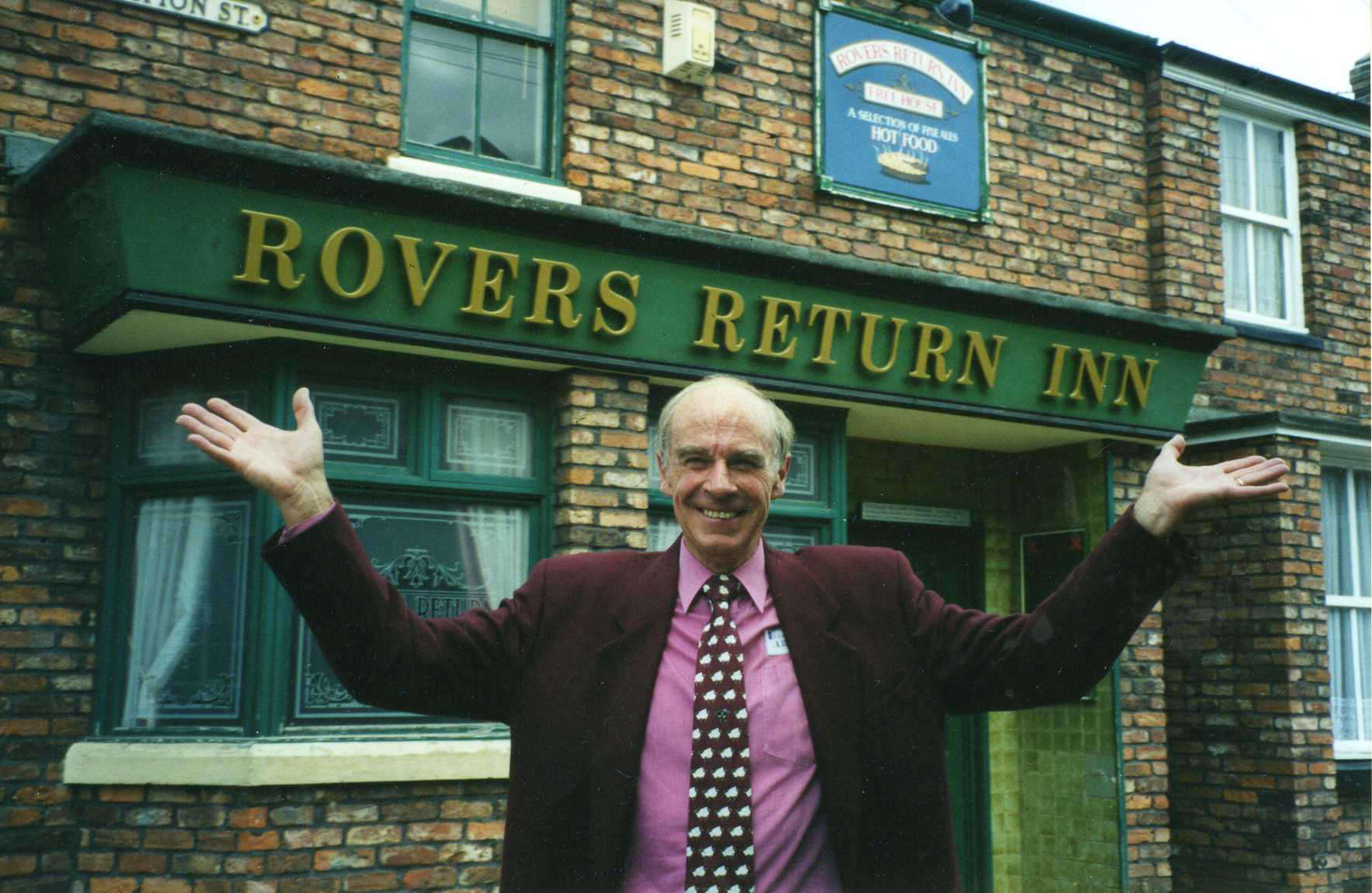 Lyricist Don Black said:
"He had a way about him that was so engaging and passionate. He made his interviews seem so effortless, yet it was obvious he did loads of research, because he never once asked a dumb question! That alone sets him above most interviewers."
Actors, John Woodvine and Lynn Farleigh said:
"What a lovely man – he was a gentleman and a real hard worker, who had warmth, an open heart and who was generous with his time and his spirit. Both of us were interviewed by him more than once for his radio programme and always enjoyed it.
"He was a meticulous researcher, often surprising us with little bits of information that he had found somewhere. He was so easy to talk to, he asked interesting questions and was a wonderful listener – a real talent to possess."
Louise Hastings, Managing Editor at Sky News, said:
"John loved his job. He was genuinely interested in people, and his passion for hearing their stories showed in the thousands of interviews he carried out over the course of his career.
"Only a couple of years ago he told me he never wanted to stop. He's been a great role model and a kind friend, and I know he'll be missed by many. Go well dear John."
Andy Shier, Programme Director at Wave 105 and Bauer South Regional Content Director, said:
"As one of the founder presenters on Isle of Wight Radio I was so sad to hear of John's passing. We use the term 'legend' far too much these days but John really was an Isle of Wight legend.
"I've known him myself since I was 15 when he very kindly took me with him to the BBC in Southampton as he'd heard I was interested in doing radio as a career. It was quite a while until that radio career happened but John was beaming on the day I started at IW Radio in 1990, and was always so supportive and interested in how things progressed for me after I left in 2008. I really do owe him so much.
"John was always very loved by us all at IW Radio and the reason his show lasted for such a long time was simple. People just loved being interviewed by him and that came across on air. Whether it was a famous entertainer or a local character they knew he'd done his research, and they knew he was genuinely interested in them and what they had to say.

"In any feedback to him I often used to say 'John please stop saying REALLY all the time'. He never took the blindest bit of notice I'm glad to say.
"We'll miss you John – wherever you are now I hope you're still asking questions."
Isle of Wight Radio's Programme Director, Paul Topping, said:
"I first met John whilst working for TV12 in 1998. He immediately struck me as an exuberant man with suits to match and a little black book as long as War and Peace, with so many celebrity names and numbers noted within its pages.
"His professionalism, energy and wit quickly led to his interview-style programme becoming a weekly favourite, on our very own local rival to greats such as Parkinson and Wogan.
"For those who didn't know John, he was one of the kindest, most supportive people I have met. He was always interested in what people were doing and, most impressive of all, he spent the time and effort with those just starting out. Many of those people are now great broadcasters in their own right."
Claire John, Managing Director of Isle of Wight Radio and Beacon Magazine, said:
"John has been part of my life for 21 years, and a huge part of the Isle of Wight Radio family and The Beacon Magazine for over 30 years. I feel very honoured to have known John and enjoyed many chats about the guests he had lined up to interview, which we all know was his true passion.
"John will be missed beyond measure by everyone but I for one am so pleased his legacy can live on through the hundreds of interviews he conducted over the decades. Farewell to a true gentleman."
Everyone at Isle of Wight Radio and Beacon Magazine will miss John walking into the building every month. He has and always will be firmly in our hearts.
Our thoughts are with his son Sean, daughter Caroline and partner Bertie.
Isle of Wight Radio will be paying tribute to John on air throughout the day today (Thursday), with a selection of clips taken from John's interview archives. Listen on the hour, every hour, from 8am-6pm. FM 107 and 102.
The November edition of Beacon Magazine will be dedicated to John's memory.
You can watch An Audience With John Hannam at https://www.iwradio.co.uk/hidden-island-online-events/an-audience-with-john-hannam-live/
Our e-magazine, The Best of John Hannam Meets is also available to download here: John Hannam Meets