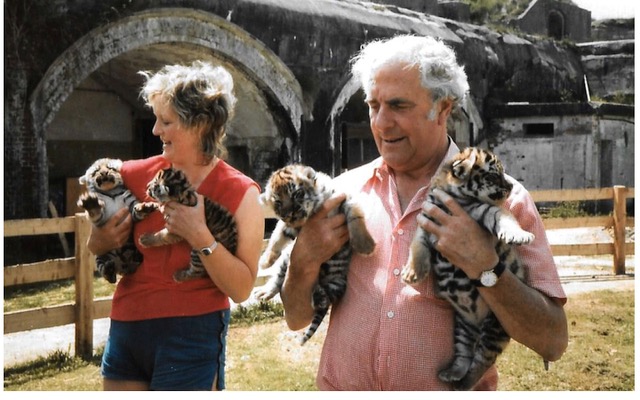 From cubs in the caravan to strolling with snakes, the Corney family have lived a unique family life, surrounded by exotic animals.
After purchasing the run- down Sandown zoo back in the seventies, the family, with Jack Corney at the helm, set to work restoring the site and nursing the animals back to health. Now Jack's daughter Charlotte has taken the iconic site one step further, and transformed the zoo into a sanctuary and charity, which rescues abused wild animals.
We spoke to Judith and Charlotte Corney about their fascinating home-life, where it wasn't uncommon for leopards and lemurs to accompany them on the school run, to stroll along the beach with a tiger, or to watch Jack milk a venomous King Cobra.
Judith tells us she was filled with trepidation when her husband first relocated the family to the Isle of Wight Zoo. "I really thought we'd made a mistake, but it was Jack's dream," she said. The couple had met through work and bonded over their love of animals so it was no surprise Judith got on board quite quickly. When Jack saw an article about 'Britain's Slum Zoo' in a local newspaper, he said: "Wouldn't it be lovely to have a small zoo that was both interesting and educational." And soon enough, they did.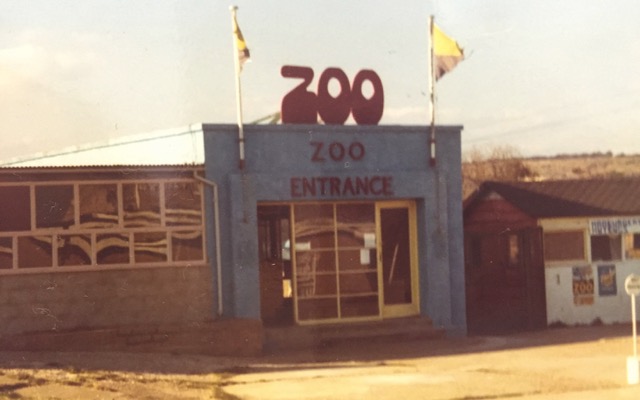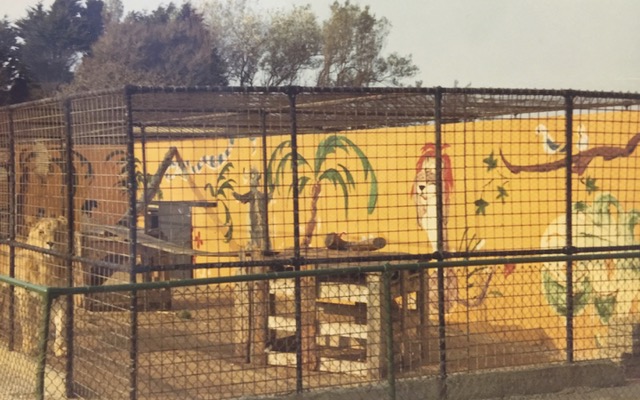 What the zoo looked like in the seventies
After 18-months clearing the site of rats, the family first added Jack's beloved snake collection to the zoo, before later taking on their first tiger, six week old Tamyra, who was famously walked on the beach during the 1970s.
"Tigers love the water, so we would regularly take them on to the beach at low tide for some exercise," said Judith. "Those days are gone now – but they are remembered by so many."
Over the years, Judith hand-reared many animals, including tigers, leopards and lemurs, getting up early to warm their milk like you would a small child. "I got very attached to them all. When one of my lemurs fell ill, I slept out in a hut with her for a week. I was heartbroken when she died," said Judith.
Being just three months old when their family took over the zoo, living and working with big cats and other exotic animals is all Charlotte has ever known.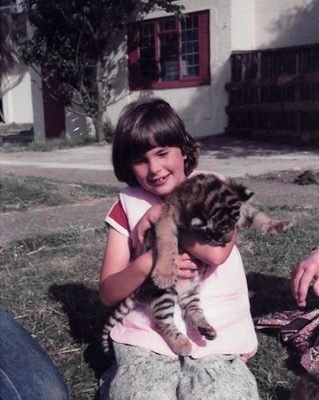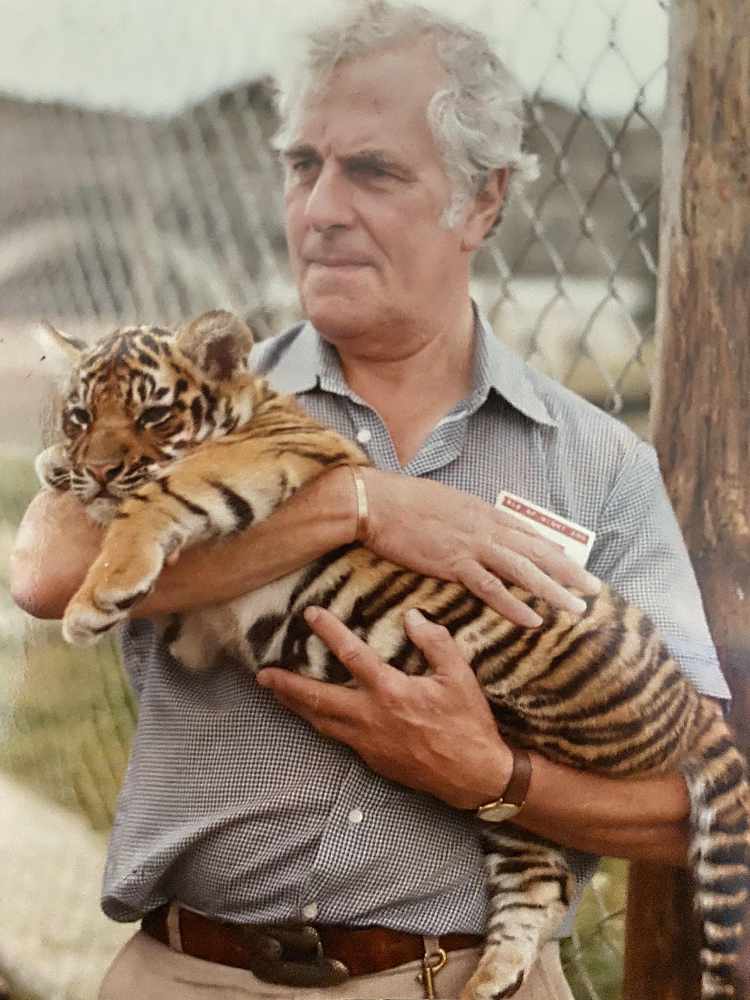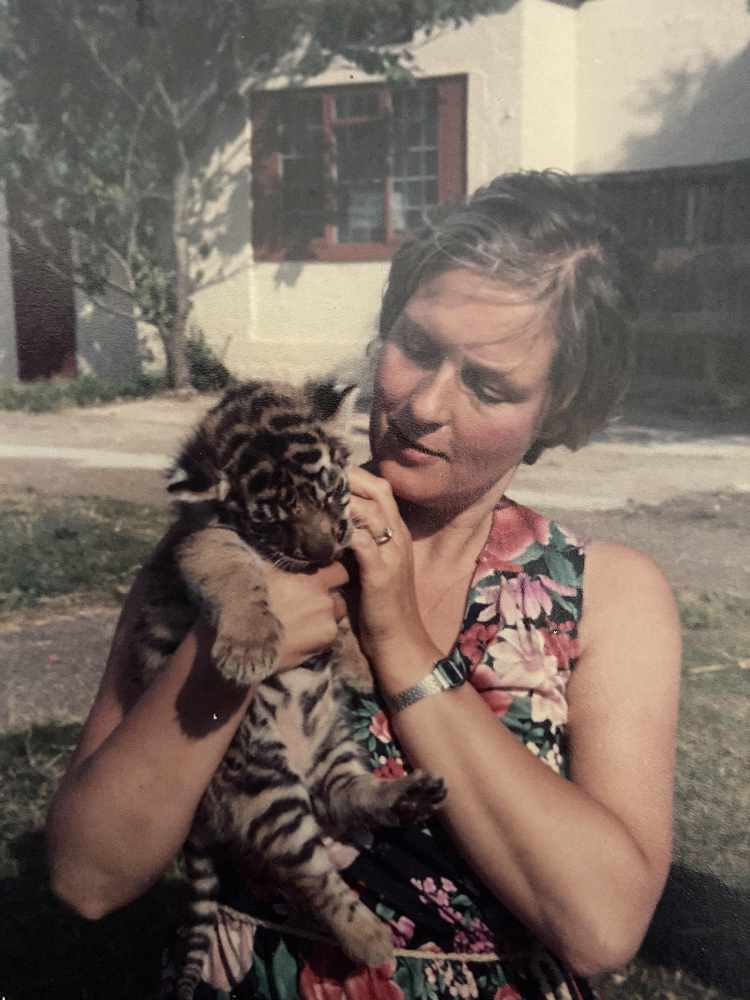 "That was very much my world," said Charlotte. "Playing games, like who can jump the highest, with the bears. It was only really when I moved schools at the age of 12 that I realised my childhood was a bit different to others. My dad was very eccentric and would flaunt that quite a lot, which I struggled with as I really wanted to fit in."
"There was quite a difference in age between him and my mum, who was in her twenties when she agreed to up-route and move to the Island to fulfil my dad's fantasy of owning a zoo. Myself and my sister (Emma was just two) were still very little and all of a sudden my mum had a six week old tiger to rear as well. A lot of kudos should go to my mum, really."
"My dad was absolutely fearless. Although he had so much respect for the snakes, he was always jumping in snake pits, milking snake venom for WHO's anti-venom projects and taking King Cobras for walks. He was bitten a total of nine times, three of which ended in intensive care, and one of those he was said to be clinically dead. He always remained so calm!"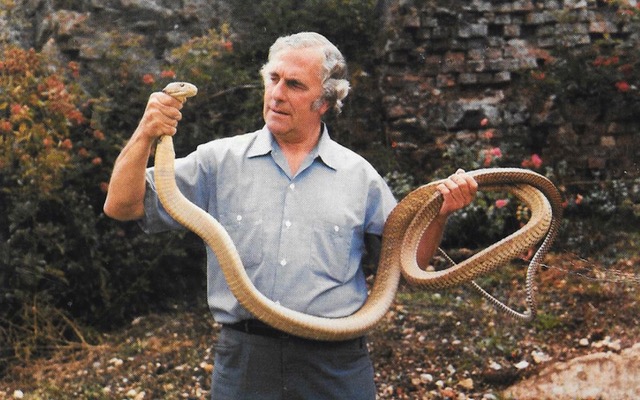 Without wanting to worry his wife, Jack took himself off to hospital the first time he was bitten on the thumb by a pregnant rattlesnake. When Judith saw him 24 hours later – after being airlifted to Southampton General – the swelling had spread up his arm and down his side. The anti-venom Jack needed wasn't easy to come by – having to be brought down from London to bring him back to health. Afterwards, Jack spoke of an out-of-body experience, where he could hear the doctors declaring they had lost him. His heart had briefly stopped.
Charlotte took over as director of the zoo at just 26 years of age. She had planned to head off to university, but soon changed her mind when her father brought home a newborn tiger, Zia, and asked Charlotte to hand-rear her.
"I knew from the moment I held her, that I would never leave her. And I never did, she lived for 22 years and we were inseparable."
"My dad bought me a caravan for about £50, as I was keen to have my own space away from my chaotic family home, and I brought Zia up from there. We built an enclosure around the caravan so that she could wander outdoors whenever she wanted."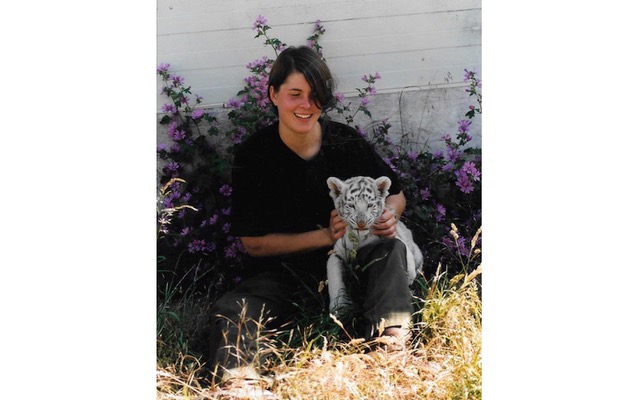 Charlotte with Zena the white tiger in 1996
Zia was followed by Zena, Diamond and Aysha, who all moved outdoors to their own enclosure as they grew.
Three or four tigers were usually born every year at the zoo throughout Charlotte's childhood – something which the zoo has now moved away from, choosing to focus only on rescue work.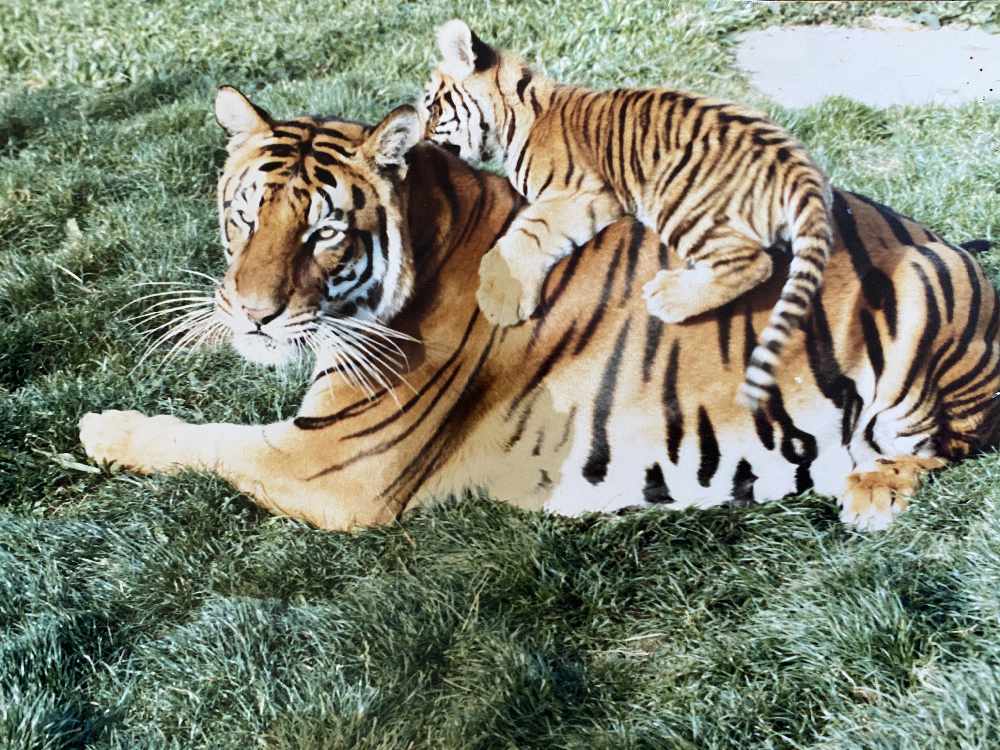 "There were never any times that I felt unsafe, although I laughed quite a lot when a friend came to stay and wandered out the caravan in just a towel, only to be pounced on by a baby white tiger, who wanted to play tug of war with her towel."
Some days, Charlotte would drop a young Zia to a day school and collect her again in the evenings. Much like that feeling many parents can relate to, Zia would cry for Charlotte when she walked away.
Charlotte was very immersed with all the animals at the zoo and would help her father a lot, especially with the big cats, which is where their expertise really lay. Although it wasn't uncommon for Charlotte to have incredibly close contact with chimps, monkeys, leopards, lemurs and other small mammals.
We loved hearing about the family of bears who felt so at home in the Corney family kitchen, that they had their own table and chairs installed in their enclosure, to climb and play on: "They were incredibly intelligent and would work out how to open the dishwasher and climb inside! Our leopard, Flossie, even found her way inside our car."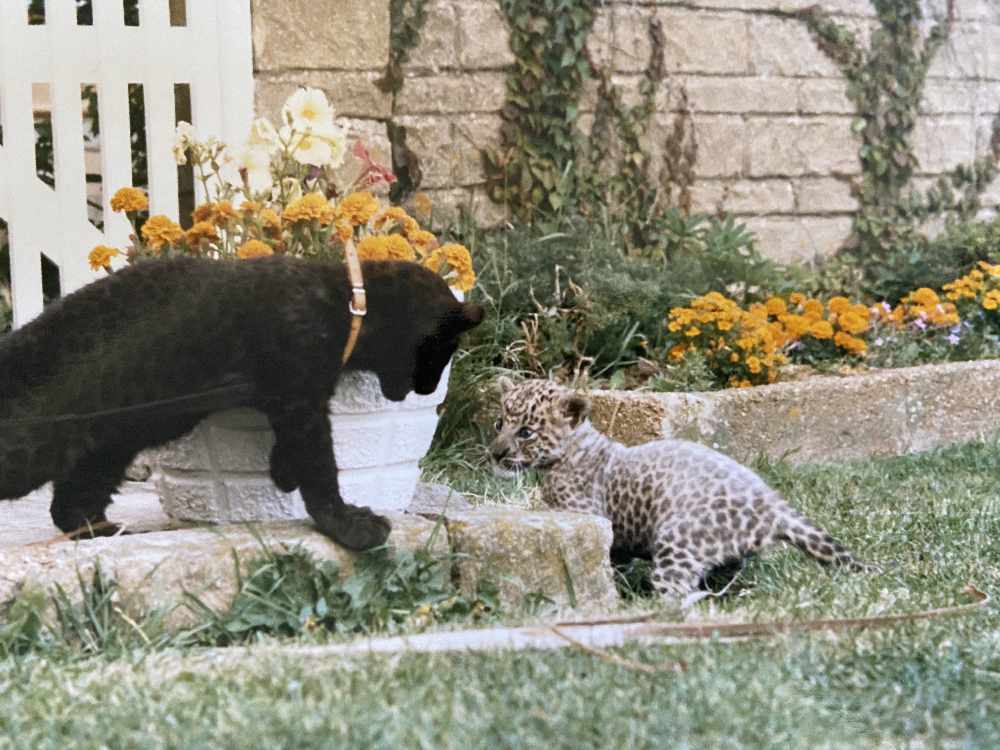 Black leopard Bindu playing with Flossie, the leopard
"I've got so much to thank Charlotte for," said Judith, "she really stepped up when Jack had his stroke, as I wasn't able to do as much at the zoo as before." Although Judith is much less involved in life at the zoo today, she still resides at the family home.
"Although it's probably time to move on, this place is just so full of memories," she said, "I've had the most fascinating life."
Isle of Wight Zoo's charity arm 'The Wildheart Trust' are involved in a number of conservation projects, both locally and globally, improving the habitats for many different species. Working with wildlife centres in Madagascar, they are involved in a project focusing on the protection of lemurs, which are now an endangered species. In the Western Ghats of India, a group of volunteers are also doing incredible work, mainly with tigers, with which the trust provide support.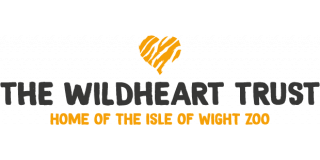 Closer to home, various conservation projects include the White-tailed Eagle, hedgehogs, the Reddish Buff Moth – and increasing wildflower for the Island's wildlife.
Charlotte told us over 10,000 tigers are currently living in captivity around the world, and she's committed to trying to help as many animals in crisis as she can. "I think its important to keep the ones that are in the wild, in the wild."
The zoo is now making the decision to move away from the name it has used for many years, and give the sanctuary a name which is better fitting for the work it does today. All will be revealed soon, but in the meantime, fans will be able to purchase treasures and memorabilia from the zoo's past, including artwork, enclosure signs and the iconic picture of Jack walking his tigers along the beach, plus many more unique and one of a kind items.
Find out how to get your hands on them at: www.ebay.co.uk/str/wildhearttrust. The auction will be running from Thursday 5th November until 10pm on Sunday 15th November.