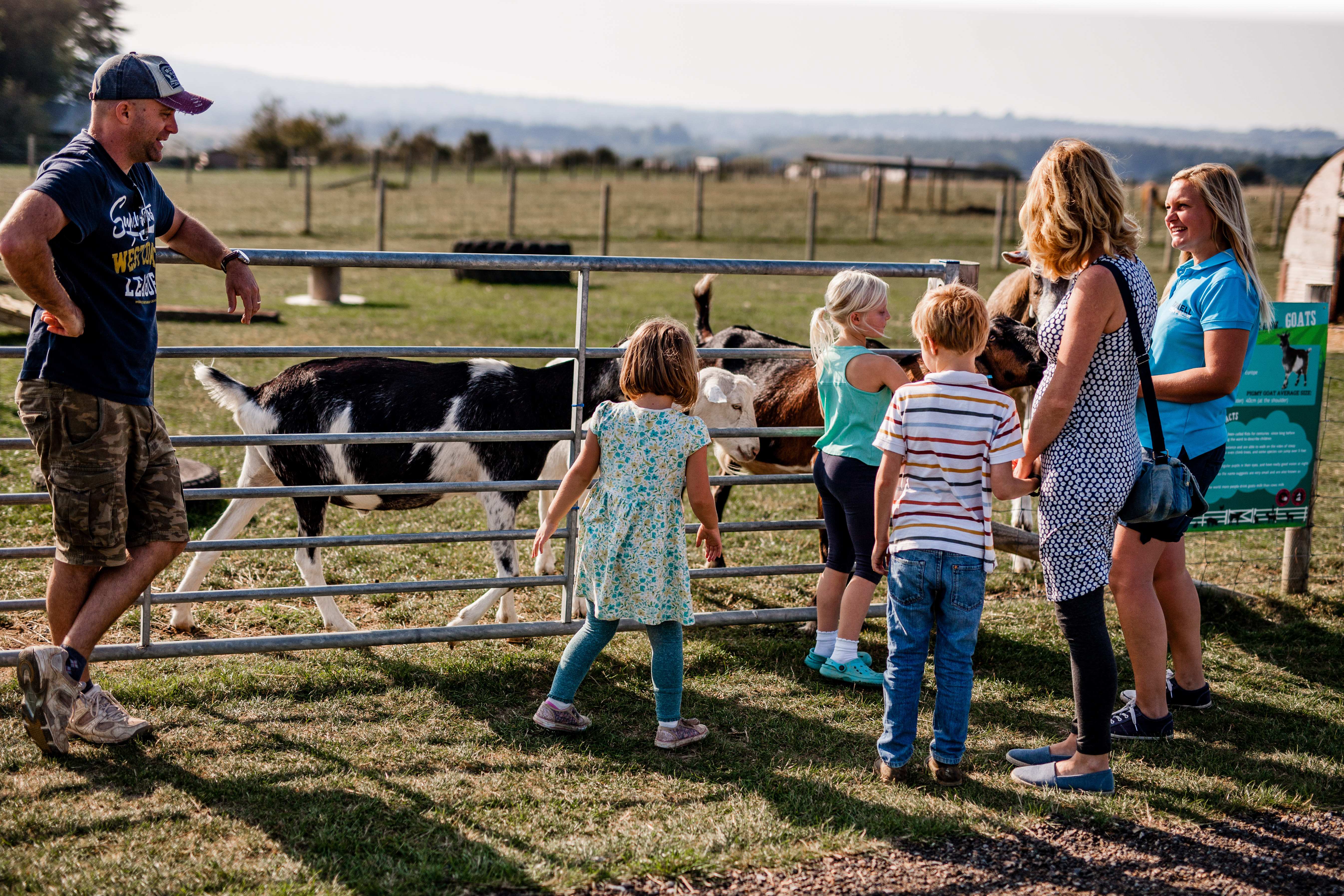 Run by the Turney Family for almost 40 years, Tapnell Farm used to be one of the biggest dairy farms on the Isle of Wight with over 800 cows producing an amazing 24,000 litres of wholesome milk every day
Today, still family run by brothers-inlaw, Tom Turney and Tom Honeyman-Brown, the site in Yarmouth is the Isle of Wight's leading eco-tourism destination and home to award-winning Tom's Eco Lodge, Tapnell Farm Park, Isle of Wight Aqua Park, The Cow Restaurant & Bar and opening this June, Isle of Wight Football Golf — with as many eco credentials as there are fun things to do.
As you turn off the main Newport Road and drive up to the top of the hill, you're suddenly met with the most stunning countryside views in all directions including across to Tennyson Downs and sea views out across the Solent. For a rural farm destination, it is quite unique in the UK for its portfolio of accommodation and activities, all sited in this incredible location with space to roam, amazing sea views and stunning sunsets. From luxury glamping (safari tents, modulogs, wood cabins, eco pods, geodesic domes) and farm cottages to a large country manor house, there is accommodation to suit everyone and every occasion.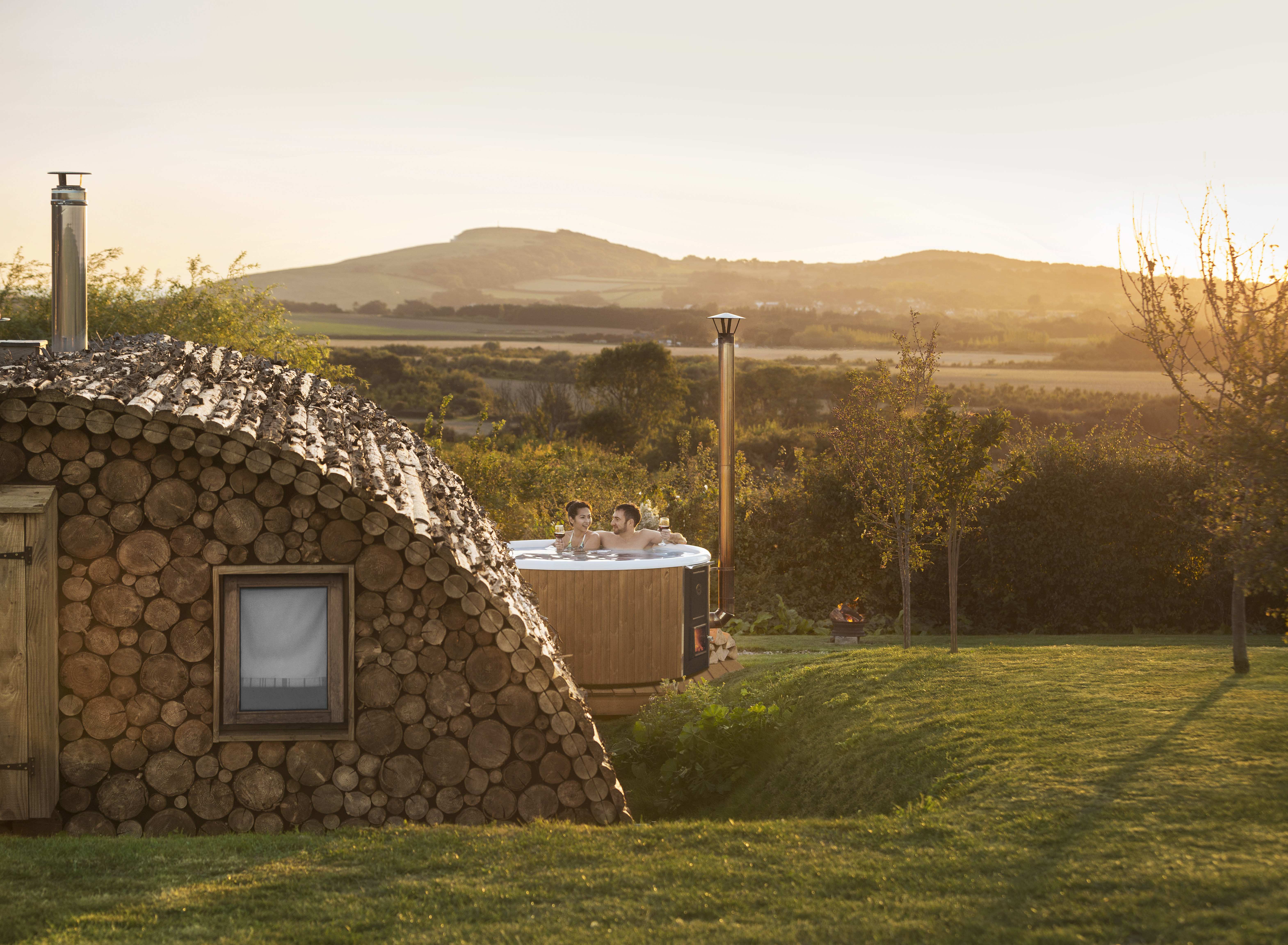 Photo by Skarsgard
In fact, Tapnell has become a favourite location for many Islanders who book short staycations throughout the year. As well as the attractions and restaurant, day visitors can also enjoy archery and axe throwing, clay-pigeon shooting and amazing country walks, including the Tapnell Trail, a lovely 6.5m circular walk – which provides the perfect excuse to work up an appetite or walk off a lunch at The Cow Restaurant serving (and won awards for) the best burgers on the Island! It's dog friendly too! All activities need to be booked online in advance.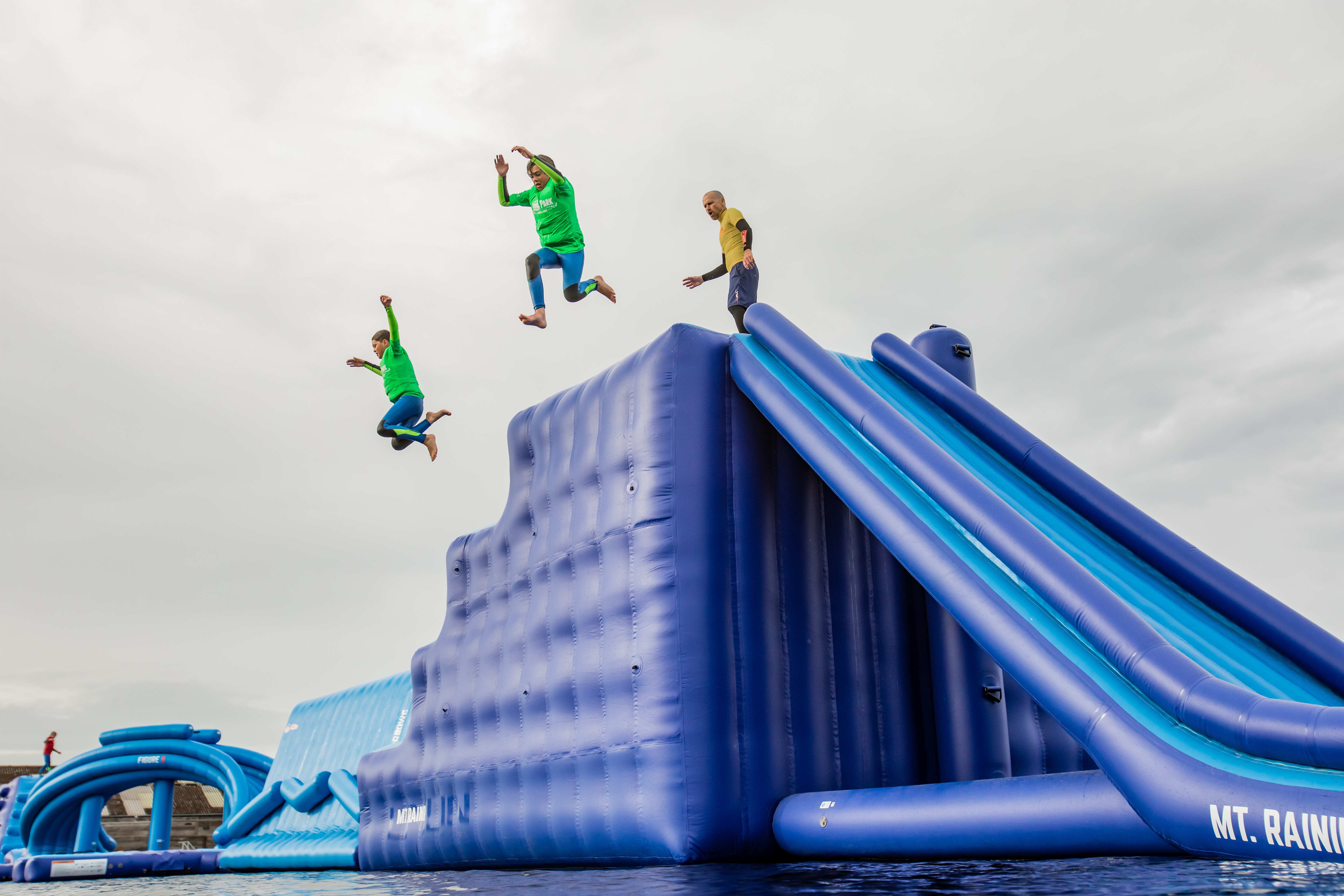 The first step in Tapnell Farm's diversification from a dairy farm started in 2012 with the opening of Tom's Eco Lodge – a glamping holiday experience, the first of its kind on the Island, which was purpose built to have minimum impact on the environment. The building materials used were predominantly wood and natural canvas, and the Safari Tents (previously known as lodges) are sat on raised decking, reducing the impact on the land. Eco-friendly cleaning products are always used in all the accommodation.
Over subsequent years the farm has been developed and transformed, and sustainability is at the heart of everything the company does, whether it's taking water from their bore hole to supply the Farm, using the sun to make electricity for surrounding homes, powering their heating systems with their own biomass boiler or growing over 30 acres of new woodland and hedgerows. Their overriding ethos is to have minimum impact on the environment.
The Turney Family's golden rule is to pass on their farm in better environmental and productive health than it was at the beginning of their life's tenure. There is still much to do and the family are certainly up for the challenge!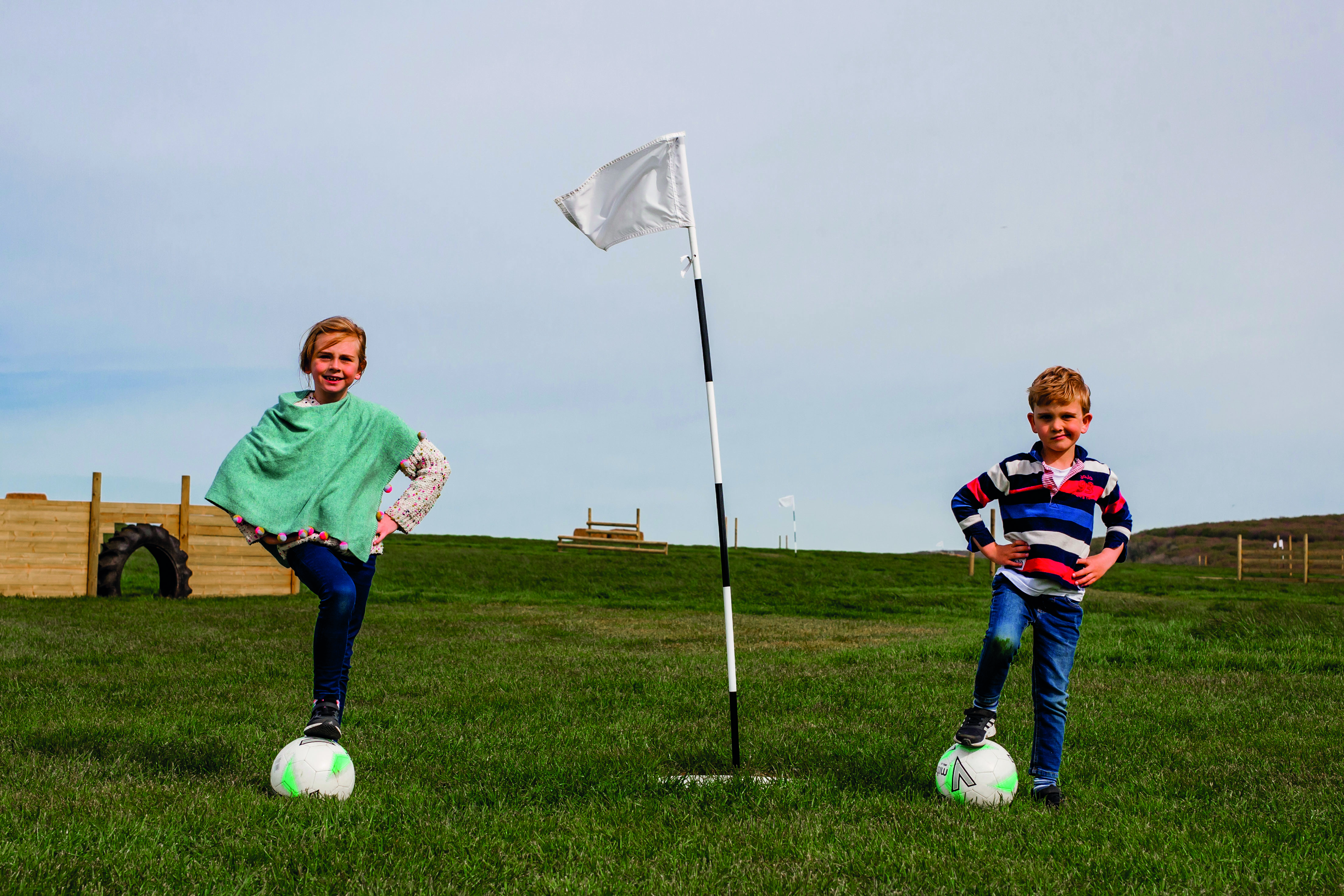 NEW THIS YEAR
It has been a challenging year for all businesses, especially for those in tourism, but the family are keen to progress with plans to develop their tourism offer to attract more visitors to the Island and support other local businesses. So, May half term saw the opening of five new luxury geodesic domes with en-suite facilities and commanding the most stunning sea views across to Lymington and beyond. There is also the opening of a second large adventure play barn in the Farm Park and then in June, look out for the opening of the Island's first Football Golf course. Fun for all ages, there will be two 9 hole courses, one more challenging than the other and the option to play all 18 holes. Again, with epic views of the West Wight.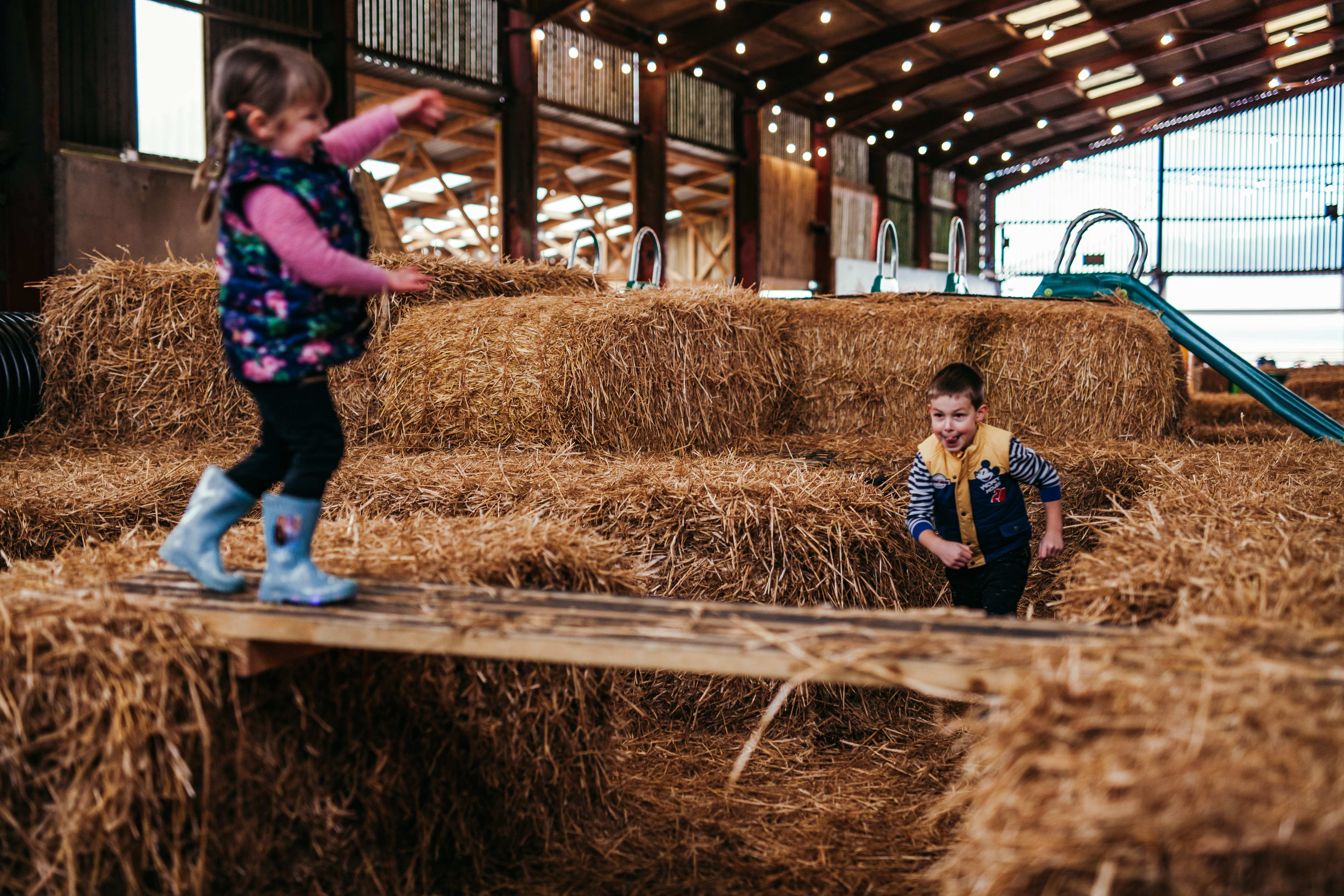 MIX N' MATCH THE FUN – MAKE A DAY OF IT!
With so much to do at Tapnell Farm, why not make a day of it and mix n match the fun. Just choose a session or two – from Farm Park, Aqua Park, Archery & Axe Throwing, Football Golf – not forgetting a meal at The Cow. All attractions and The Cow (indoor seating) must be booked online in advance. www.tapnellfarm.com
SUMMER SEASON PASSES
Tapnell Farm Park's summer season pass is valid until 31st October 2021 and provides great value, especially if you're planning to visit the attraction three times or more this season. Priced at £35 per person – under 2s are free – the summer pass provides all weather indoor and outdoor play during the school holidays as well as term time. The adult passes are also transferable when linked to a child's summer season pass. MAY
WIN A SUMMER PASS FOR TWO
Download the Beacon on our website and head over to our Spot the Difference competition on page 35 to enter.