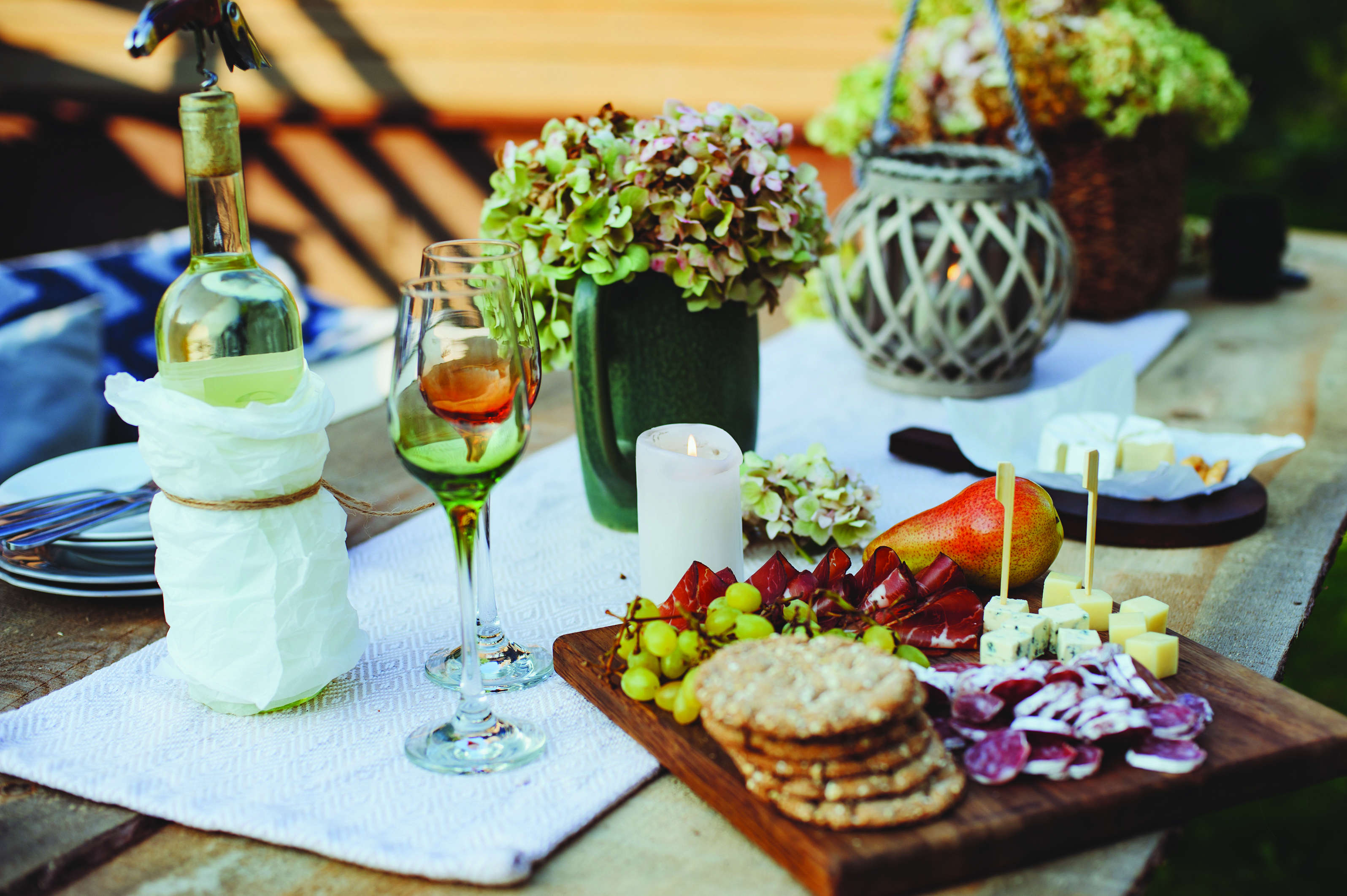 Summer is the time to relax and enjoy our outside space. Whether you have a large terrace overlooking formal gardens and a luscious lawn or a small balcony for a tete a tete, we can all make the most of the great outdoors — whatever the weather!
'Al fresco' is an Italian expression meaning 'in the cool' and often refers to a social or dining event in outside space. So, if a restaurant in Italy has a terrace or patio area, customers often request to dine 'al fresco'. It is often to engage in a more casual and relaxed occasion with the emphasis on social interaction and a party-like atmosphere.
In the UK, we may not be blessed with the weather to dine 'al fresco' as regularly, but we certainly like the idea and if there is any sunshine on offer, we are generally very happy to embrace the concept.
The main idea is to create a space that is comfortable, ambient and relaxing that induces a slight feeling of indulgence. This can be achieved through various ways from a few simple accessories to a dedicated garden terrace or deck area that is devoted to entertaining at the highest level. Depending on the scale of your plans it is a good idea to treat the space in a similar way to how you would consider any room in your home. Start with the practical aspects; seating, furniture, decoration and lighting.
Seating & Furniture
In a similar way that you would consider characteristics of indoor furniture you should do the same for outdoor furniture. Think about your priorities such as durability, comfort and style, and of course, budget. The main difference is patio furniture is exposed to the weather so the strengths and weaknesses of different materials also need to be understood.
Wood has been a popular option for hundreds of years. It is naturally beautiful and strong but not all woods are equal for outside use. Pressure-treated softwoods are less expensive but do not stand up well to constant exposure to the elements and need to be protected from the weather in the winter months and treated annually. Hardwoods are much more resistant to weather damage and can last for decades if treated properly, but are typically much more expensive. The weight of different woods can also mean some are difficult to lift or move around.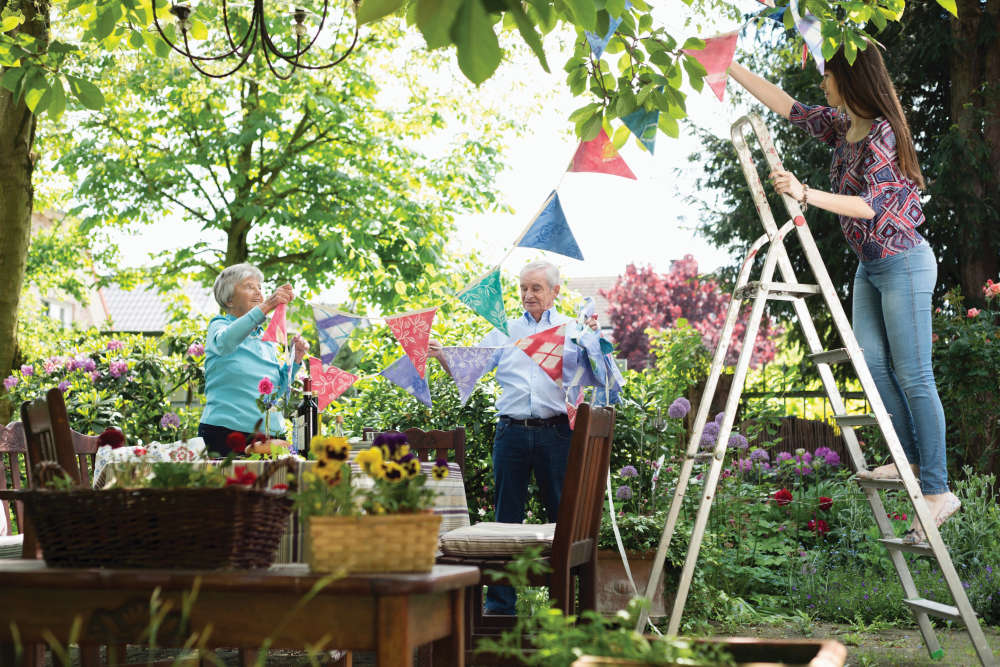 Metal is often considered the strongest and most durable material for garden furniture and is often used with other materials, such as glass table tops, to offer a great range of styles. However, drawbacks include that it heats up in the sun which can make it uncomfortable to the touch, so cushions are required for comfort, and some metals are also very heavy to move. All metals, apart from aluminium, are vulnerable to rust and corrosion to various degrees, so be sure to check the characteristics of the metal used.
Resin and plastic materials and composites are becoming more and more prevalent in the world of outdoor furniture. Modern processes are creating furniture that is lightweight, inexpensive and can be created to almost any style imaginable. Generally, it is easy to clean and maintain, resistant to the weather and needs very little maintenance.
Lighting & Decoration
So once the seating and furniture are sorted, it's time to put some individuality to your outside space and create a personal place that is unique to you. Lighting can be bold and colourful, practical and ecological or even subtle and atmospheric.
LED and solar lighting are now available in every colour, shape and size imaginable. Whether it's a festoon of bulbs around the patio producing a warm subtle glow, or a riot a multi-coloured fairy lights offering a festival feel to the surroundings, the choice is mind blowing. Spotlights can be included, which can also have the added benefit of security protection, with motion or heat sensitive lighting. Finally, don't forget a few well-placed candles, not only do they give out a soft-gentle, flickering light, fragrances such as Citronella will ward off those pesky bugs and mosquitos! Just remember to ensure they are safely extinguished at the end of the evening!
Decoration for 'al fresco' gatherings is as extensive or as simple as you want to make it. If you have a permanent area that you want to create a focal point you could choose a water feature, some beautifully planted statement planters, a garden statue or even a sun dial. It's your chance to make a personal statement, so explore your options to make sure you absolutely love it. If you want to keep it low-key, there are plenty of ways to personalise the space in a simpler, cost-effective way. Hang out some cheerful bunting to create a sense of celebration, cushions and throws give a sense of warmth and comfort, add a small vase of freshly cut flowers to the table and everyone will enjoy a summer 'al fresco' experience - simply add food and fizz for perfection!