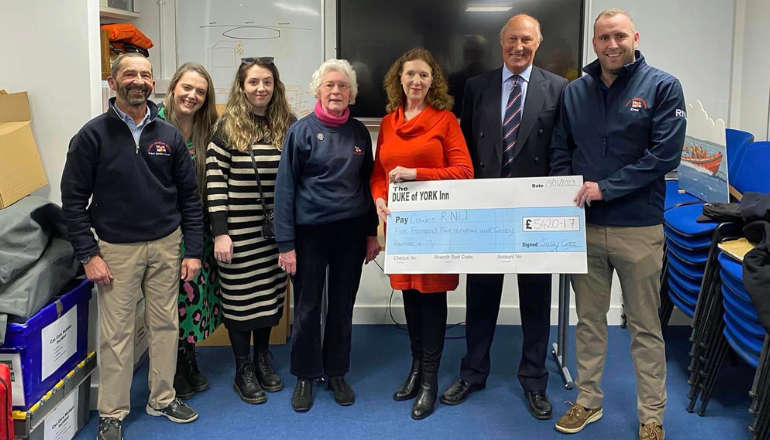 Left to right: Mark Southwell, Sally's daughters Vicki and Luci, Josephine Hindson, Sally Cass, Andrew Cooper and Orry Crews.
An event held in honour of a legendary Isle of Wight Landlord has raised more than £6,000 for Cowes RNLI.
The late Barry Cass, who was at the helm of the Duke of York in Cowes, was fondly remembered during a special memorial fundraiser at the town's Lifeboat Station earlier this month.
The presentation of a cheque for more than £5,400 — which was made last week — was topped up by direct donations given to the charity.
Following Barry's death two years ago, wife Sally, who became the pub's licensee, announced the fundraiser would become an annual event to mark his legacy while benefitting the local RNLI.
Station members were also rewarded for their commitment and skill as part of the presentation.
Two Launch Authorities, Harry Leslie and John Mason, received the RNLI's prestigious Excellence in Volunteering Awards.
Others recognised for their bravery on the waters were Ady Stothard, Jack Banks, Andy Bond, Adam Wilson, Willoughby Matthews, Andy Stretton, Mat Randall and Jason Hughes.